About
Soviet Bear is an advice animal image macro series featuring a character illustration of a brown bear and various propaganda slogans that either glorify Soviet Russia and communism or denounce the United States and capitalism in general. The character can be seen as an extension of the popular In Soviet Russia… trope.
Origin
On May 6th, 2014 Redditor UKZephyr submitted a photograph of a Soviet Russian-themed election campaign poster for a student council candidate at his school to the /r/funny[1]. Redditor UKZephyr's post was quickly met with more than 74,800 up votes and gold rewards, reaching the front page of Reddit within hours.



In the comments section of the post, Redditor Tacoman404 chimed in on the identity of the cartoon bear with a screenshot from DayZ in which the character is featured on a propaganda poster (shown below).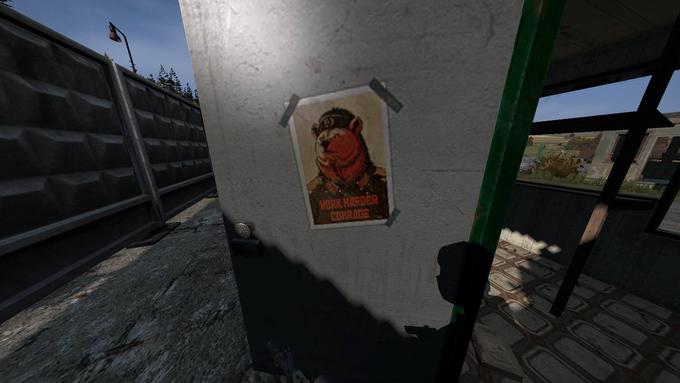 Spread
That same day, Reddtior JufishBong submitted an image macro featuring the original illustration of the bear and the caption reading "capitalist America steals your memes, vote Soviet bear" to /r/AdviceAnimals[2], where it garnered more than 15,000 upvotes in the first 12 hours.


After Redditor JufishBong provided the blank template, dozens of additional image macro submissions followed suit on /r/AdviceAnimals[3], including a few counter-propaganda posters bearing the image of the American eagle featured in One Up America. However, the series has been also criticized by many members of /r/AdviceAnimals for employing less than original themes that are largely derived from "In Soviet Russia" jokes.
Notable Examples






External References
Recent Videos
There are no videos currently available.