A Huge W.I.P
---
About
Vault Boy (sometimes mistaken for "Pip-Boy" and "Fallout Boy") is the mascot character for Vault-Tec, the corporation that created the vaults in which post-apocalypse survivors reside in the Fallout video game series. Vault Boy is used throughout the series in video interludes and other ephermera, and has gained a fandom for his cute appearance.
Origin
Vault Boy has appeared since the first Fallout game in 1997 as the mascot for Vault-Tec, a corporation made to design and build bomb shelters known as Vaults. Appearing in advertisements, short films and guides. The character was originally designed by Leonard Boyarsky, and created specifically to emulate "Uncle Moneybags" from the board game Monopoly. The character was later drawn for Fallout by a variety of artists, including George Almond, Tramell Ray Isaac, Brian Menze, Natalia Smirnova, and Ed Orman.[1]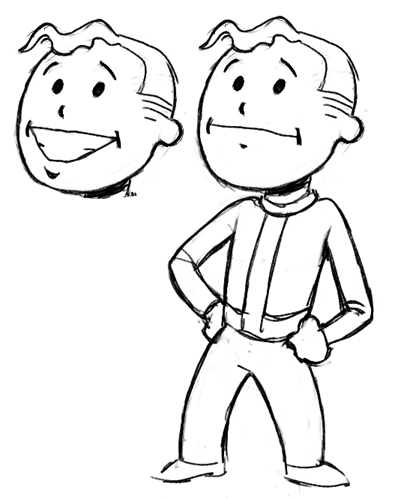 Vault Boy appears in the game as a winking presence on the players' stats boards, and also in commercials and advertisements for Vault-Tec.
Spread
Vault Boy has an established sub-fandom within Fallout communities, and interest in him dates back to the first release of the game in 1997, for which Bethesda Softworks released an accompanying toy.[6] The entry for Vault Boy in the Fallout Wikia was created on October 30th, 2005, and has been edited more than 500 times.[2] On DeviantArt, there are over 4,000 deviations featuring Vault Boy.[3] He is frequently used in fan art on Tumblr as well, including some of which that exists under Rule 34. [4] As of January 15th, several months after the release of Fallout 4, the hashtag #vaultboy has been searched over 93,000 times on Facebook. [5]
Various Examples






Search Interest
External References