White Cop-Caller Nicknames
This submission is currently being researched & evaluated!
You can help confirm this entry by contributing facts, media, and other evidence of notability and mutation.
About
White Cop-Caller Nicknames refers to a series of mocking pseudonyms given to white people who have received viral attention for calling the police on African Americans.
Origin
The earliest known example of the trend is BBQ Becky. On April 29th, 2018, YouTuber Michelle Dione posted a video entitled "White Woman Called Out for Racially Targeting Black Men Having BBQ in Oakland." In the video, a woman in sunglasses called the police, after asking a group of people who were having a cook out to leave a park in Oakland, California. The post (shown below) received more than 1 million views in two weeks.
Spread
Permit Patty
Permit Patty is a nickname given to Oakland, California woman Alison Ettel after she allegedly called the police on an eight-year-old black girl and her mother for selling water outside her apartment. After a video of the incident circulated online, Ettel was mocked in memes and her profession as the CEO of a medicinal marijuana company for animals was pointed at as illustrative of the difference between being white and black in America. The situation drew comparisons to BBQ Becky", another Oakland, California woman who several weeks prior had called the police because of a group of black people having a barbecue.
On June 23rd, 2018, Twitter user @_ethipoiangold, the 8-year old girl's cousin, tweeted a video of Ettel evidently on the phone with the police after calling them because the girl and her mother were selling water "without a permit." @_ethiopiangold used the hashtag "#PermitPatty" (shown below). The mother, who goes by @ladyesowavy on Instagram, also posted the video, and gained over 1.2 million views.[1]
So my little cousin was selling water and didn't have a permit so this lady decided to call the cops on an 8 year old. #PermitPatty pic.twitter.com/SiL61pnAgl

— Raj 🌹 (@_ethiopiangold) June 23, 2018
Pool Patrol Paula
Pool Patrol Paula is a nickname given Stephanie Sebby-Strempel, who was arrested for accosting a group of black teenagers while trying to forcibly remove them from a public swimming pool.
On June 24th, 2018, Facebook[2] user Rhe Capers posted a series of pictures and video of Sebby-Strempel verbally and physically confronting several black teens at a public school in Summerville, South Carolina. They wrote, "So yesterday my 15 year old nephew was assaulted while at a pool with his friends by a lady named Stephanie Sebby-Strempel In the video you can see her being extremely aggressive, invading his personal space and calling him and his friends little punks!!! Also in the video you can hear her make contact striking him twice because he was smart enough to record her!!!!" The post (shown below) received more than 4,400 reactions, 14,000 shares and 60 comments in less than one week.
Video of the incident (shown below, right), also posted that day, received more than 1.1 million views in one week.

ID Adam
ID Adam is the nickname given to a man who was filmed asking a black woman to provide proof that she was a local resident in order to use a community pool in Winston-Salem, North Carolina.
Coupon Carl
Coupon Carl is the nickname given to a CVS manager who called the police on a black woman customer, after she attempted to use a manufacturer's coupon at a Chicago store. Video of the incident went viral, similar to other incidents of white people calling the police on black people.
On July 14th, 2018, Camilla Hudson posted on Facebook [3] about a hostile interaction that she had with a CVS store manager, after she attempted to redeem a manufacturer's coupon at a Chicago store. She wrote:
"I had the police called on me for attempting to use a coupon @ the CVS Pharmacy located at 6150 N. Broadway in Chicago! I stopped in to make a purchase using a coupon mailed to me by the product manufacturer, as replacement for problematic/defective product. The manager on duty said that he'd never seen a coupon like the one I had and said that he thought it was fraudulent. When I asked for his name and his title/role within the store, he became agitated and rude. When I pulled out my phone to document what happened and exactly what he'd said to me (AND how he'd said it!) he turned his back and walked away from me. When I followed him and demanded that he answer my question, he ran to the back of the store and slammed a door in my face. Meanwhile, the other manager, who'd been helping me initially, came running back to tell me that I'd better leave the store immediately, because he'd called the police."
The post (shown below) received more than 1,800 reactions, 1,100 comments and 1,800 shares in two weeks.
Baggage Claim Becky
Baggage Claim Becky is the nickname given to a female baggage claim attendant who was filmed refusing a black woman the name and contact of a manager, after the attempted to report a customer service issue at Logan International Airport in Boston, Massachusetts.
On August 28th, 2018, @IAmSachaa, whose real name is Arlene, tweeted a note explaining that on August 24th, 2018, a baggage claim attendant treated her with hostility, after she attempted to report that her baggage had been damaged while in Delta's custody. After asking to speak to a manager, the employee continued to deny her the manager's name and contact information. The Delta employee soon realized that Arlene had been filming the altercation and began to call the police (shown below) .[4]

Cornerstore Caroline
Cornerstore Caroline is a nickname given to female resident of Brooklyn, New York, who became the subject of a online scutiny, after accusing a nine-year old black child of sexual assault and calling the police on him. The allegations were later refuted by surveillance footage of the incident.
On October 10th, 2018, Facebook [5] user jason.s.littlejohn shared a video of a woman, whom they refer to as "Cornerstore Caroline," calling the police on "a kid, saying he sexually assaulted her." The caption continues, "As I walked up I noticed the argument, apparently the kid brushed up against her and she said he touched her and decided to call police on a nine year old child. As you can see the kid is crying and the mom is upset." Within one week, the video received more than 40,000 reactions, 34,000 comments, 153,000 shares and 7.3 million views (video below).
Golf Cart Gail
Golf Cart Gail is the nickname given to a white woman who was the subject of controversy, after calling the police on a black father watching his son's soccer game. Many criticized the incident, believing that there was no apparent cause for police involvement, as another example of a trend in which white people call the police on black people without reason.
On October 14th, 2018, Facebook [6] user amy.l.williams.777 posted on Facebook of incident between a white woman in a golfcart and a black father watching his son's soccer game in St. Johns County, Flordia. She wrote:
"SOCCER WHILE BLACK. A parent at my son's soccer game had the police called on him for cheering for his son during the game. This man was simply trying to watch his son's soccer game and cheer for him from the sides. He yelled 'The ref is right!' when he saw his kid out there getting frustrated after a call. This woman, lets call her Golfcart Gail, decided to spring into action and rapidly approach this parent and remind him that harassment would not be tolerated."
The post continues that after the father decided to leave the game to avoid a situation, the woman contacted the police and told him that "she no longer felt safe with his threatening behavior." The post received more than 32,000 reactions, 10,000 comments and 33,000 shares in less than one week (shown below).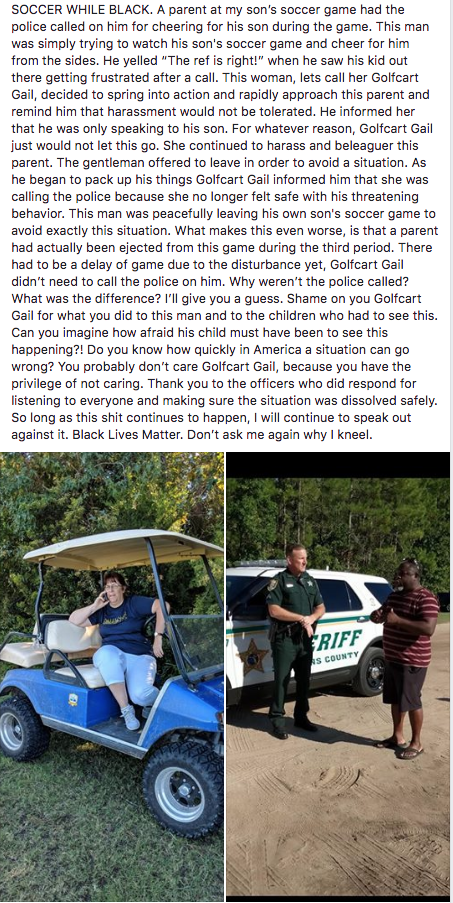 White Fear Hotline
On October 22nd, 2018, The New York Times premiered a video starring comedian Niecy Nash. The video is for a satirical hotline called "1-844-WYT-FEAR," a resource for white people to use instead of calling 9-1-1. Within 24 hours, the video received more than 42,000 views (shown below).
According to the HuffPost,[7] "The phone number is real, though, and people who call it will get a message reminding them that African-Americans are more likely to experience force in the American criminal justice system and endure longer sentences."
Search Interest
External References
Recent Images
There are no images currently available.