You Dare Oppose Me Mortal
About
You Dare Oppose Me Mortal is a series of reaction image macros of a distorted image of Thomas the Tank Engine. The image has been used as the punchline to jokes about reacting to insolence or disagreements.
Origins
The image of Thomas the Tank Engine originally appeared in several memes throughout the mid-00s. In 2014, it appeared in a variation of the Expand Dong meme, which featured the caption "The Ride Never Ends" (shown below, left). Two years later, it appeared in a video entitled "Bass boosted thomas (EAR DESTROYING)" by YouTuber FugoMS on September 5th, 2016. The post received more than 18,000 views in three years (shown below, right).

On April 17th, 2019, Redditor [1] Viq3579 posted a deep fried version of the image as a Math Teacher's reaction to the caption "Me: uses a different method of solving a math problem*." The post recieved more than 63,000 points (96% upvoted) and 380 comments (shown below).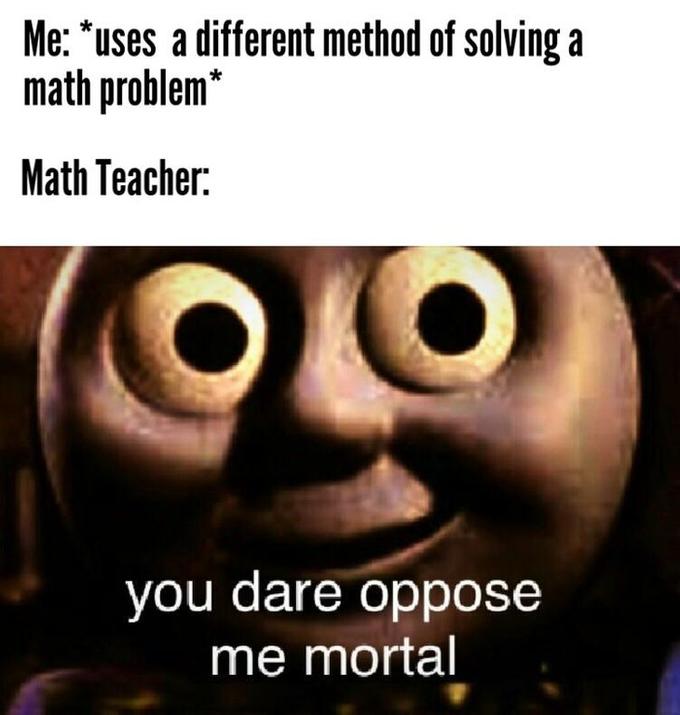 Spread
That day, Twitter [2] user @Poliskoplin tweeted the image as Dr. Phil's reaction to an insult from guests (shown below, left). Later that day, Redditor[3] SalmonHam1 posted it on the /r/dankmemes subreddit. The post received more than 15,000 points (98% upvoted) and 60 comments.
Throughout the day, others shared the image with similar jokes that turned Thomas into an angry, immortal god (examples below, center and right).



Various Examples






Search Interest
External References