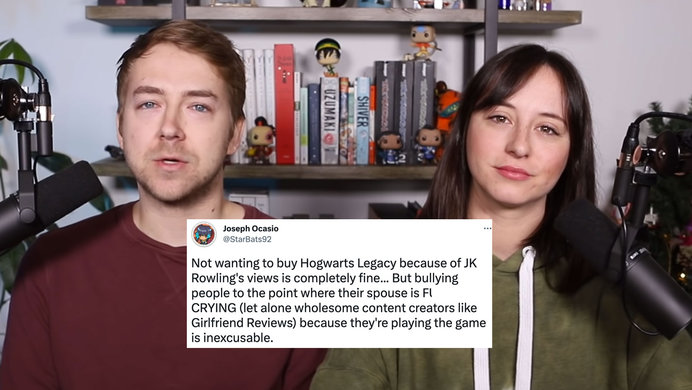 Twitch streamer Shelby of Girlfriend Reviews was harassed to the point of tears last night while she and her boyfriend Matt played Hogwarts Legacy, the open-world Harry Potter game that has become a hotbed of controversy because of its association with J.K. Rowling (among other reasons).
Rowling's recent slew of TERF controversies have prompted strong calls to boycott Hogwarts Legacy, for while Rowling reportedly had no involvement with the game, she will receive royalties for its success.
Yesterday, Matt and Shelby's Twitch chat quickly became a toxic mess shortly after they began playing the game, which they received a review copy of ahead of its Friday release. The couple soon turned on "sub-only" chat on their stream to try and mitigate the bullying, but to no avail, as it prompted a wave of people subscribing to their channel for the sole purpose of harassing and insulting the duo.
The clip of Shelby sounding as though she was on the verge of tears circulated widely on social media, sparking heated debates and backlash.
Twitch chat bullies streamer for playing Hogwarts Legacy to the point of making his girlfriend cry pic.twitter.com/bod3A5DvMz

— Dexerto (@Dexerto) February 7, 2023
Trouble began brewing for the couple yesterday when they announced they were going to stream Hogwarts Legacy later that evening. After receiving some pushback, they assured viewers that they had received the game for free (meaning they hadn't financially supported Rowling by getting a copy) and would be raising money for The Trevor Project, a non-profit aiming to provide counseling to LGBTQ+ teens while they played the game.
Hey guys! I see a lot of you are not feeling this choice! If you go to our stream you'll see we are raising money for the Trevor Project while we play this game we spent no money on. We'll play it (again, for free) so you can know how it is without having to!

— Girlfriend Reviews (@itsgfreviews) February 6, 2023
Many on social media were outraged that Girlfriend Reviews (largely thought of as a wholesome and progressive channel) received such harassment and took the incident as a sign the backlash against Hogwarts Legacy had gone too far.
YOU FUCKING HAD TO DO THIS TO GIRLFRIEND REVIEWS, ONE OF THE NICEST YOUTUBERS OUT THERE WHO HAVE CONSISTENTLY SHOWN THAT THEY'RE GREAT PEOPLE. FUCK JK ROWLING BUT LEAVE LITERALLY EVERYONE ELSE ALONE. https://t.co/M1GMw3Zz5t

— PastelNoir (@PastelN0ir) February 7, 2023
Not wanting to buy Hogwarts Legacy because of JK Rowling's views is completely fine… But bullying people to the point where their spouse is FUCKING CRYING (let alone wholesome content creators like Girlfriend Reviews) because they're playing the game is inexcusable. https://t.co/4qwflfAZZH

— Joseph Ocasio (@StarBats92) February 7, 2023
Y'all are fuckin awful for going after girlfriend reviews. Like seriously, fuck you people, you're not my ally you just like being cruel to people on the internet with anonymity.

— TootyBoots 🇺🇦 🏳️‍⚧️ (@BootsTooty) February 7, 2023
Others were less sympathetic, noting that the pair were asked by their fans to not play the game and should have seen the situation coming.
From what I read Girlfriend Reviews subscribers told them to not play the Wizard game, GR was given a review copy by WB, GR tried to soften the blow by having donations to the Trevor Project and had the chat in Sub Only.

Oh this is a fine fucking mess.

— The E2L Goose Katsucon AA 2023-G2 🐍☁️/❄️🔥🔞 (JenosonTwit) February 7, 2023
i can not really feel bad for girlfriend reviews when literally everyone in good faith was telling her what she was planning on doing was dumb, and she acknowledged + doubled down on it before then proceeding to stream the thing. like it was telegraphed so hard

— Harokid Ver. Girl (@KamillePanti) February 7, 2023
as a fan of Girlfriend Reviews: they were told by several minorities that ppl were against it because of the IP's creator and the storyline, and streamed anyway.

Donations to US LGBT funds don't Stop Rowling's millions going to UK anti-trans charities what's the fking dissonance

— 𝐈𝐗 CONCRETE ARF ARF 𝐈𝐗 (@FUNERALDRNGMNTS) February 7, 2023
The incident comes amidst stronger calls for boycotts in the week ahead of the game's release. One developer has even made a single-use website, called "Have They Streamed that Wizard Game," for the sole purpose of allowing users to see if Twitch streamers have streamed Hogwarts Legacy.
Introducing https://t.co/q3Qq5j7f0M – find out if anyone you follow on twitch has streamed THAT new wizard game pic.twitter.com/i1VIBU64dk

— Sam Gibbs (@iamsamgibbs) February 6, 2023
The backlash has put many in the gaming journalism and streaming industries in a difficult position as well. Despite the controversy surrounding it, Hogwarts Legacy will almost certainly be a popular title on account of it being part of one of the most iconic franchises of the 21st century.
Some have noted how streamers and journalism outlets are in the difficult position of choosing whether to cover the game despite the controversy surrounding it or ignore one of 2023's marquee gaming titles.