PROTIP: Press 'i' to view the image gallery, 'v' to view the video gallery, or 'r' to view a random entry.
About
Annoyed Picard is an image macro series featuring a screen capture of the Star Trek: The Next Generation character Jean-Luc Picard wearing an exasperated expression and captions revealing one's frustration or incredulous reaction accompanied by the rhetorical "how the fuck?", "why the fuck?" or "what the fuck?"
Origin
TThe original screen capture was taken from the Star Trek: The Next Generation episode "Ménage à Troi" originally aired on May 28th, 1990, in which Captain Picard recites lines from the sonnets by the English poet and playwright William Shakespeare.
Prior to the arrival of Annoyed Picard, the Star Trek character has long been associated with reaction face images conveying irritability or disappointment, most notably through the Facepalm instance from 2005 and the original instance of "WTF is this shit" based on the same screen capture. The Quickmeme[1] page for "Annoyed Picard" was created on January 23rd, 2012, which featured the screen capture of Picard with an outstretched arm accompanied by the caption "Oh come on! / You don't even know what a meme is!"
Spread
On February 10th, 2012, Redditor rbecks submitted an Annoyed Picard image macro with the caption "Admit it, when you look at me doing this / even you go 'Ayyyy'" (shown below, left) to the /r/AdviceAnimals[4] subreddit, but it did not manage to reach the front page having received less than 10 votes. On April 17th, Redditor Ayycanadian submitted an image macro with the caption "Who the fuck / let the dogs out?"[5] (shown below, right), which received over 3,200 up votes within three months.
On June 23rd, a new Quickmeme[2] page was created titled "Annoyed Picard HD", which featured a higher resolution version of the original Annoyed Picard screen capture. On July 9th, Annoyed Picard was listed as the #1 Jean-Luc Picard meme on the rating website Ranker.[7] On July 30th, the Internet humor blog PandaWhale[8] published a post titled "Annoyed Picard Meme", which featured a compilation of notable examples from the series including an animated GIF version.
The meme has continued to spread on the microblogging site Tumblr under the tag "#annoyed picard."[3] As of August 1st, 2012, the "Annoyed Picard" Quickmeme page has accumulated over 6,400 submissions and the "Annoyed Picard HD" page has received over 4,700 submissions.
Notable Examples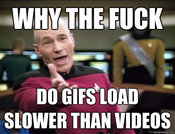 Search Interest
External References
Recent Videos
There are no videos currently available.
Facebook Comments