PROTIP: Press 'i' to view the image gallery, 'v' to view the video gallery, or 'r' to view a random entry.
This submission is currently being researched & evaluated!
You can help confirm this entry by contributing facts, media, and other evidence of notability and mutation.
About
Wolverine Crush is a two-panel exploitable comic series featuring the Marvel superhero Wolverine gazing longingly at picture frame, which often contain various humorous images superimposed over the original photograph.
Origin
In Season 1 Episode 5 of the animated television series X-Men, originally aired on January 30th, 1993, the character Wolverine is shown jealously looking at a picture of the superheroes Cyclops and Jean Grey (shown below).
The earliest known instance of the exploitable comic featured a nude selfie of actress Scarlett Johansson and was submitted by Redditor Jamy18 to the /r/funny[5] subreddit on September 18th, 2011 (shown below, right). Prior to being archived, the post accumulated over 1,000 up votes and 20 comments.
Spread
On April 10th, 2012, BuzzFeed[1] highlighted a Wolverine Crush image featuring a superimposed photograph of Ridiculously Photogenic Guy. On the following day, Redditor xchaos submitted a comic of Wolverine holding a photograph of Valve founder Gabe Newell to /r/gaming[2] (shown below, right).
On July 8th, 2013, Reddit Samisneat submitted a comic of Wolverine caressing a picture of actor Nicolas Cage to the /r/onetruegod[3] subreddit, where it gained more than 1,700 up votes and 15 comments before it was archived. On September 10th, Redditor dinojoe posted a Wolverine Crush image featuring a photograph of marijuana to the /r/trees[4] subreddit, garnering upwards of 2,800 up votes and 45 comments prior to being archived.
Notable Examples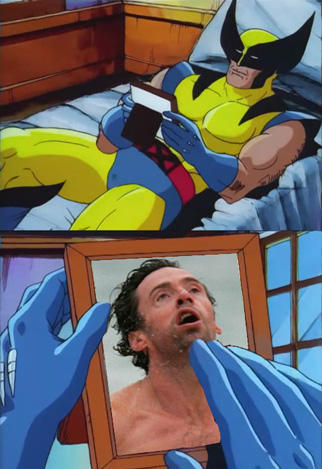 Search Interest
External References
Facebook Comments