Who Is The Goth Birthday Girl? The Viral Photogenic Goth Birthday Girl Meme Explained
If you have seen an image of a girl wearing a full white face of goth makeup while sitting at a table with her very normal-looking family, you've been subject to the viral Goth Birthday Girl photo. The image was shared far and wide in 2021 for being a representation of the prototypical modern American family. Here's the lore behind the meme that joined the ranks of goth girl classics like Tractor Goth Girl.

Where Does The Goth Birthday Girl Image Come From?
In 2021, an Instagram user Willow, who goes by the handle @gravesitezero, posted a memorable photo from her 15th birthday party, where she is seen sitting at a table with her grandma, grandpa, and older sister. The photo shows Willow wearing a goth outfit consisting of a black t-shirt, chain choker necklace, white, black and red face paint, as well as long black hair that covered her eyes.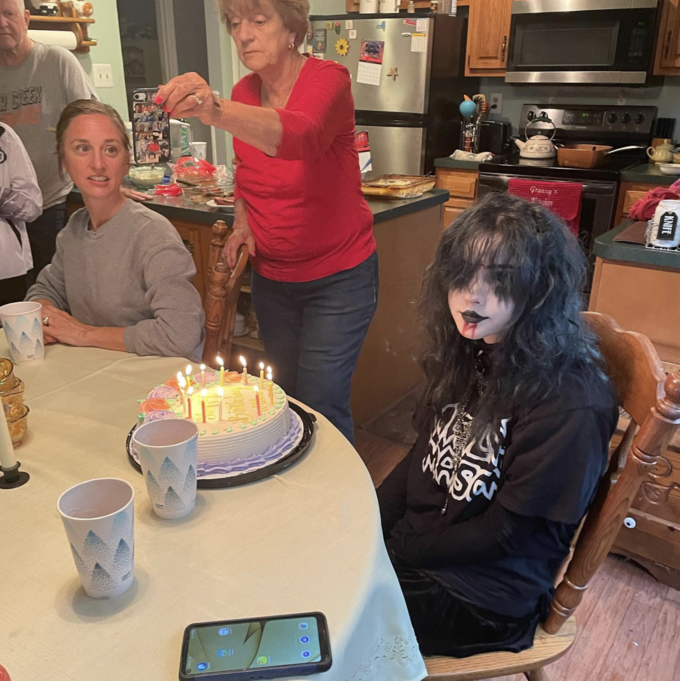 How Did Goth Birthday Girl Become A Meme?
Sometime after Willow's initial photo went viral on various platforms, an iFunny user made a meme claiming to be posting an image of their little sister. The image was reposted to Reddit as well, with one /r/dankmemes user captioning the image, "When darkness is your life, but your mom still wants you to celebrate."


Does Goth Birthday Girl Know She's A Meme?
Willow knows the widespread appeal of her photo and has fended off requests for "feet pics" and accusations of being a "poser" in a revised caption for the original post. Willow also recreated the original photo for her latest birthday in 2023, and received a fresh wave of people remarking on her aesthetic choices.

---
For the full history of Goth Birthday Girl, be sure to check out our entry on her here for even more information.