All I Know Is That I Must Kill
About
All I Know Is That I Must Kill is Image of a Russian OMSN MVD RF servicemember wearing a Maska SCh1 helmet. It is most common used either sincerely or ironically about gamers and their attitudes to games, particularly first-person shooters. It is used in a similar capacity to the Stealth is optional for this mission meme and is related to the Lord Tachanka meme as they both a similar look by wearing the Maska SCh1 helmet.
Origin
The predecessor of the meme and origin of the phrase started on /k/. The variation was first uploaded to Imgur on December 21st, 2014 where it has gotten 2,009 views.

The original Image used for the meme comes from a blog called 'Russian Military Blog' and was uploaded on November 23, 2011.

The current format of the meme was uploaded to Imgur on July 17th, 2016, and has gotten 41 views subsequently.

Spread
On October 20th, 2018, the image was uploaded to Reddit by user u/_AllMight to r/memes,[1] where it has gained over 4,000 points.

From there it has been used to comment on players perception of playing action-oriented video games as well as how it feels to skip storylines/cutscenes in games. It has also been used ironically to comment on the the perception of the violence of video games and video gamers by society. For example, on August 9th, 2019, iFunny user Ghetto Posts posted a joke about Nintendogs (shown below, left). The same day, a joke about Pokémon GO was posted to 9GAG (shown below, right).


Various Examples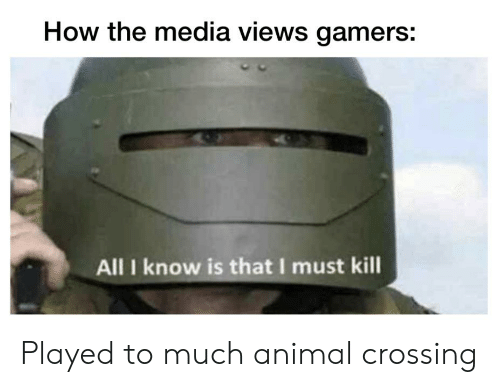 Search Interest
External References
Recent Videos
There are no videos currently available.