About
Pokémon GO is an augmented reality game for mobile devices developed and published by Niantic in which the player can capture, train and battle digital avatars of Pokémon characters in real-world locations using a GPS-enabled and camera-equipped smartphone. Upon its release in July 2016, Pokémon GO quickly became one of the most downloaded mobile apps to be ever released.
History
The concept for the game was originally conceived by Satoru Iwata of Nintendo and Tsunekazu Ishihara of The Pokémon Company as an April Fools' Day collaboration[9] with Google Maps[8], which released a Pokémon-themed easter egg update for its mobile app under the name "Pokemon Challenge" on April 1st, 2014. The limited time-only feature allowed Google Maps users to track and capture virtual Pokémon characters using the smartphone's GPS technology.
Release
On July 6th, 2016, Pokémon GO was officially released for iPhone and Android device users in the United States, Australia, New Zealand and Japan, followed by its release across Canada and Europe between July 13th and July 17th (with the exception of France) and in Japan on July 22nd. The game was made available in France on July 24th, followed by Hong Kong on July 25th.
#PokemonGO is now available in the US! Who's ready to catch Pokémon in the real world? https://t.co/9S8QGxxJfyhttps://t.co/qkk73DXb5b

— Pokémon (@Pokemon) July 7, 2016
Official Teams
During the San Diego Comic-Con held on July 24th, 2016, Niantic Labs introduced the three leaders for the Pokémon GO teams: For Team Valor, the character Candela was revealed, who is depicted wearing a white jacket with red accents (shown below, left); for Team Mystic, a character named Blanche wearing a blue trenchcoat was announced (shown below, middle); for Team Instinct, the character Spark was unveiled, wearing a gold-colored hoodie and black jacket (shown below, right).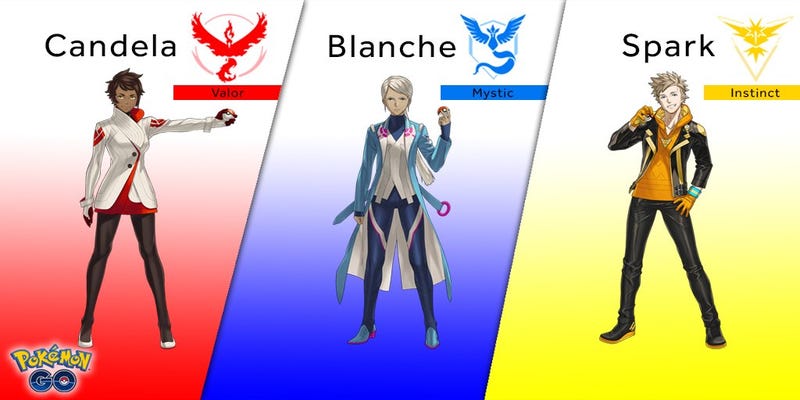 Immediately after they were announced, various fan illustrations of the characters began appearing on Twitter and Tumblr (shown below). In many of the depictions, Candela and Blanche are often shown as a mature pairing, while Spark is portrayed as an obnoxious meme enthusiast. In the coming days, several news sites published articles about the online reaction to the team leaders, including Kotaku,[31] Dorkly[32] and The Verge.[33]






Reception
Pre-release
On September 9th, 2015, the The Official Pokémon Channel YouTube channel released a trailer for Pokémon GO, featuring live-action footage of young people interacting with augmented reality Pokémon characters with their mobile devices (shown below). Within one week, the video gained over 13.6 million views.
It was revealed that the game was slated for release in 2016 along with the Pokémon Go Plus, a wearable device that connects to a smart phone using Bluetooth and sends notifications when a virtual Pokémon is nearby.

The same day, several posts about the announcement trailer reached the front page of Reddit, including submissions on the /r/pokemon,[1] /r/android[2] and /r/gaming[3] subreddits. On September 10th, a 4chan user replied to a thread about the game joking about threatening kids with violence to obtain their rare Pokémon (shown below). That day, a screenshot of the reply was posted in the /r/pokemon[6] subreddit, where it received upwards of 5,400 votes (96% upvoted) in the first six days.

On September 14th, Tumblr user delacroix911[5] posted a web comic in which a Pokémon Go player battles Pope Francis at the Vatican in Italy for the Pokémon Arceus (shown below). That day, Redditor Doomherald3000 reposted the comic on the /r/pokemon[4] subreddit. Within 48 hours, the Tumblr post gathered more than 42,600 notes and the Reddit post received over 5,100 votes (94% upvoted).

Release
Within the first 24 hours of its release, Pokémon GO topped the "top grossing" and "free" mobile app charts on Apple's App Store, while Google estimated that the Android version of the game was downloaded between 50,000 and 100,000 times. Meanwhile, the mobile game itself has been largely met with lukewarm reviews from the fans of the Pokémon video game franchise, with the users of Nintendo Life giving it an average score of 6.6 out of 10 and a Metacritic[14] rating of 5.7 out of 10 based on 26 user reviews. By July 11th, five days after its release, the Android version of the mobile game app had been downloaded more times than popular online dating app Tinder, while its daily active users had measured up to par with that of Twitter, according to web analytics firm SimilarWeb. Within one week of release, the game became the most downloaded app of all time on Apple's App Store, with over 10 million downloads. By July 26th, the game had been downloaded an estimated 75 million times worldwide and generated upwards of $75 million, with approximately $1.6 million per day from iOS users.[34]
Technical Issues
Due to the sudden and massive influx of people attempting to download and play the game at the same, the launch of the game was also marred by several technical issues, including login problems, server outages, in-game glitches, heavy battery usage and unexplained crashes, which led many users to take their grievances to the social media.
Commercial Impact
A day after the game's release on July 7th, Nintendo's share price rose 10%, and continued to 50% by the following week. By July 22nd, Nintendo had accumulated $17.6 billion in market capitalization. That day, Nintendo released a statement[35] pointing out that they did not make or own Pokémon Go, and that the game was "developed and distributed by Niantic, Inc." Following the release of the statement, Nintendo's share prices dropped 17%.[36]
Real World Platform
On June 28th, 2018, Niantic announced that they would be opening the augmented reality to third-party developers. In conjunction, they released a video showed off their latest advancements in the AR technology, particularly the use of "occlusion," or the use of machine learning in augmented reality. The video (shown below) features the digitally-rendered Pokémon Pikachu and Eevee weaving in and out of objects in the real world.
Fandom
Professor Willow
That day, many internet users began posting about the in-game character Professor Willow, with many noting that they found him physically attractive (shown below). Additionally, the tech news blog The Verge[13] published an article titled "Who is Pokémon Go's Professor Willow and why is he such a daddy?"



In-Game Screenshots
Meanwhile, Redditor ReallyBadCafe posted an in-game screenshot of a Magikarp found on a frying pan in a kitchen in Pokémon GO to the /r/pokemon[12] subreddit (shown below, left). On July 7th, Redditor kbzero submitted a screenshot of a Diglett Pokémon rising out of a toilet in the game's augmented reality viewfinder to /r/pokemon[10] (shown below, middle). Meanwhile, Redditor wastedjoel posted a picture of the Pokemon Gastly discovered in a hospital room in the game to /r/funny[11] (shown below, right).



One Year Anniversary
On July 8th, 2017, Nintendo announced an in-game Solstice event to take place on July 13th in honor of the game's one year anniversary. Additionally, the company revealed plans for a Pokémon GO Fest[40] event to be held in Chicago, Illinois on July 22nd. Meanwhile, posts about the one-year anniversary of the game reached the front page of the /r/pokemongo[42] and the /r/TheSilphRoad[43] subreddits.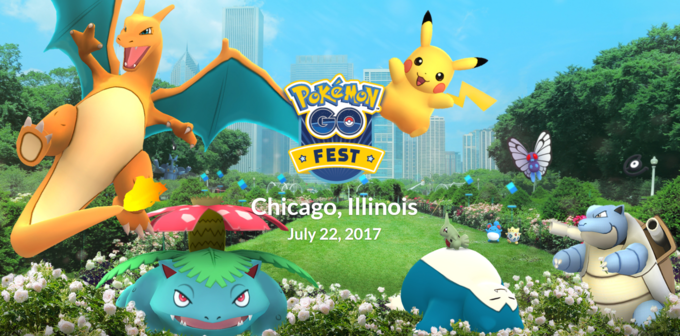 DABIRDINDANORF
DABIRDINDANORF, also known as The Bird in the North, is a catchphrase used by some members of the Pokémon GO Mystic team to identify each other. The slogan originated from a crossover ode to the Game of Thrones and Pokémon universes on Reddit's /r/PokemonGo[7] community in July 2016.
Controversies
Public Safety
The real-life exploratory nature of the game has also raised some safety concerns and incidents in various regions.
On launch day, a Northern Territory police station in Australia issued a statement via its Facebook page advising the public that players do not need to enter the Darwin Police Station in order to capture the Pokemon stationed near the site.
Incidents
On July 8th, Shayla Wiggins, a 19-year-old teenager and resident of Riverton, Wyoming, inadvertently discovered a dead body floating in a river while using the app to try to catch a Water-type Pokémon, prompting a local police investigation.
On July 9th, Gabriel Loyola, a resident of Holland Township, Michigan, found a female driver unconscious behind the wheels at a cross section while playing Pokemon Go on his smartphone in the area. Upon arriving at the scene, the police investigators arrested the woman in the car after determining that she had passed out in the car under the influence of alcohol.
On July 10th, four Missouri teenagers ranging from age 16 to 18 were arrested by police in St. Louis on charges of robbery for allegedly using the game's "beacon" feature to lure in unsuspecting Pokemon Go players to a specific location
On July 11th, a Virginia woman filed a police report after three male teenagers on bicycle stole her cell phone while she was playing Pokemon GO.
On July 12th, several University of Maryland students were robbed by an unknown assailant while playing the game, prompting the University of Maryland Police Department to issue a public statement with a list of safety tips for the campus residents.
On July 13th, two men in their early 20s were rescued by firefighters after falling from a sandstone bluff while playing the game in Encinitas, California. According to San Diego County Sheriff's Department, they had crossed over a fence in order to capture a Pokemon near the edge of the cliff, unaware of the signs that said "No Trespassing" and "Do Not Cross."
On July 13th, David Wallace and his friend were robbed and carjacked at gunpoint while driving around after work to play the game near Lone Oak Park in Antelope, California. According to the local news reports, the gunman took their cellphones, cash and fled the scene in Wallace's SUV.
On July 16th, two teenagers were shot at by a 37-year old man after being mistaken for burglars while driving around a residential neighborhood to play the game after midnight in Palm Coast, Florida. According to the police, the man decided to investigate a suspicious vehicle parked right outside of his home at around 1:30 a.m., and upon confronting them with a gun, the teenagers fled the scene, at which point he fired several rounds at the vehicle.
Terms of Service
On July 14th, The Consumerist[18] reported on the app's terms of service (ToS), which includes a clause stating that the user gives up any right to sue Niantic Labs or to take part in a class action lawsuit for any reason. As the article writes, in cases like a large data breach where many people would have reason to mount a lawsuit "rather than have to answer for the totality of the error, the company would only have to face those few users who take the time -- and have the resources -- to bring a case before an arbitrator." Users may opt out of the arbitration clause, but must do so by direct email within 30 days of creating their account.[19]
Vlogger Convicted for Playing in Church
On May 11th, 2017, Russian courts convicted blogger Ruslan Sokolovsky, 22, a Russian vlogger arrested in August 2016 for playing Pokémon GO in a church, of insulting religious believers and inciting hatred. In 2016, police detained Sokolovsky for uploading a video of himself playing the game in an Orthodox church. Sokolovsky plead not guilty. Courts also cited eight other videos of the vlogger criticizing religions between May 2013 and September 2016[27] and found him guilty of llegal trafficking of special technical equipment, which was in reference to a camera pen police found in his apartment following the arrest. The court sentenced Sokolovsky to a suspended jail sentence of three years and six months.[38] That day, Twitter published a Moments page[39] to archive the online reaction to the sentencing.
The video of Sokolovsky playing Pokémon Go in church (shown below) contains multiple critiques of the church and has received more than 1.9 million views since its uploading on August 11th, 2016.
Alleged Russian Interference
On October 12th, 2017, CNN[44] reported that a Russian-linked campaign posing as a Black Lives Matter group attempted to use Pokémon Go to sow racial tensions in America, possibly in an effort to influence the 2016 United States Presidential Election. The group called itself "Don't Shoot Us." In July of 2016, the group's Tumblr account posted a contest that told users to use Pokémon Go near sites of police brutality and name the Pokémon caught there after victims of police brutality. "Winners" would receive Amazon gift cards. It is unclear if any Pokémon Go players participated in the contest.

When the news broke, Twitter users reacted with jokes combining Pokémon Go with various conspiracy theories about the election. These jokes were collected by Uproxx.[45]



Search Interest
External References