April 24th "National Rape Day" / 4/24 TikTok Trend
Warning: This page contains material that may be considered not safe for work.
Content Warning: Portions of the following entry contain mentions and/or depictions of sexual violence or abuse. If you need support or you or a loved one are in an abusive situation, please contact the National Sexual Violence Resource Center or call 1-800-656-HOPE.
---
About
April 24th "National Rape Day" TikTok Trend refers to numerous videos posted to TikTok in April 2021 warning people about a rumored "national rape day" to be celebrated on the 24th of the month. The rumor, started by trolls, quickly spread outside of TikTok, leading many news outlets and users to post warnings about it leading up to the date.
Origin
Jokes and posts about a "national rape day" date back to at least 2010 on Twitter,[1][2] although none mention April 24th specifically or purport the day to be a real, practiced thing, more so using the phrase for comedic shock value (example shown below). Jokes about the day can also be found on 4chan[3] starting in 2015.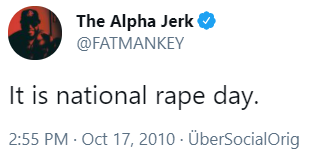 On April 11th, 2019, Urban Dictionary user KossanTone published[14] a now-deleted definition for "National Rape Day," defining it as, "April 24th! The day when it's legal to rape people! So go ahead have sex with everyone, even your friends🌵." On March 20th, 2021, TikToker[6] @glambyizzy posted a skit sharing the definition and expressing disbelief about it, garnering over 789,000 views in a month (shown below). This is the earliest known video warning users about the date.
Prior to KossanTone's definition, two earlier entries for "National Rape Day" were made on Urban Dictionary[14] in May 2018.
On March 21st, 2021, Redditor[4] u/bowlerboy2 posted a screenshot of the definition to /r/AreTheStraightsOK, garnering over 720 upvotes in just under a month (shown below). On March 22nd, 9GAG[5] user WTF posted a similar screenshot titled "Guys when will this happen," garnering 30 points in a comparable span of time.

Allegedly, a group of six men started spreading news of the day on TikTok sometime in March,[7] however, none of these videos have surfaced and no accounts have been found actively supporting national rape day on the platform.
Spread
In April 2021, numerous TikTokers[8][9] started uploading videos warning users about April 24 and encouraging them to stay home, as well as threatening anyone who jokes about the day or plans on participating in it (examples shown below, left and right). Many note that the day is likely a troll, but warn users anyway to be on the safe side.
On April 4th, 2021, Urban Dictionary[13] user Some bisexual kid defined "National rape day" as "National rape day is shit. It was made by horny males, who think rape is funny. If you think rape is cool, your going to hell. Rape is f-çk1ng gross, for one. It's also disrespectful, and if you rape somebody, I won't see you in heaven. -A bisexual girl, who has been raped." The post gained over 1,800 upvotes in two weeks, becoming the top definition for the term (shown below).

Word about the day spread further across social media in mid-April leading up to the 24th. For example, on April 15th, Twitter[10] user @11ralexis posted, "True or not I'd rather be safe than sorry. As always us ladies need to be aware & stay safe. There are rumors of APRIL 24th being 'national rape day' PLEASE PAY ATTENTION EVERYDAY ESPECIALLY THIS DAY IN CASE SOMEONE ACTUALLY TRIES THIS." The post garnered over 1,100 retweets and 1,300 likes in four days (shown below).

The rumors were reported on by a number of news outlets that month. On April 17th, HITC[11] published an article explaining how to report users supporting the date. On April 18th, Newsweek[12] reported on the trend.
Various Examples
Search Interest
External References