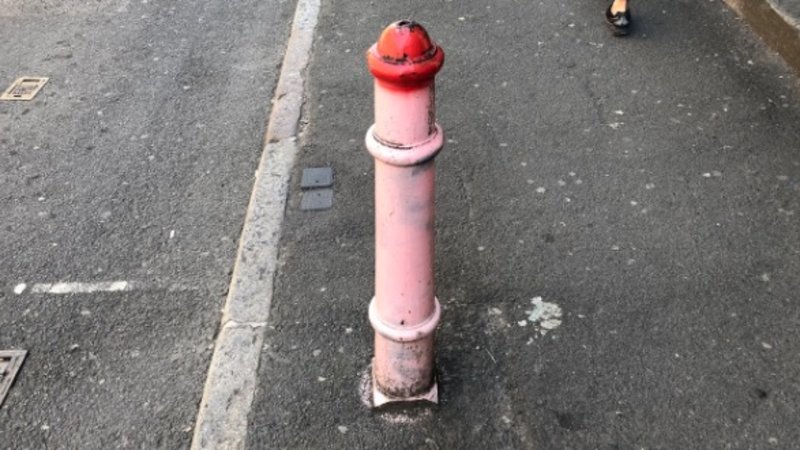 About
Big Dick Energy or BDE is an internet slang term which generally means an understated state of confidence. The term was popularized after it was used to describe Ariana Grande's fiancé Pete Davidson after the singer appeared to confirm the comedian had a large penis.
Origin
On June 8th, 2018, Twitter user @imbobswaget used it to describe Anthony Bourdain after his suicide, gaining over 660 retweets and 6,800 likes (shown below).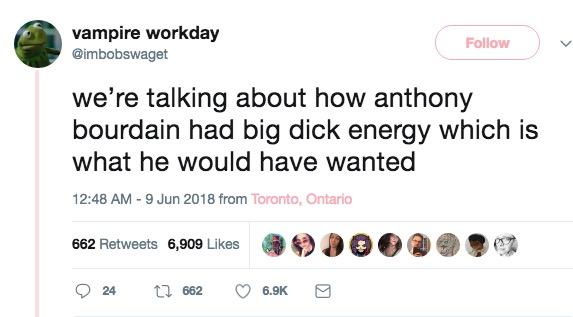 Spread
The term spread on June 22nd, 2018, after Ariana Grande appeared to confirm that her fiancé Pete Davidson had a 10-inch penis in a since-deleted tweet (shown below).

That day, Twitter user @babyvietcong used the phrase "big dick energy" to describe why Grande quickly got engaged to Davidson, gaining over 24,000 retweets and 162,000 likes (shown below).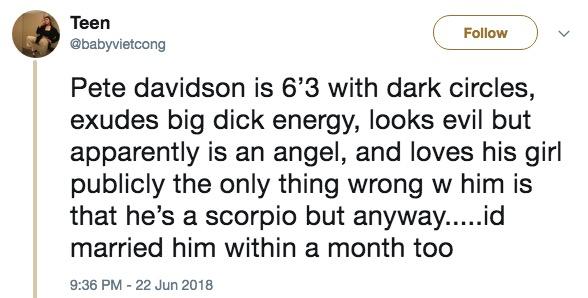 Over the following several days, Twitter users debated the meaning of "big dick energy," generally agreeing that one did not need to have a penis to have it. Twitter user @priya_ebooks stated it was "confidence without cockiness," gaining over 180 retweets and 1,300 likes (shown below, left). User @rey_z argued that women could have "big dick energy," citing famous women including Rihanna and Cardi B (shown below, right).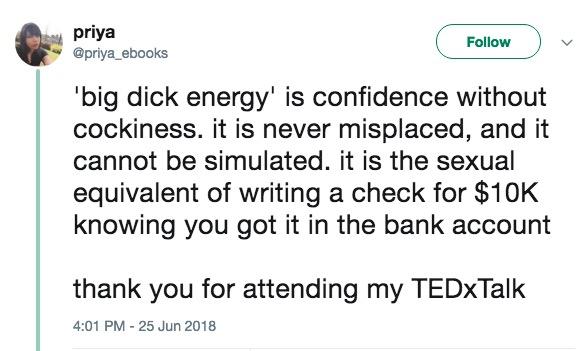 The spread of the term was covered by multiple news outlets including The Verge,[1] Daily Dot,[2] and Vice.[3] Vice attempted to show examples of who has and who hasn't "big dick energy." According to their article, characters in the Marvel Cinematic Universe did not have it but figures such as Bob Ross, Carmen Sandiego, and Oscar the Grouch had it. For Bob Ross, they wrote:
Bob Ross does not have the fierce magnetism of many big dick energy havers. But you cannot deny that the man has a gentle confidence that speaks to the largest kind of dick.
Horse Girl Energy
After Big Dig Energy trended, a female alternative dubbed Horse Girl Energy also spread, defined with various feminine traits. According to an article by Mashable[3] about the term, "Horse girl energy means being a blissfully clueless about the world. Like big dick energy, which isn't defined by someone's genitalia, horse girl energy transcends gender." As with Big Dick Energy, the term was defined in several tweets identifying "Horse Girl Energy" tweets. For example, Twitter user @zoeinwonderland said writing articles for The Odyssey Online would be considered Horse Girl Energy, gaining over 2,800 retweets and 22,000 likes (shown below, left). User @kaiteashley posted a tweet that defined horse girl energy that gained over 27,000 retweets and 228,000 likes (shown below, right).


Various Examples







Search Interest
External References