This submission is currently being researched & evaluated!
You can help confirm this entry by contributing facts, media, and other evidence of notability and mutation.
About
Pete Davidson is an American comedian most famous for his role on Saturday Night Live and brief engagement to pop star Ariana Grande and relationship with Kim Kardashian.
History
Davidson was born November 16th, 1993 in Staten Island, New York, USA.[1] He had a troubled childhood, as his father died in the September 11th, 2001 Terrorist Attacks and Davidson struggled with mental health in part due to the trauma. He also suffers from Crohn's Disease, and has spoken openly about his use of marijuana to help him perform. He began performing standup in 2010, and first appeared on television in the show Failosophy which aired February 28th, 2013. On September 27th of 2014, he made his debut on Saturday Night Live (example shown below, left), and performed in the Comedy Central Roast of Justin Bieber (shown below, right).
Davidson left Saturday Night Live after eight years at the end of the show's. season, bidding farewell in a Weekend Update sketch (see below).[9]
Engagement to Ariana Grande
On June 20th, 2018 Davidson confirmed that he was engaged to Ariana Grande.[2] After a short engagement, on October 14th, TMZ reported that Grande had broken up with Davidson. A later report suggested that the passing of Grande's ex-boyfriend Mac Miller may have been the cause of the breakup.
On Twitter, users reacted to the news in various ways. One common thread of responses expressed a lack of surprise that the relationship, which moved very quickly, would end as suddenly. User @fanaticgrande posted a GIF expressing how they knew the relationship would not make it to 2019, gaining over 350 retweets and 1,700 likes (shown below, left). User @itsliadee posted a GIF of mock surprise to the news, gaining over 460 retweets and 1,700 likes (shown below, right).


Fans set up a mock GoFundMe for Davidson, joking that he was now homeless after the split with Grande. The campaign has since been deleted, but a tweet about it by gnightngos gained over 3,500 retweets and 10,000 likes (shown below).

Others expressed that even though they expected this outcome, it was still sad. Twitter user @RyanShocket tweeted images of Kris Jenner crying to express his reaction to the news, gaining over 8,400 retweets and 38,000 likes (shown below, left). User @HayesBrown expressed he knew it was coming but was still surprised it came to pass, gaining over 60 retweets and 320 likes (shown below, right).


Suicide Scare
After the breakup, Davidson openly struggled with mental health issues on his Instagram account. He claimed he was bullied online and in person after the breakup in an early December Instagram post.[3]
"I've spoken about BPD and being suicidal publicly only in the hopes that it will help bring awareness and help kids like myself who don't want to be on this earth… I just want you guys to know. No matter how hard the internet or anyone tries to make me kill myself. I won't. I'm upset I even have to say this."
On December 15th, he wrote in a deleted Instagram post, "I really don't want to be on this earth anymore… I'm doing my best to stay here for you but I actually don't know how much longer i can last. all I've ever tried to do was help people. just remember I told you so."
The post led to SNL producer Lorne Michaels pulling Davidson's sketches from that week's show, saying he wanted to give him some time off.[4] The NYPD was also called to check in on Davidson's well being. However, Davidson did appear on SNL that evening, introducing the show's musical guests.[5]
Relationship to Kim Kardashian
During an episode of Saturday Night Live which Kim Kardashian hosted on October 10, 2021, Davidson and Kardashian shared a kiss while playing Aladdin and Jasmin in a sketch.
A little over two weeks later, on October 29, 2021, a photograph of Davidson holding Kardashian's hand on a rollercoaster was leaked, leading to heavy speculation of a relationship between the two. A few days later, an anonymous source told a tabloid that the two had shared a meal in Staten Island. Speculation continued throughout the winter, with various stories in tabloids, until on February 7, 2022, Davidson confirmed to People magazine that Kardashian was his "girlfriend."[6] The couple posted many photos to Instagram, including as the one below posted by Kardashian on March 11, 2020 and receiver over 6.6 million likes.

On February 13th, 2022, Kardashian's ex-husband Kanye West posted a meme of himself and his friends squaring off against Pete Davidson and his friends photoshopped onto a poster for Marvel's Captain America: Civil War. The meme was deleted was deleted from Instagram, but screenshots of it spread and were preserved, including the one below from @RapTV which earned over 22,000 likes.[10] In the meme's caption, West coined a nickname for Davidson: Skete. He continued to post angry and mocking messages about 'Skete' for several weeks, in an ongoing beef.

On March 16, 2022, Kardashian shared that Davidson has branded himself with her name and gotten a tattoo that reads "My Girl Is a Lawyer" on his shoulder.[7]
On June 9th, 2022, Kim's sister Khloe tweeted that Kim was" in LOOOOOVVVEEEE," presumably with Davidson, receiving 218 likes over the course of 24 hours.[8]

Online Presence
Davidson has been on and off Instagram in his life, and as of December 18th, 2018, is off Instagram and all social media.
Big Dick Energy
Davidson had a major role in the spread of Big Dick Energy. The term spread on June 22nd, 2018, after Ariana Grande appeared to confirm that her then-fiancé Davidson had a 10-inch penis in a since-deleted tweet (shown below).

That day, Twitter user @babyvietcong used the phrase "big dick energy" to describe why Grande quickly got engaged to Davidson, gaining over 24,000 retweets and 162,000 likes (shown below).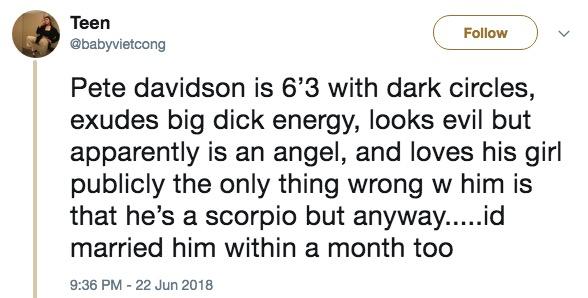 Search Interest
External References
Recent Videos
There are no videos currently available.