This submission is currently being researched & evaluated!
You can help confirm this entry by contributing facts, media, and other evidence of notability and mutation.
About
Rihanna refers to Robyn Rihanna Fenty, a Barbadian[21] singer, songwriter, actress and fashion designer. One of the highest grossing American artists of all time, Rihanna is well-known for her aesthetic risk-taking and hit songs.
History
Rihanna was born in Barbados in 1988 and discovered there in 2003 by record producer Evan Rogers. Shortly thereafter she was signed to a small record company, Syndicated Rhythm Productions, and then to Def Jam Recordings by Jay-Z.[2] Her first full length record, Music of the Sun was released in 2005, and the single "Pon de Replay" charted in five countries.[3] Thereafter she released one record per year until 2012, with the exception of 2008, when she was touring continuously throughout the year and re-released her third record A Good Girl Gone Bad as A Good Girl Gone Bad: Reloaded. Rihanna has recorded songs written by herself and by many other producers, including Sia, The Dream and Sean Paul. [2]
Rihanna has sold over 191 million records as of June 2015, and is the best-selling digital artist of all time.[4] At least six of her singles have been certified platinum or multi-platinum (having sold over 10 million copies each in America.[3] Thirteen of Rihanna's singles have reached number one on the US Billboard Hot 100 chart, tying her for third place for most singles to reach that position with Michael Jackson.[3] She has received eight Grammy awards, eight American Music Awards and 23 Billboard Music Awards. She has also won the Fashion Icon lifetime achievement award from the Council of Fashion Designers of America. [2] In 2013, she was estimated to be worth more than $90 million. In 2012, she founded the Clara Lionel Foundation to fund efforts promoting health, education, arts and culture globally.[9]

Rihanna has been romantically connected to Drake, Chris Brown, Leonardo DiCaprio and basketball star Matt Kemp, among others. She is a co-owner of subscription music service Tidal with many other musicians and stars.
Online Presence
Rihanna is the best-selling digital artist of all time and the first artist to surpass over 100 million singles sold and streamed. Three of her songs have sold more than 10 million copies online and twelve singles have sold more than 5 million copies. In addition, her song with Eminem, "Love the Way You Lie," is the 10th most viewed music video on YouTube, earning more than 887 million views since its upload date in 2010. Of her 94 videos on her YouTube account, 22 have received over 100 million views as of July 2015.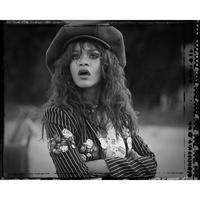 Images from Rihanna's Instagram
Rihanna's Instagram account, @badgirlriri has 26 million followers as of July 2015, even after it was deleted and reinstated in 2014 for showing nudity.[5][10] Her Facebook page has over 81 million likes and her Twitter account has over 47 million followers.[6][7] Rihanna has at least four major fansites: Ultimate Rihanna, Rihanna Daily, Rihanna Fenty Web and Rihanna DivaRihanna Fenty, which is the same site but in French and English. A Rihanna subreddit, founded April 13th, 2011, has over 2,000 readers.
Controversy
Chris Brown Domestic Violence Incident
On Febuary 8th, 2009, Rihanna cancelled her performance at the 51st Annual Grammy Awards and was hospitalized after getting involved in an argument with her then boyfriend, the rapper and singer Chris Brown, which escalated to physical violence leaving the celebrity diva with several visible face injuries. Later that day, Brown turned himself into police custody and was arrested under suspicion of making criminal threats.


Fashion, Style and Nudity
Rihanna is well known for being a risk-taker in fashion, especially when it comes to nudity and sexuality. At the 2014 CFDA Awards, where Rihanna won an award for Fashion Icon, she wore a full-length crystal-adorned sheer dress through which her breasts and buttocks were easily visible. The dress caused media uproar, including articles in The Independent, The New York Daily News, and the Huffington Post, who praised the look, calling it "Old Hollywood Meets Badass."[11][12][13]
In addition, she has posed nude for several magazines, including the for the cover of French fashion magazine Lui in 2014.[14]
Please see photo gallery for NSFW images.
Snapchat "Would You Rather" Advertisement
On March 11th, 2018, Twitter[22] user @TheRoyceMann tweeted, "Is it just me, or is this ad that popped up on my "Snapchat extremely tone deaf? Like what were they thinking with this?" The advertisement in question (shown below, left) features a Would You Rather questions with the options "Slap Rihanna" and "Punch Chris Brown." The post received more than 260 retweets and 690 likes in five days.
Following the tweet, Rihanna responded to the add in an Instagram Story.[23] In the post (shown below), she said:
"Now SNAPCHAT I know you already know you ain't my fav app out there! But I'm just trying to figure out what the point was with this mess! I'd love to call it ignorance, but I know you ain't that dumb! You spent money to animate something that would intentionally bring shame to DV [domestic violence] victims and made a joke of it!!! This isn't about my personal feelings, cause I don't have much of them…but all the women, children, and men that have been victims of DV in the past and especially the ones who haven't made it out yet…you let us down! Shame on you. Throw the whole app-oligy away.


Two days later, the BBC[24] reported that Snapchat claims the advertisement was posted "in error." They told the publication, "The advert was reviewed and approved in error, as it violates our advertising guidelines. We immediately removed the ad last weekend, once we became aware."
Following Rihanna's statement, Snap's stock dropped 4%, losing nearly $800 million in its market value.
Several media outlets covered the story, including CBS,[25] Complex,[26] MTV[27] and more.
Related Memes
Rihanna's Met Gala Dress
Rihanna's Met Gala Dress refers to an imperial yellow, fur-trimmed cape worn by the American pop singer Rihanna at the Met Gala event in early May 2015. The wardrobe quickly became widely mocked online and spawned a series of photoshopped parodies on Twitter and Instagram, in a similar vein to the dress worn by the pop star at the 57th Annual Grammy Awards.

Rihanna's 2017 Met Gala Dress
Before arriving at the event, singer Rihanna became the most anticipated attendee to arrive at the Met Gala with #WhereIsRihanna trending before hand. Many on Twitter posted their excitement to see see the singer's outfit for the event.[2][3]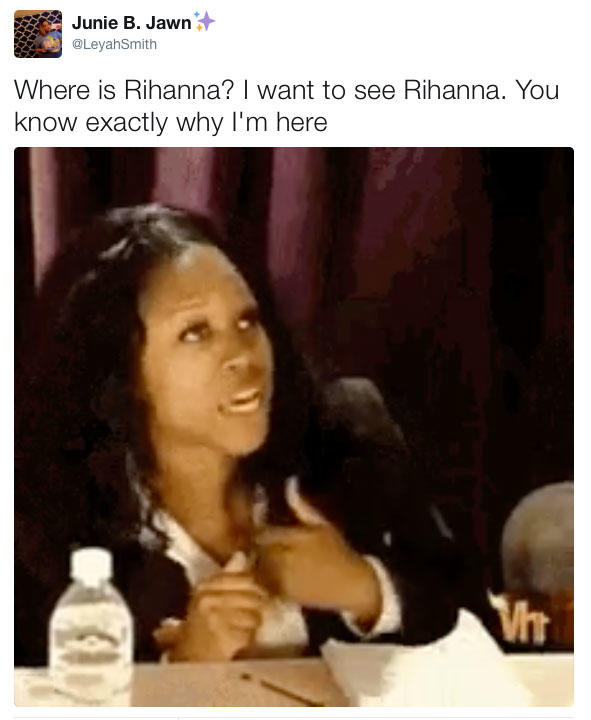 Rihanna's entrance did not disappoint fans. Twitter user @JAYLALAREINA posted a video to her arrival along with the caption "RIHANNA WINS. RIHANNA IS UNDEFEATED." The post received more than 5,500 retweets and 8,600 likes in the first 15 hours.[4]
RIHANNA WINS. RIHANNA IS UNDEFEATED. #MetGala pic.twitter.com/EkAvWPHErE

— jayla (@JAYLALAREINA) May 2, 2017
More users uploaded pictures Rihanna's dress, proclaiming her one of the best dressed at the event (shown below). Twitter published a Moment about the excitement surround Rihanna's attire.[5][6]


Rihanna's Grammy Dress
Rihanna's Grammy Dress refers to a pink, puffy gown worn by the American pop singer Rihanna during the red carpet ceremony at the 57th Annual Grammy Awards on February 8th, 2015. The wardrobe quickly became widely mocked online and spawned a series of photoshopped parodies on Twitter.

Rihanna Seapunk Controversy
On November 10th, 2012, singer Rihanna used a seapunk-inspired background during her musical performance of "Diamonds" on Saturday Night Live (shown below, left). Tumblr and Twitter users spoke out against the performance, comparing the backgrounds to the art and animation work of Jerome LOL (shown below, right).
Netflix Film Based on Tweet
On May 23rd, 2017, Netflix announced[20] that they were in talks to produce a film based on a tweet by Twitter user @1800SADGAL,[15] starring Rihanna and Lupita Nyong'o, written by Issa Rae (HBO's Insecure), and directed by Ava DuVernay (Selma). On May 23rd, 2017, Twitter published a Moments[19] page to announce the film, which started on their website.
The tweet was a retweet of a picture (shown below) of Lupita Nyong'o and Rihanna at the 2014 Miu Miu fashion show. Twitter user @blaquepink[16] posted the picture with the caption "a picture for the ages" on April 18th, 2017 and garnered more than 30,000 retweets and 84,000 likes by May 23rd.

On April 18th, 2017, @1800SADGAL retweeted (shown below) the picture with the caption "Rihanna looks like she scams rich white men and lupita is the computer smart best friend that helps plan the scans." The tweet has received more than 98,000 retweets and 211,000 likes in a little over a month.

Shortly after @1800SADGAL's tweet went viral, Lupita Nyong'o and Rihanna tweeted their interest in the project (shown below, left and right, respectively). On April 20th, Nyong'o tweeted "I'm down if you're down @rihanna," receiving more than 113,000 retweets and 250 likes. Three days later, Rihanna responded, "I'm in Pit'z." She received more than 57,000 retweets and 127,000 likes.


The rest of the team joined in on the conversation. Issa Rae tweeted a gif of a cat typing to Rihanna (shown below, left), on April 23rd, garnering more than 5,000 retweets and 20,000 likes as of May 2017. Later that day, after Twitter user @MikelleStreet[17] tweeted at her, director Ava DuVernay tweeted[18] her interest, posting a gif of Rihanna placing a crown on her head and writing "Lights set. Camera's up. Ready to call action for these #queens. 👑" The tweet (shown below, right) received more than 3,700 retweets 9,600 likes.


Search Interest
External Reference