About
Choccy Milk is a slang term for chocolate-flavored milk beverages. Online, the drinks are often referenced in ironic meme communities on Facebook and Reddit, bearing many similarities to Garlic Bread memes. In August 2019, the meme regained popularity as Here, Some Choccy Milk.
Origin
On June 6th, 2012, YouTuber Reeve Savage uploaded a video of herself blowing bubbles into a cup of chocolate milk titled "Blowing Bubbles in Mah Choccy Milk" (shown below).
Spread
On March 27th, 2016, the "Choccy Milk" Facebook[2] page was launched. On November 22nd, Instagram[1] user strayaspost posted a picture of a person whispering in someone's ear next to a picture of goosebumps with the caption "'there's choccy milk in the fridge'" (shown below). Within three weeks, the post gained over 1,100 likes.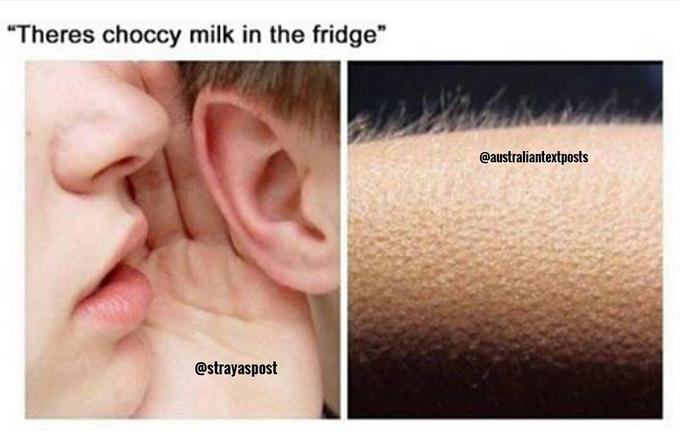 The same day, the image was reposted to the /r/Tendies[5] subreddit. On November 30th, YouTuber Indira Lauren uploaded a video titled "How 2 Make Choccy Milk," in which she pours milk into a glass with Nestle Quik cocoa powder (shown below).
That day, Urban Dictionary[4] user Elements340 submitted an entry for "choccy milk," defining it as "The best form of milk there is." On December 17th, Redditor UNCPotato submitted a post asking where the "'choccy milk' meme" came from to /r/OutOfTheLoop.[3] The same day, Redditor SnoozleMcdoodle submitted a post asking "are choccy milk memes on the rise?" to /r/memeeconomy.[6] The following day, a picture of a woman laying down with a wet spot on her crotch captioned with "When he says he makes his own choccy milk" was posted to iFunny,[7] where it received more than 75,000 likes and 1,500 comments in 24 hours (shown below).

"Here, Some Choccy Milk" and 2019 Resurgence
Prior to August 8th, 2019, an unknown user posted a photoshopped image of YouTuber Markiplier holding a cup of chocolate milk, captioned "Here, Some Choccy Milk / Because Your Epic." On August 8, 2019, Imgur user biggoviggo made the earliest available repost of the image.[8]

On August 10th, 2019, Markiplier tweeted the image, with the post gaining over 16,600 retweets and 114,500 likes in two months (tweet shown below).[9]


In the following days, edits of the image, as well as similar memes featuring other persons and characters holding glasses of chocolate milk gained popularity in ironic posts on Instagram, Reddit and deep iFunny (examples shown below).[10][11][12]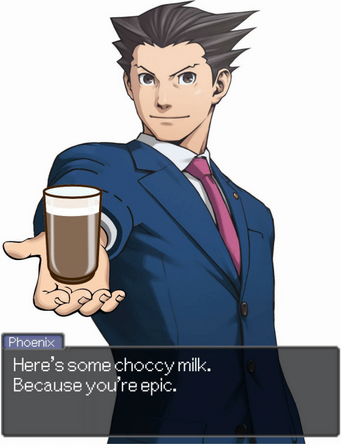 Various Examples






Search Interest
External References