Whisper in Ear Goosebumps
This submission is currently being researched & evaluated!
You can help confirm this entry by contributing facts, media, and other evidence of notability and mutation.
About
Whisper in Ear Goosebumps is an image macro series featuring a photograph of someone whispering in an ear, followed by a picture of goosebumps on a person's skin. The image is typically captioned with humorous phrases presented as if they being whispered in someone's ear, causing the person to be visibly aroused.
Origin
On September 22nd, 2014, Tumblr user earthdad[1] posted a photograph of raised goosebumps on an arm with the caption "me: thinks of memes" (shown below). Over the next several years, the post gained over 188,000 notes.

Spread
On August 28th, 2016, Twitter user @scobes[2] tweeted the whisper and goosebumps images along with the caption "be my mcchicken" (shown below, left), referencing a viral video in which a man masturbates with a McDonald's McChicken sandwich. On September 22nd, Twitter user @Reverend_Scott posted the same images with the caption "I have puppies you can pet (shown below, right).


On October 9th, Tumblr user bts420[3] posted the images along with the caption "peaches n cream sweeter than sweet chocolate cheeks n chocolate wings," garnering upwards of 2,200 notes within three months (shown below, left). On November 23rd, the shrekflix Instagram[5] feed posted the image set along with the caption "Theres choccy milk in the fridge" (shown below, right). On December 31st, the meme generator site Surf.co[4] launched created a template page for the image macro series.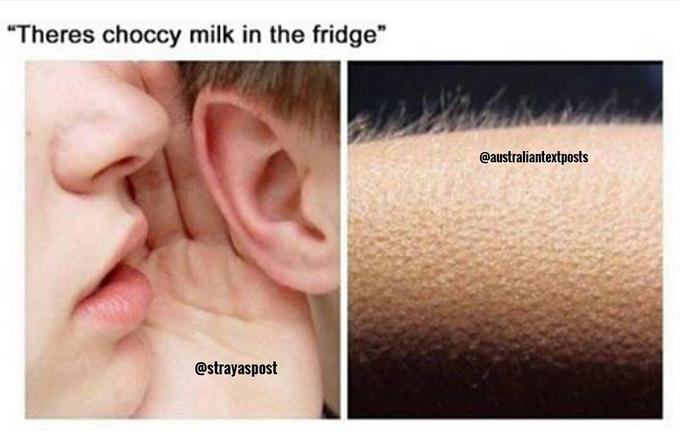 Various Examples






Search Interest
Not available.
External References
Recent Videos
There are no videos currently available.