CNN "Fiery But Mostly Peaceful Protests" Parodies
About
CNN "Fiery But Mostly Peaceful Protests" Parodies refer to a series of altered CNN screenshots for satirical purposes depicting CNN reporter Omar Jimenez during the 2020 Jacob Blake protests in Kenosha, Wisconsin, alongside the station's chyrons. The format is typically used to mock CNN's original headline, "Fiery but Mostly Peaceful Protests After Police Shooting," and perspective on the event. The background image behind Jimenez is often photoshopped to include scenes from various media or major historical events with a similar, satirical spin. The format was popularized on a range of websites in late August 2020, after CNN's original coverage aired, and shares similarities to other previous CNN Chyron Parodies.
Origin
The original clip that the meme is pulled from is seen during CNN's coverage of the Jacob Blake Protests, aired on August 25th, 2020, specifically the clip where reporter Omar Jimenez is reporting in the field in Kenosha, Wisconsin. During the scene (reupload featured below), Jimenez discusses the events of the protests and riots in Kenosha with a scene of burning cars in the background while the headline reads "Fiery but Mostly Peaceful Protests After Police Shooting."
Although the exact first use of the scene as a meme format is unknown, it appears online as early as August 27th. One such example was uploaded to the Facebook[1] page Operation Butthurt Memes on August 27th edited to include the Titanic sinking in the background. The meme (seen below) received over 2,000 shares, 1,300 likes and 70 comments in roughly 20 hours.

Spread
The format continued to spread in the following days, appearing on a number of sites and platforms. On August 27th, the Facebook[2] page Sargon of Akkad posted another example, combining it with JFK's assassination, receiving over 3,900 likes, 855 shares and 113 comments in eight hours (shown below, left). That same day, the Instagram[3] account yaf_ posted a variant referencing the burning of the White House in the War of 1812, receiving over 6,700 likes in 18 hours (shown below, right).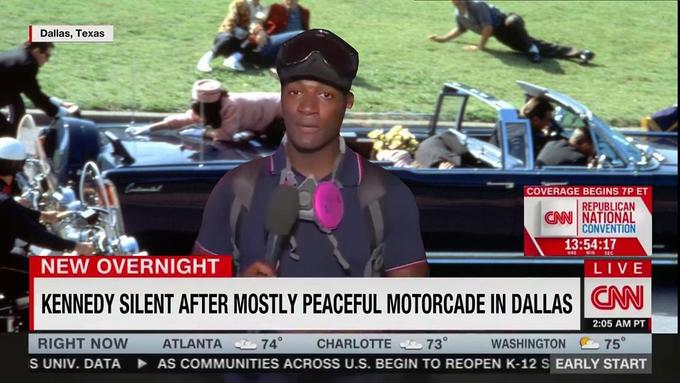 On August 27th, Twitter[4] user ConceptualJames posted another version that referenced Chernobyl (seen below, left), receiving over 3,700 likes and 586 retweets in roughly 20 hours. On August 28th, FunnyJunk[5] user redpenington posted a meme featuring a scene from Starship Troopers (seen below, right), receiving over 900 likes and 47 comments in three hours.


On August 27th, The Babylon Bee[6] posted a satirical article about the trend and CNN's original headline, titled "14 Mostly Accurate CNN Headlines From The Last 6,000 Years Of Human History," receiving over 86,000 shares in roughly 24 hours.
Various Examples


Template

Search Interest
External References