Dolla Dolla Bill Y'all Sloth
About
Dolla Dolla Bill Y'all Sloth is an image macro featuring a clip art illustration of a sloth by Portland-based illustrator Ryan Berkley captioned with the memorable line from Wu Tang Clan's 1994 hip hop single "C.R.E.A.M."
Origin
The original clip art of the formally attired sloth was illustrated by Portland-based graphic designer Ryan Berkley.[2] The earliest known pairing of the Sloth and the Wu Tang Clan lyrics "dolla dolla bill y'all"[5] was submitted by Redditor jermtheworm on September 1st, 2011. The post was met by a modest sum of 240 up votes prior to being archived.

Spread
On September 3rd, 2011, a blue background version of the image was shared on the Tumblr blog Ghostlike Swazy[9], though it didn't become a frequent sighting until November 2012, during which the image was submitted at least four times to /r/wallpapers, /r/funny, /r/sloths and /r/trees.[8] That same month, the "dolla dolla bill" sloth image was featured on We Know Memes[6] twice. On December 17th, the Facebook page Dolla Dolla Bill Sloth[4] was launched.
Gangsta Animals
On January 19th, 2013, Redditor Anal_F**k_Pu**y_Sh**a created the subreddit /r/gangstaanimals[1] for people to share their own pairings of cute animals and hip hop lyrics in the form of wallpaper images. Over the first half of 2013, the subreddit accumulated more than 100 user-submitted wallpapers and 3,125 subscribers.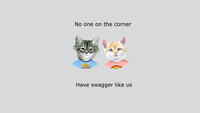 Search Interest
External References
Recent Videos
There are no videos currently available.