About
Hoes Mad refers to a song by American rapper Famous Dex. Starting in April 2019, edits of the music video for the song gained popularity on Twitter, with the hook of the song gaining popularity as a reaction, sometimes used with a purpose to mock female users.
Origin
On August 12th, 2015, Laka Entertainment YouTube channel uploaded a music video for the song "Hoes Mad" by American rapper Famous Dex. The song gained over 7.1 million views in three years.
Spread
On March 21st, 2019, Instagram user arch1ve5 posted a 13-second Breaking News edit of the video which gained over 270 likes in three months.[9] On March 31st, 2019, YouTube user SkinnyOTW reuploaded the video to the platform, gaining over 130,000 views in five weeks.[10]
On April 1st, 2019, Twitter user @payforpussy uploaded the edit.[1] The tweet gained over 3,800 retweets and 9,500 likes in one month.
In the following days, the video was reposted by multiple Twitter accounts.[2][3] On April 6th, 2019, Twitter user @PushaCon tweeted a screenshot of "Hoes Mad" lyrics reading "[Hook] Hoes Mad (x24), with the tweet gaining 2,900 retweets and 8,600 likes in one month.[4] The verse has also been used as a mocking reaction to posts by female users.[7][8]

In mid-April 2019, the video gained larger popularity on Instagram,[5][6] with more derivative versions appearing on Twitter and Instagram in the following weeks. In multiple examples, the fact that lyric "hoes mad" repeats 24 times in a row in each hook of the song for a combined total of 78 times was parodied.
Various Examples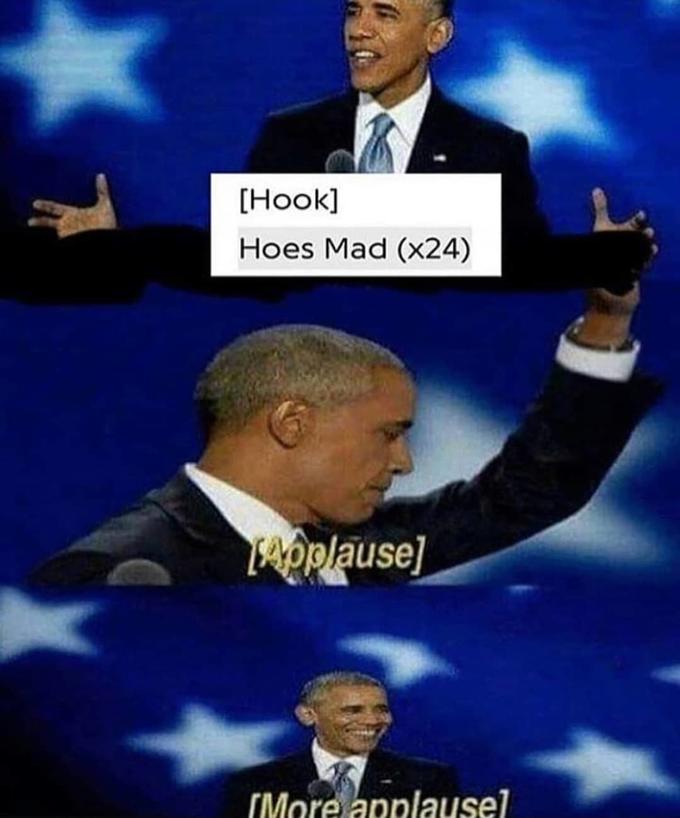 Search Interest
External References