About
DJ Khaled, is an american producer, personality and rapper who has gained an ironic online for posting bizarre content on Instagram [5] and Snapchat.
History
DJ Khaled was born on November 26th 1975, in New Orleans, Louisiana. He released his debut album, "Listennn… the Album", on June 6th, 2006. The album debuted 12 on Billboards top 100. Khaled released seven more albums following his debut, including several successful hits such as the double platinum song "All I Do Is Win", and "I'm So Hood" and "Hold You Down."
Online History
In March 2009, the @djkhaled[4] Twitter feed was created, receiving upwards of 2.61 million followers within seven years. On May 19th, 2013, DJ Khaled posted a pic of him on his yacht describing him talking to the "owner of iTunes" on his Instagram.

On the phone wit the owner of iTunes again calling me on a Sunday he's telling me #nonewfriends #bugatti is selling like crazy he also told me he wants me to put #weoutchea on iTunes ASAP! I told iTunes this what we do he's telling me @wethebestmusic on fire I'm telling him ofcourse every year our year! I told iTunes bring your staff come on my yacht lets talk about more wind #sufferingfromsuccess
The picture got over 3000 likes, as well as getting the front page of Imgur [2], receiving over a million views and 956 upvotes. On January 15th, 2014, the DJ Khaled Facebook[3] page was launched, garnering more than 2.4 million likes in the next two years.
ISIS Leader Hoax
On November 20th, 2016, the parody Facebook page Christians for Michele Bachmann posted a photograph of United States President Barack Obama standing with Khaled, which identified the rapper as the "leader of ISIS" who wants to "implement Shakira law" (shown below). Within nine days, the post gained over 41,000 shares, 10,000 reactions and 6,700 comments. In the coming days, several news sites published articles about the viral photo, including Inverse,[9] Consequence of Sound[10] and NME.[11]

Reception
In September 2014, the YouTube channel h3h3productions[1] released a reaction video to DJ Khaled's music video of "Hold You Down". On December 10th, h3h3productions posted another reaction video to DJ Khaled (shown below, right).
On December 5th, 2015, the Papa Smeep YouTube channel uploaded a montage titled "DJ Khaled Cringe Compilation," which garnered upwards of 850,000 views and 2,000 comments in the next two weeks (shown below).
Related Memes
"You Played Yourself"
On September 23rd, 2015, Complex uploaded a video in which Khaled shows off his sneaker closet. During the segment, Khaled says the phrase "Congratulations, you played yourself" (shown below).
A screenshot of the segment captioned with the quote was subsequently circulated online as a reaction image and in jokes[6][7] on Black Twitter (shown below).


"You Smart, You Loyal"
A clip of Khaled from his music video "Hold U Down" in which he gives a woman several large stacks of U.S. currency is often mocked online, with many quoting the line "you smart, you loyal" (shown below).
"You smart, you loyal, you're grateful. I appreciate that. Go buy your mama a house. Go buy your whole family houses. Put this money in your savings account. Go spend some money for no reason."
Suffering from Success
Suffering from Success is a music album released by DJ Khaled on October 22nd, 2013. In 2018, the album cover showing the producer wearing an expression of suffering gained popularity as an image macro.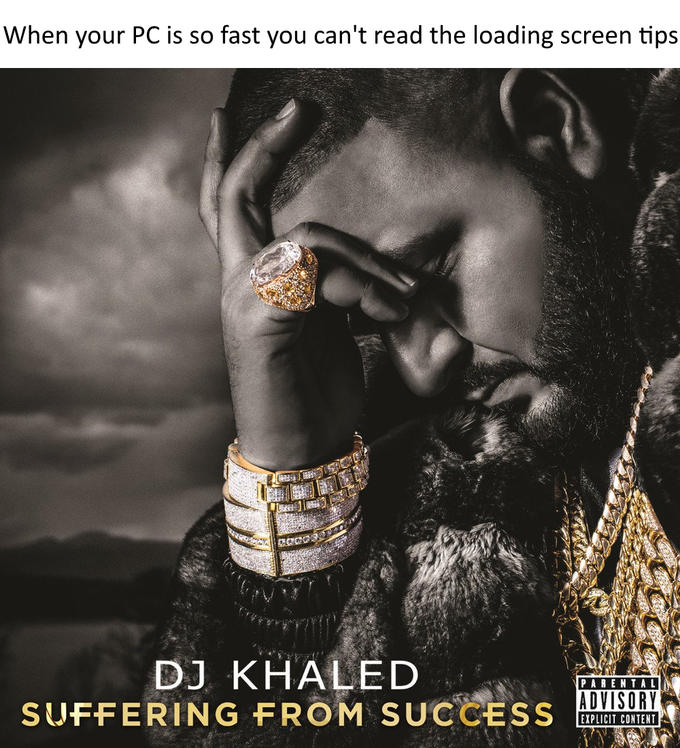 Asahd
Born on October 23rd, 2016, Khaled's son, Asahd, is featured frequently in DJ Khaled's social media posts. Asahd also has a popular "personal" Instagram[12] account with over 300,000 followers. Khaled's displays of love for his son inspired the creation of reaction image memes on Twitter that portray Khaled as a loving but somewhat-overbearing father. These were covered by Buzzfeed,[13] Fader,[14] Romper,[15] and more in late March of 2017.



On February 12th, 2017, DJ Khaled announced the release of his single "Shining" featuring Beyonce and Jay Z. Asahd appeared on the cover for "Shining." The tweet received more than 4,200 retweets and 8,100 likes.[16]

In April 2017, Twitter published a Twitter Moment, calling Asahd the "is the hardest working 5-month-old in show business."[17]
Search Interest
External References