This submission is currently being researched & evaluated!
You can help confirm this entry by contributing facts, media, and other evidence of notability and mutation.
Overview
2018 Winter Olympics, also referred to as Pyeongchang Olympics, is the 23rd international winter multi-sport event organized by the International Olympics Committee and scheduled to be held in Pyeongchang, South Korea from February 6th to 25th, 2018.
Background
On July 6th, 2011, Pyeongchang, South Korea was announced as the elected host city by the International Olympic Committee (IOC), after beating Munich, Germany and Annecy, France in the first round of voting. It will feature 102 events in 15 sports, including four new disciplines, big air snowboarding, mixed doubles curling, mass start speed skating, and mixed team alpine skiing. with a total of 92 qualifying teams expected to participate in the games.
Russia Doping Scandal
On December 5th, 2017, the IOC announced the suspension of the Russian Olympic Committee": for doping violations involving more than a thousand Russian competitors in all three Olympics events, including summer, winter, and Paralympic sports. The suspension, which came after three years of in-depth investigations by multiple news outlets, independent firms and international sports organizations, effectively banned Russia from participating in the 2018 Winter Olympics as a nation team. However, a total of 28 Russian qualifying athletes with no prior records and a consistent history of drug testing will compete under the Olympic Flag as an "Olympic Athlete from Russia" (OAR).

The Commemorative Coin Set
In January 2017, the Korean Sport & Olympic Committee (KOC) unveiled the official 2018 Winter Olympics commemorative coin set on its website. Upon release, many netizens in Korea quickly noticed the diminished presence of Yuna Kim, a retired and highly decorated Olympic figure skater, in the collection. Released at the height of a major political corruption scandal involving President Park, various sports-related government agencies and foundations, some Koreans began speculating that Kim's underrepresentation in the coin set was a form of censure by the KOC after the celebrity athlete declined to promote a physical exercise initiative led by President Park in 2014.
In February, the KOC released a second series of the commemorative coin set, which included a coin featuring engravings of Kim performing a sit-spin and a spiral. However, the second release prompted even more objections from Korean netizens as it quickly became evident that one of the engravings featured in the coin is actually based on a photograph of American Olympic figure skater Grace Goldie.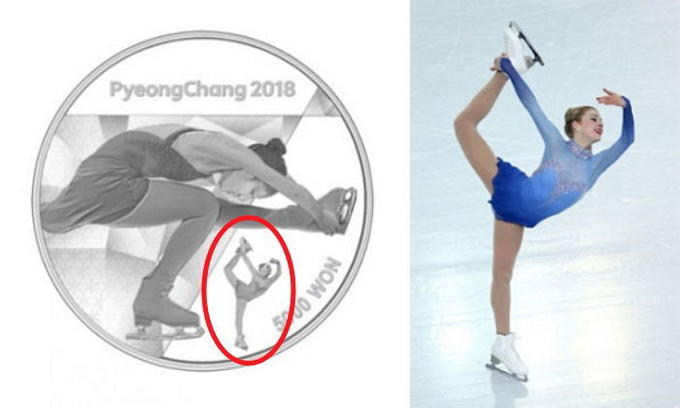 Unified Korea at Opening Ceremony
On January 1st, 2018, North Korean leader Kim Jong Un made a mention of the Winter Olympics in South Korea during his nationally televised new year's address, in which he suggested "the [South and North] Koreans should find a respite from the escalating tension for the glory of the Korean people on an international stage." Though Kim's nuanced conciliatory gesture was initially met with cautionary optimism and skepticism, as reflected by the subsequent exchange between Trump and Kim over the size of their "nuclear buttons," by January 8th, the emergency hotline between the two armed forces had returned online and a rare high-level cabinet meeting between South and North was convened at the Joint Security Area in the demilitarized zone (DMZ). Under the agreement, North Korea will send a delegation of 10 qualified athletes to Pyeongchang by ground transportation via DMZ, who will also march alongside South Korean athletes in the opening ceremony under the Korean Unification Flag. In addition, a Unified Korea women's ice hockey team comprised of both South and North Korean athletes will compete in the games as a single team under the IOC-designated flag and team name "Korea."


Pyeongchang Olympic Stadium
As the opening of the Winter Olympics approached, some KOC organizers, IOC officials and athletes began raising concerns over the subzero temperature expected during the opening and closing ceremonies, both of which will be held at the Pyeongchang Olympic Stadium, a pentagonal, open-air venue that will be used solely for the ceremonial events. According to AccuWeather, spectators can anticipate the gusty winds to bring down their body-feel temperature between -9 and -6 °C (15 – 20 °F). The concerns of health risk related to exposure instantly drew criticisms against the KOC organizers for allocating $100 million to renovate a stadium that cannot even keep the spectators warm.

Olympic Village Condom Distribution
On February 2nd, South Korean news outlets and foreign press reported that more than 110,000 complimentary condoms will be distributed to nearly 3,000 athletes staying at the Olympic Village, setting an all-time high record for the most number of contraceptives distributed during any Winter Olympics; The record for the largest quantity of condoms distributed during any Olympic games stands at 450,000 units during the 2016 Summer Olympics in Rio de Janeiro.

Developments
The first competitions in the 23rd Winter Olympics will officially begin on February 7th; the opening ceremonies will commence on February 9th at 8 p.m. (local time) | 6 a.m. (EST).

Related Memes
Bullet Men
Bullet Men, also known colloquially as "モルゲッソヨ" (pronounced "Morregessoyo"), which translates to "I have no idea," is the name for the statues of three silver, naked muscular men wearing phallic helmets found outside the Olympic Media Center in Pyeongchang, South Korea.



Tonga Flag Bearer
At the opening ceremony of the 2018 Winter Olympics, Pita Taufatofua, aka Tonga Flag Bearer appeared in similar attire as he had at the Rio 2016 Olympics. Taufatofua will be competing as a cross-country skier for Tonga.

Commenters remarked that the stunt was more impressive, as it was 28 degrees Farenheit in Pyeongchang during the ceremony. Twitter user @NickMurray91 tweeted a hold my beer joke about Taufatofua, gaining over 460 retweets and 1,300 likes (shown below, left). The Twitter account @olympicchannel tweeted about Taufatofua as well, gaining over 1,000 retweets and 1,800 likes (shown below, right). The moment was covered by Twitter Moments.


ABC 7's P.F. Chang 2018 Mix-up
ABC 7's "P.F. Chang" 2018 Mix-up refers to a mistakenly used graphic used on an ABC news affiliate. The graphic was supposed to read Pyeongchang, the site of the 2018 Winter Olympics but instead read "P.F. Chang's," referring to the chain-Chinese food restaurant. On February 10th, 2018, WLS-Ch.7 news, an ABC affiliate in Chicago, accidentally broadcasted a graphic that read the name of Chinese food chain restaurant "P.F. Chang's" instead of the site of the 2018 Winter Olympics Pyeongchang (shown below).

Kid Attempts to Lick Camera
On February 8th, a Korean child attempted to lick an NBC camera. The moment was captured on camera and spread on Twitter after a tweet by @jbillison featured the GIF (shown below). The moment was covered by Select All.[11]
Early breakout star of the Olympics is the small child who really wanted to know what an NBC camera tastes like pic.twitter.com/PFKEO2VGXL

— Josh Billinson (@jbillinson) February 9, 2018
Olympic Rings Sunglasses
During the Olympic games, a limited edition run of custom sunglasses formed in the shape of the Olympic rings were made available to attendees of the game.[12] On February 11th, the Twitter[13] account @SoSportsNation tweeted a video of South Korean figure skater Kam Kang-chan taking off a pair of these sunglasses to reveal another pair of sunglasses. The video (shown below) sparked tremendous interest in the sunglasses and received more than 54,000 retweets and 119,000 likes in three weeks.
On February 25th, Twitter[13] published a Moments page about the popularity of the glasses.
This South Korean gentleman just won the entire Olympics. #PyeongChang2018 #Olympics pic.twitter.com/ZW7ZOwIZ4G

— SouthernSportsNation (@SoSportsNation) February 12, 2018
Olympic Streaker
On February 23rd, a man named Mark Roberts ran onto the iced following the Men's 1,000-meter Speed Skating event, wearing a pink tutu and a sock with a monkey on it over his penis. Additionally, he had the words "Peace + Love" written on his chest.

Closing Ceremony
On February 25th, the Olympics Closing Ceremony was held. During the ceremony, the K-Pop artists CL and EXO performed, as well as 13-year-old guitar player Yang Tae-hwan performed.[16]
Online, people mocked EXO's outfits, which they said resembled the white suit and tie of Colonel Sanders (examples below).



Search Interest
External References