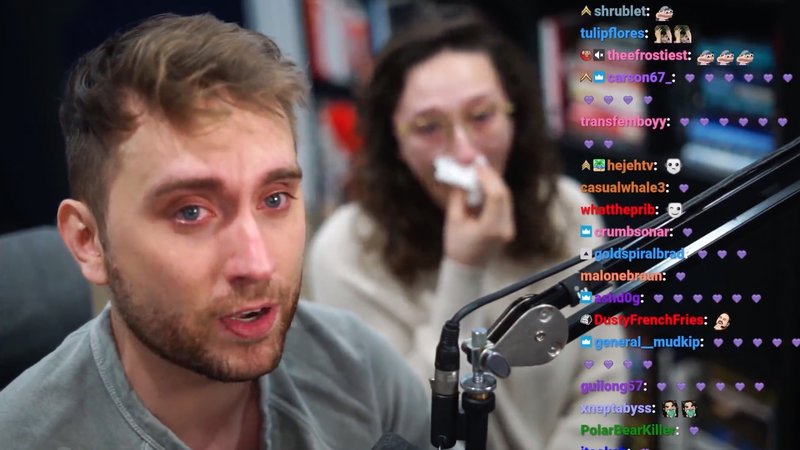 Atrioc Deepfake Pornography Controversy
Warning: This page contains material that may be considered not safe for work.
Overview
Atrioc's Deepfake Pornography Controversy refers to the backlash faced by Twitch streamer Atrioc when he accidentally revealed to his stream that he had a browser tab on his computer open featuring deepfake pornography of fellow streamers, including Pokimane, Maya Higa and QTCinderella. The controversy and his subsequent apology video were widely criticized and mocked online in late January 2023 as the drama sparked viral debates over AI technology being used to create such explicit content.
Background
On January 30th, 2023, Twitch streamer Atrioc went to change tabs on his laptop while sharing his screen during a livestream, accidentally revealing a tab on his browser window that contained deepfake pornography of other Twitch streamers, notably Pokimane, Maya Haga and QTCinderella, some of whom were known to be his friends.[1] The clip was first posted to /r/LivestreamFail[2] early Monday morning before the post was subsequently removed by moderators (YouTube reupload shown below).
Developments
Over the course of the morning on January 30th, 2023, it was revealed that the site Atrioc was viewing was called BAVFAKES,[3] a site that sells deepfake pornography. This purportedly showed that Atrioc had to pay to view the content on his screen. A screenshot of BAVFAKES confirming the page Atrioc was viewing in a Discord thread circulated online as well.

Atrioc Apology Video
Later that day on January 30th, 2023, a teary-eyed Atrioc then apologized on stream for the incident. Behind him was his wife, also seen crying. In the viral clip, he stated he went down an internet rabbit hole and discovered the site selling deepfake pornography. He claims it was not a pattern of behavior and could prove he purchased access to the site that day out of curiosity. "There is no excuse for it. I'm not defending it in any way, I think this whole category of stuff is wrong," he said.[1]
Twitch streamer Atrioc issued an apology after accidentally revealing that he watched deepfake videos of streamers Pokimane and Maya pic.twitter.com/oEjHnGS3Ax

— Dexerto (@Dexerto) January 30, 2023
On February 1st, Atrioc released a second apology in the form of a Twitlonger, in which he declared he would step back from making content and working with OFFBRAND and instead focus on helping women affected by such deepfake porn sites and working to take them down.[13] The apology was met with considerably more goodwill than his attempted apology on stream, though many expressed they still had no interest in forgiving Atrioc.
Return to Streaming
On March 14th, Atrioc streamed for the first time since the incident, providing an update on how he was helping those affected by Deepfake pornography. He said that in the week following the incident, he had given "$60,000" to the law firm Morrison Rothman, which is aiding streamers including QTCinderella to remove NSFW deepfake content from the internet. He also says he's been working with researchers in streaming and deepfake technology to assist in any way he can. He also claimed that the women directly impacted by the incident, including Amouranth, QTCinderella, Maya Higa and Pokimane, are aiding his cause, and Maya Higa has personally accepted his apology.
Online Reactions
As word of the clip and controversy spread on January 30th, 2023, streamers QTCinderella and Sweet Anita expressed their outrage at being tied up in the incident. QTCinderella tweeted "Being seen 'naked' against your will should NOT BE A PART OF THIS JOB" and later threatened to sue the creator of the website.[4][5] QTCinderella also discussed the incident on her stream that day.[10] Sweet Anita noted that the story was how she found out she was on the website and said, "Don't know whether to cry, break stuff or laugh at this point" (shown below, right).


Some also debated the extent of Atrioc's wrongdoing. A sizable chunk of commenters suggested Atrioc was merely caught watching porn, implying it wasn't nearly as big a deal as some made it out to be (compilation of such arguments posted by @kblaus[6] shown below, left). Others argued it was a violation of the affected streamers' privacy and consent and was particularly bad because Atrioc was friends and colleagues with some of the affected women (tweet by @eruhamster[7] shown below, right).


Others poked fun at Atrioc's apology on January 30th. Several commenters pointed out how surreal it was that Atrioc seemed to defend himself by telling his chat "We call booba spam cringe!" (tweet by @TheWeightOfUwU[8] shown below, left). User @imsoniceandkind[9] joked about how the bizarre the clip seemed with the Twitch chat spamming emojis as the apology happened (shown below, right).


Several YouTubers, streamers and other content creators also began posting reactions and videos covering the controversy as it spread. For example, on January 30th, 2023, Cr1tikal reacted to the incident during a livestream, which was then reuploaded and clipped on YouTube (seen below).
h3h3 Ethan Klein Laughing At QTCinderella
During the January 30th, 2023, episode of the H3 Podcast, the hosts discussed the controversy, as well as QTCinderella's reaction to the incident in which she cried during her stream. In particular, the moment in which Ethan Klein and others appear to laugh at her reaction while AnucAtittawan's karaoke video is heard playing in the background became a source of backlash online (shown below, left). Later that day, xQc reacted to the controversial moment during his own stream, criticizing Klein (shown below, right).
Klein's reaction also garnered negative reactions on social media over the following days as people criticized the viral moment.[11][12]
Search Interest
External References
Recent Videos
There are no videos currently available.