Bill Cosby Rape Allegations
Overview
Bill Cosby Rape Allegations refer to a series of sexual assault claims made against comedian Bill Cosby from 16 different women. Following the circulation of a viral stand-up clip in which comedian Hannibal Buress called Cosby a "rapist" in October 2014, several women came forward to provide their account of their alleged assaults.
Background
In January 2000, a police report was filed by actress Lachele Convington, who claimed she was inappropriately groped by Cosby at his home in New York City. The Manhattan district attorney's office dropped the case after determining no crime had been committed.[2] In November 2006, Cosby settled a civil lawsuit with former Temple University employee Andrea Constand, who claimed he had drugged and sexually assaulted her in 2004. By the end of the settlement, 13 other women had come forward claiming he had sexually assaulted them.
Notable Developments
Hannibal Buress Stand-Up
In October 2014, comedian Hannibal Buress called Cosby a rapist during a stand-up performance in Philadelphia, Pennsylvania in reference to the 2006 lawsuit.
"He gets on TV, 'Pull your pants up black people, I was on TV in the 80s. I can talk down to you because I had a successful sitcom.' Yeah, but you rape women, Bill Cosby, so turn the crazy down a couple notches."
Barbara Bowman's Allegations
On October 27th, The Daily Mail[5] published artist Barbara Bowman's account her experience with Cosby, claiming he drugged and raped her over a two-year period starting when she was 17-years-old in 1985.
"He is a monster. He came at me like a monster. My hope is that others who have experienced sexual abuse will not be intimidated into silence by the famous, rich and powerful. If I can help one victim, then I've done my job."
#CosbyMeme
On November 10th, 2014, Cosby tweeted featuring a photograph of himself with the caption "Happy Monday!" along with a link to a Meme Generator website inviting Twitter users to make their own Cosby image macros with the hashtag "#CosbyMeme"[1] (shown below).

Twitter users subsequently began tweeting photos of Cosby with captions referencing assault allegations against the comedian along with the "#CosbyMeme" hashtag (shown below). That day, the original Cosby tweet was deleted.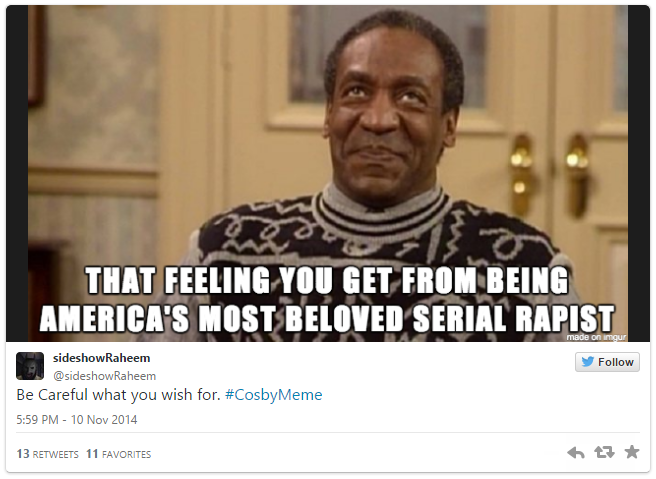 Additional Allegations
On November 16th, 2014, the entertainment news blog Hollywood Elsewhere[3] published an account written by journalist Joan Tarshis, who claimed Cosby raped her when she was 19-years-old in 1969. On November 13th, Bowman appeared on CNN, where she discussed her past experiences with Cosby with anchor Don Lemon (shown below, left). On November 18th, Tarshis was interviewed by on CNN by Lemon, who was criticized for asking her if she had considered biting Cosby's penis (shown below, right).
That day, model Janice Dickinson was interviewed on the entertainment news program Entertainment Today,[4] where she claimed Cosby sexually assaulted her in 1982 (shown below).
The AP Report
On July 6th, 2015, U.S. Federal Judge Eduardo Robreno unsealed never-before-seen court documents relating to the 2005 sexual abuse lawsuit filed by Andrea Constand against Cosby per disclosure request by the Associated Press (AP). In the legal disposition obtained by the AP, the celebrity comedian testified under oath that he had given the plaintiff three doses of Benadryl and obtained seven prescriptions for quaaludes, a strong sedative, with the intention of giving them to women with whom he wanted to sleep with.

Q: Who are the people that you gave the quaaludes to?

Cosby's lawyer interrupts and asks to limit the questioning to a certain group of accusers referred to in the documents as the Jane Does.

Q: When you got the quaaludes, was it in your mind that you were going to use these quaaludes for young women that you wanted to have sex with?

A: Yes.

Q: Did you ever give any of those young women the quaaludes without their knowledge?

Cosby's lawyer objects, again asking Constand's lawyer to limit the question to only the Jane Does. After their wrangling, Cosby continues.

A: --I misunderstood. Woman, meaning (another accuser), and not women.

Q: OK. So, you're saying you never gave the quaaludes to anyone other than (a specific person)?

Cosby's lawyer: Don't answer the question. You can ask all the questions you want about the Jane Does.
Medal of Freedom Revocation Petition
On July 8th, 2015, the sexual violence awareness advocacy group PAVE created a WhiteHouse.gov petition calling for Bill Cosby's Medal of Freedom to be revoked. Cosby was originally awarded the medal in 2002 for his contributions to American television. The petition read:[7]
The Presidential Medal of Freedom is the highest award bestowed on civilians for their contributions to society. Bill Cosby does not deserve to be on the list of distinguished recipients. PAVE: Promoting Awareness | Victim Empowerment, a national nonprofit dedicated to sexual assault prevention and victim empowerment, is rallying supporters to remedy this injustice. Cosby admitted to procuring drugs to have sex with women without their consent. He has been accused of serial rape by dozens of others. We cannot yet give his accusers their day in court, but we can fight back in the court of public opinion. We urge the administration to take the unprecedented action of revoking this award.
The petition received over 14,000 signatures in the first three weeks after its posting. While the White House usually doesn't address petitions until they have received 100,000 signatures, Obama did respond to the Cosby petition, saying that there was no precedent to revoking the medal, but that the crimes which Cosby was accused of did qualify as rape, which he believed the United States should have no tolerance for.[8]
#TheEmptyChair
Many more women eventually came forward claiming that Cosby had sexually assaulted them; as of July 2015, the official number of accusers stood at 46. On July 27th, 2015, New York Magazine published an in-depth article with detailed interviews and portraits of 35 of the accusers, including supermodels Beverly Johnson and Janice Dickinson. The magazine cover featured a black and white composition featuring seated portraits of each of the 35 women, plus one empty chair to represent the 11 more women who did not want to be photographed and interviewed for the article and any more that may come forward in the future.[9]

Soon after the cover was revealed on July 26th, users on Twitter began to tell their stories of sexual assault and rape using the hashtag #TheEmptyChair. Many tweeters began their stories by saying "I sit in #TheEmptyChair," followed by their individual experiences. Others were not willing to tweet directly, because they didn't want to publicly talk about their experiences; some prominent twitter personalities, like the journalist Elon James White, tweeted screenshots of direct messages from those who had been raped but were not ready to share their story with their names attached.[10][11] In the 24 hours following the article, the hashtag was used more than 14,000 times.[12]






Impact
Indictment
On December 30th, 2015, Cosby was indicted on charges of aggravated indecent assault stemming from the aforementioned January 2004 incident with Andrea Constand at his home outside of Philadelphia.[13]
Though Constand had settled her civil suit with Cosby previously, including signing a non-disclosure agreement, she was named in the affidavit of probable cause against Cosby, and prosecutor Kevin Steele said the former Temple University employee "has indicated that she is willing to cooperate with us going forward." The statute of limitations on sexual assault in Philadelphia is 12 years and the prosecution would have missed the opportunity to prosecute Cosby for the charge, which carries a possible ten year jail term, if they had waited.[14] The official release from the Montgomery County District Attorney's Office read:[15]
The charges filed today are a result of new information that came to light beginning in July 2015. After determining the statute of limitations regarding the potential criminal offense had not yet expired, an investigation was reopened. The statute of limitation for aggravated indecent assault is twelve years from the incident.
The outcry online was instantaneous and large. On Reddit, story of Cosby's prosecution topped the front page, receiving 7,263 points (96% upvoted) within four hours.[16] On Twitter, news of the charge made Bill Cosby the top trending topic,[17] and the story trended on Facebook as well.[18]
"Not a Meme"
On November 2nd, 2016, Cosby's defense lawyers argued that their client's failing eyesight prevented him from recognizing his accusers. Additionally, defense attorney Angela Agrusa called for dismissal of her client's charges, stating that Cosby was "not a meme":
"My client is not a meme. He's a human being. And his rights have been trampled. By ego and ambition. I think the discussion stops there."
That day, Redditor WildAnimus submitted a post about the meme quote to /r/nottheonion.[19] In the coming days, several news sites published articles about Agrusa's statements, including NBC News,[20] The Daily Dot,[21] Esquire[22] and MSN.[23]
Trial
On June 5th, 2017, the first day of trial in the case of Pennsylvania vs. William H. Cosby Jr., in which the comedian would be tried on three felony charge of aggravated indecent assault against Andrea Constand, went underway at the Montgomery County Courthouse in Norristown, Pennsylvania, with a 12-people jury comprised of one black woman, one black man, six white men and four white women. As the only criminal case to emerge from more than 60 allegations made against Cosby in recent years, the trial was heavily reported on by U.S. news media outlets and discussed on the social media.


According to Bucks Courier Times[25], the prosecutors called Kelly Johnson, who has also accused Cosby of drugging and trying to assault her in 1996, as their first witness. During the testimony, Johnson told the jury that Cosby, who was, at the time, one of the biggest clients at the talent agency she worked at, invited her to his bungalow at Hotel Bel-Air in Los Angeles and served her a "large white pill," before urging her to touch him sexually. In defense, Cosby's lawyer told the jury that Constand had made up the story about the assault, noting that she made 53 phone calls to Cosby after the incident.
Guilty Verdict
On April 26th, 2018, Bill Cosby was found guilty on all three counts of aggravated indecent assault against Andrea Constand in Philadelphia in 2004. Cosby faces up to 10 years in prison on each count.[29]
The verdict follows a previous trial that ended in a hung jury, resulting in a mistrial.
Following the conviction, the prosecutors urged the judge to take Cosby into custody, stating the he has a private plane, which would make him a flight risk. Cosby responded, reportedly, by yelling, "He doesn't have a private plane, you asshole!"
WATCH: During court discussion on whether Bill Cosby is flight risk, prosecutor raises possibility of Cosby using private plane.

Cosby yells out in court he doesn't have private plane "you a**hole!" pic.twitter.com/UoR14Xx3kb

— MSNBC (@MSNBC) April 26, 2018
Within hours of the announcement, Redditor[30] BabyMonkeyOnPig posted about the verdict in the /r/news subreddit. The post received more than 10,000 points (98% upvoted) and 1,300 comments in 24 hours.
Supporters of the victims expressed their happiness on Twitter. Actor and activist Amber Tamblyn tweeted,[31] "Time's up, Bill. Time's BEEN up for you, for years. And now justice. Justice for women I know who you've hurt and those I've never met. Good riddance." The post (shown below, left) received more than 185 retweets and 1,000 likes in 24 hours.
The UltraViolet organization tweeted,[32] "Today, justice has been served because of the bravery of Andrea Constand, Janice Dickinson, and numerous other survivors who testified. Over the years, FIFTY-SEVEN women have accused Bill Cosby of sexual assault." The post (shown below, center) received more than 230 retweets and 490 likes in 24 hours.
Attorney Lisa Bloom tweeted,[33] "Bill Cosby GUILTY on all 3 counts. THANK YOU Montgomery County prosecutors and police. Andrea Constand. Janice Dickinson. All the women who testified. All 60 who have spoken out about Cosby. All who have supported them. The day has come. Justice delayed, but justice delivered." The post (shown below, right) received more than 300 retweets and 900 likes in 24 hours.



Sentencing
On September 25th, 2018, Bill Cosby was sentenced to 3-10 years in prison for drugging and sexually assaulting Andrea Costand.[34] Cosby was denied bail and was sent to jail immediately following the sentencing.
Bill Cosby's spokesperson Andrew Wyatt afterwards said Cosby and Brett Kavanaugh were victims of a "sex war" and compared their persecution to the persecution of Jesus Christ.[35]
Another Cosby accuser, Lili Bernard, called the sentencing a "hallelujah moment," and "a historic sentencing in the MeToo era."
"It's a hallelujah moment," says Bill Cosby accuser Lili Bernard in response to Cosby being sentenced to three to 10 years in a state prison.

"…This is a momentous, historic sentencing in the #MeToo era" https://t.co/GY7CM9MPnZ pic.twitter.com/igcQ8FjQuB

— CNN (@CNN) September 25, 2018
Search Interest
External References