This submission is currently being researched & evaluated!
You can help confirm this entry by contributing facts, media, and other evidence of notability and mutation.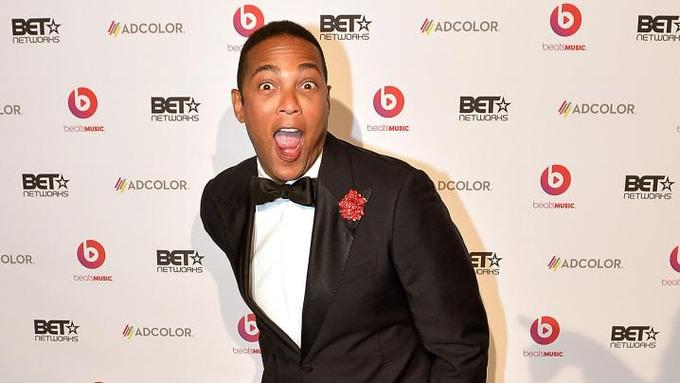 About
Don Lemon is an American journalist best known for his show on CNN, CNN Tonight with Don Lemon and his work as an African American television journalist during the era of police brutality controversies in the United States.
Career
Lemon moved to New York City in 1991 to attend Brooklyn College, where he acquired an assistant position at WNYW while still in school. Lemon reported in Saint Louis, Birmingham, Philadelphia, and New York, and was a co-anchor on a local station in Chicago before returning to New York City to become a reporter for CNN in 2006.[1]
During Lemon's time as a reporter, he has reported on stories such as the death of Michael Jackson, the explosion of the Space Shuttle Columbia, the inauguration of Barack Obama, the mass shooting at Sandy Hook Elementary School in Connecticut, and most recently the shooting death of Michael Brown and the subsequent riots in Ferguson, Missouri, and the homicide of Freddie Gray and the resulting riots in Baltimore, Maryland. CNN Tonight with Don Lemon is currently the second-highest rated show, after Sean Hannity's similar Fox News program, receiving over 1 million views per night as of June 2015.[11]
Online History
Lemon's reporting and television show can be seen online at CNN.com.[4] Don Lemon maintains and active presence on Twitter, where he has over 278,000 followers; Reddit where has over 14,435 comment karma (and where he's said his favorite subreddit is /r/firstworldproblems); and Facebook, where he has over 373,000 followers.[5][6][7][8]
Controversies
Criticism of CNN
Don Lemon has been critical of CNN, especially before beginning his tenure as the host of CNN Tonight. In July of 2011, Jon Stewart prepared a media criticism segment for The Daily Show entitled "Don Lemon Appears to Not Really Care for CNN", which Lemon claims to have watched.[9] Later that year, in December of 2011, Lemon admitted in Atlanta's Creative Loafing magazine that he thought that CNN wanted him "to be the good-looking black guy."[10]
Discussions of the N-Word
Don Lemon has said that he believes the N-word should be used by journalists and not censored, a position which has caused controversy. In July of 2013, Lemon hosted a CNN roundtable about the subject with Buck Davis, Mark Lamont Hill, and Wendy Walsh about the use of the word and other trigger words in the aftermath of Trayvon Martin's Death and Paula Deen's racial slur allegations. The broadcast was notable for its lack of censorship.
In 2015, Lemon again used his show as an opportunity to discuss the N-Word, which resulted in the related meme Don Lemon's N-Word Sign (see below).
Malaysian Airlines Flight 370 Black Hole Theory
On March 18th, 2015, Don Lemon prepared a segment for CNN in which he assembled a panel of experts to debate whether or not the disappearance of Malaysian Airlines Flight 370 could have been caused by a black hole. Mary Schiavo, a former Inspector General for the U.S. Department of Transportation and not an expert in outer space phenomena, answered, "A small black hole would suck in our entire universe, so we know it's not that."
Coverage of Bill Cosby Rape Allegations
On November 16th, 2014, the entertainment news blog Hollywood Elsewhere published an account written by journalist Joan Tarshis, who claimed Bill Cosby raped her when she was 19-years-old in 1969. On November 13th, Bowman appeared on CNN, where she discussed her past experiences with Cosby with anchor Don Lemon (shown below, left). On November 18th, Tarshis was interviewed by on CNN by Lemon, who was criticized for asking her if she had considered biting Cosby's penis (shown below, right).
Coverage of Ferguson, Missouri and Baltimore, Maryland Riots and the Charleston, South Carolina Church Shootings
Don Lemon has been assigned to cover the riots and uproar resulting from the deaths of Michael Brown in Ferguson, Missouri; Freddie Gray in Baltimore, Maryland; and the shooting of nine African American churchgoers in Charleston, South Carolina. In all of these situations, Lemon has found himself embroiled in controversy.
On August 21st, 2014, Lemon got into an on-air argument with rapper Talib Kweli about the coverage of the first round of Ferguson riots (below, left). On November 24th, 2015 in Ferguson, Missouri, during a riot, he famously quipped that "Obviously, there is a smell of marijuana in the air." (below right) The comment inspired a heavy backlash on social media, inspiring the hashtag #DonLemonReporting, which is used sarcastically to criticize Lemon.[13] The reporter told TMZ that he didn't understand the backlash, explaining that "the guy was smoking a joint!"[14]
On April 27th, 2015, while reporting on similar riots in Baltimore, Maryland, following the death of Freddie Gray, Lemon interviewed Maryland governor Larry Hogan and Baltimore mayor Stephanie Rawlings-Blake. During the heated interview, both the mayor and the governor walked out on Lemon.
In Charleston South Carolina, while recording a segment on the shooting of nine African American church goers by white supremacist Dylann Storm Roof, a woman walked onto the camera and started yelling at Lemon, calling him an "Uncle Tom."
Related Memes
Don Lemon's N-Word Sign
Don Lemon's N-Word Sign, also known as Don Lemon: Does This Offend You? refers to a sign featuring the ethnic slur "nigger" held up by the American TV news anchor while discussing the propriety of using racially insensitive words and symbols during a special segment on the nightly news program CNN Tonight, aired in late June 2015. Immediately after its broadcast, screenshots of Lemon holding up the sign were turned into a photoshop meme with many participants superimposing alternate messages over the original sign.



Personal Life
In 2011, Lemon came out as gay in his memoir, Transparent.[3] He also admitted that he had been molested as a child in the book.
Search Interest
External References