Overview
Death of August Ames refers to the suicide of adult film actress August Ames,[24] following a controversy regarding a tweet that some perceived as homophobic. Following the tweet, Ames was said to have been cyberbullied by some Twitter users, which some claim to have driven the actress to suicide.
Background
On December 3rd, 2017, August Ames[1] tweeted, "whichever (lady) performer is replacing me tomorrow for @EroticaXNews , you're shooting with a guy who has shot gay porn, just to let cha know. BS is all I can say🤷🏽‍♀️ Do agents really not care about who they're representing? #ladirect I do my homework for my body🤓✏️🔍" The post (shown below) received more tahn 320 retweets and 1,400 likes in eight days.

Following the tweet, people began accusing Ames of homophobia. Twitter[2] use @AlexisAmeesxxx tweeted, "I think it's hilarious that your discriminating against a man who does/did gay porn when half of this industry has performed with such performers.
ALLLLLLL performers must subject to the SAME testing in order to work." The post (shown below, left) received more than 30 retweets and 450 likes in eight days. Twitter[3] user @MJg0at23 tweeted (shown below, center), "So youre homophobic?" Twitter[4] user @Boomer_Banks tweeted (shown below, right), "are u fucking kidding me!? Stigma at its finest bye 🖕🏽."



Following the post, Ames attempted to clarify that she was talking about what she perceived as lax safety precautions on homosexual adult film sets. On December 4th, she tweeted, "I don't have anything to apologize for! Apologizing for taking extra steps to ensue that my body stays safe? Fuck you guys attacking me when none of my intentions were malicious. I fucking love the gay community! What the fuck ever! I CHOOSE who I have inside my body. No hate." The post (shown below) received more than 860 retweets and 3,600 likes in one week.

After a continued negative response online that day, Ames tweeted,[6] "fuck y'all." The tweet (shown below) received more than 15,000 retweets and 25,000 likes in one week.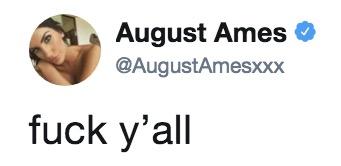 On December 5th, Ames' body was found in Camarillo, California. According to the Ventura County Medical Examiner, Ames died of asphyxiation due to hanging.[7]
Development
Following her death, some online said that the reaction to her tweets led to her suicide. Adult film star Jenna Jameson said,[8] "I am so disappointed in some of the people in the adult industry. I am also shocked and dismayed at a few FEMALES that attacked and helped fan the fire against my friend August. Her blood is on their hands."
Ames's brother also claimed that cyberbullying was to blame for his sister's death.[11] He said, "I want my sister's death to be recognised as a serious issue – bullying is not OK. It cost me my baby sister's life. I will do what I can be a voice for Mercedes but right now my family and I need to be left alone to grieve – we have lost a loved one."
However, according to the Medical Examiner, Ames' suicide note did not mention harassment or cyberbully.[9] She was also said to have suffered from depression.[10]
Online Reaction
Online people within the adult film industry reacted with sorrow to the news of Ames' passing. Actress Nikki Dalno tweeted, "Such a sad day in our industry!!! RIP baby girl August Ames you surely will be missed! Her presence lit up any room, that laugh was contagious you truly were and will always be a superstar. My heart goes out to her husband Kevin and her family❤️" The post (shown below, left) received more than 200 retweets and 2,000 likes in less than one week.

On Reddit, the news of and reaction to Ames' death made the front page of several subreddits, including /r/uncensorednews,[13] /r/The_Donald] /r/CringeAnerchy,[17]
On Twitter, author Jon Ronson, author of the book So You've Been Publicly Shamed, posted several tweets in response to Ames' suicide, describing how psychologically harmful shaming can be (shown below).

He later added in two more tweets (shown below, left and right), "There have been many suicides and there will be more, because on twitter we are still babies with guns. I can't overstate the agony of being on the end of a shaming. Unless you're impervious – and not many people are – it is highly traumatizing. Being told to get out, that you're garbage and you'll be brought down…"


Media Coverage
Several media outlets covered Ames' death and the controversy surrounding it, including The New York Daily News,[21] Uproxx,[22] Evening Standard[23] and more.
Search Interest
External References