Doritos "Lady-friendly Chips" Controversy
Overview
Doritos "Lady-friendly" Chips Controversy refers to the backlash and discussion around a planned release of Doritos chips from PepsiCo that will crunch quieter, not have flavoring that stick to fingers, and not have as many crumbs in the bottom of the bag. The reasoning behind the product is that it is more socially acceptable for men to eat Doritos in a more grotesque manner, involving licking their fingers and pouring crumbs into their mouth, and PepsiCo CEO Indra Nooyi wished to repackage the product so that women would not have to engage in that traditionally unfeminine behavior.
Background
On January 31st, 2018, PepsiCo CEO Indra Nooyi interviewed with Freakonomics[1] and discussed the introduction of "lady-friendly" Doritos. Speaking to Stephen Dubner, Nooyi said:
DUBNER: I understand that men and women eat chips very differently. Can you tell us the differences?
NOOYI: When you eat out of a flex bag -- one of our single-serve bags -- especially as you watch a lot of the young guys eat the chips, they love their Doritos, and they lick their fingers with great glee, and when they reach the bottom of the bag they pour the little broken pieces into their mouth, because they don't want to lose that taste of the flavor, and the broken chips in the bottom. Women would love to do the same, but they don't. They don't like to crunch too loudly in public. And they don't lick their fingers generously and they don't like to pour the little broken pieces and the flavor into their mouth.
DUBNER: So is there a male and female version of chips that you're playing with, or no?
NOOYI: It's not a male and female as much as "are there snacks for women that can be designed and packaged differently?" And yes, we are looking at it, and we're getting ready to launch a bunch of them soon. For women, low-crunch, the full taste profile, not have so much of the flavor stick on the fingers, and how can you put it in a purse? Because women love to carry a snack in their purse. The whole design capability we built in PepsiCo was to allow design to work with innovation. Not just on packaging colors, but to go through the entire cycle, and say, "All the way to the product in the pantry, or how it's being carried around, or how they eat it in the car, or drink it in the car, what should be the design of the product, the package, the experience, so that we can influence the entire chain?"
Developments
The interview did not start spreading online until it was covered by The New York Post on February 5th, 2018.[2] After the New York Post tweeted a link to their article,[3] the link was shared with commentary from people who found the product insulting. It reminded some of the Bic's For Her Pen controversy when Bic created pens that were needlessly sorted by gender. Twitter user @Manglewood joked that she would be writing an angry letter to Doritos using the Bic For Her pen, gaining over 230 retweets and 1,500 likes (shown below, left). Twitter user @Moj_kobe tweeted an image of uncooked tortillas, demonstrating what "less crunchy chips" would look like, gaining over 40 retweets and 240 likes (shown below, right).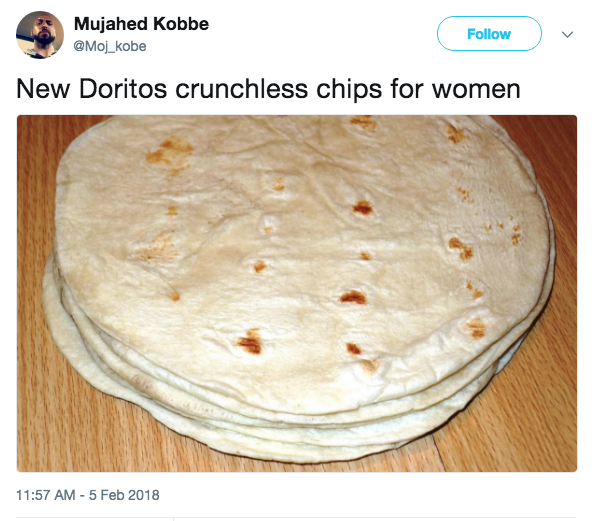 Most coverage focused on the outraged reactions to the news. Buzzfeed,[4] Chicago Tribune,[5] Independent,[6] and others covered the reactions.
Search Interest
External References
Recent Videos
There are no videos currently available.