This submission is currently being researched & evaluated!
You can help confirm this entry by contributing facts, media, and other evidence of notability and mutation.
About
The 2018 Golden Globes was an award ceremony run by the Hollywood Foreign Press Association, who voted on the best in film and television for 2017. The award ceremony was marked by several political moment, as it is the first large, televised gathering of Hollywood elites since the sexual harassment allegations against Harvey Weinstein were made public.
Background
On November 27th, 2017, Seth Meyers was confirmed as host of the Golden Globes.[1] The 75th Annual Golden Gloes would be held on January 7th, 2018, making it the first large gathering of Hollywood elites in the wake of the Harvey Weinstein Scandals.
As a result of the ongoing conversation regarding the sexual misconduct in Hollywood, attendees were reportedly planning on wearing all black to show solidarity with the Me Too movement.[2]
Development
Me Too Representation
In addition to most of the attendees wearing black in solidarity with the movement, many of people presenting and receiving awards mentioned the Me Too movement as an important changing of the guard in Hollywood.
Several attendees invited eight women's rights activists to the awards ceremony, including Me Too-founder Tarana Burke.[9]
However, many online were disappointed that only two men spoke about Me Too or Times Up in their acceptance speeches. The National Institute for Reproductive Health tweeted,[9] "Not a single man who accepted a #GoldenGlobes tonight spoke out about sexual assault, #MeToo, or #TimesUP. Wearing a black tuxedo isn't enough. We need men to SPEAK UP and stand beside us to fight to end sexual assault & rape culture." The post (shown below) received more than 6,500 retweets and 16,000 likes in less than 24 hours.

Willem Dafoe Reaction
During his opening monologue, Seth Meyers joked about a scenario Willem Defoe mistaking his winning an award for an allegation made against him (shown below).
Following the comment, the camera cut over to Dafoe, who looked shocked by his name being red and then laughed. His face was shared online by numerous people, using it as a reaction image (examples below).



James Franco's Acceptance Speech
Accepting his award for Performance by an Actor in a Motion Picture – Musical or Comedy, James Franco invited Tommy Wiseau on stage. Wiseau walked up on stage and attepted to take the mic from Franco, which the actor blocked (shown below).
Some online reacted negatively to Franco's pushing away of Wiseau. Twitter[8] user @davidmackau tweeted a gif of the moment with the caption "when u want to give credit, but not too much credit." The tweet (shown below) received more than 5,000 retweets and 13,000 likes in less than 24 hours.

In response to Franco's win, however, many online posted actor Hugh Jackman's reaction, claiming that the Australian actor had a better, more deserving performance for his nominated turn in The Greatest Showman (examples below).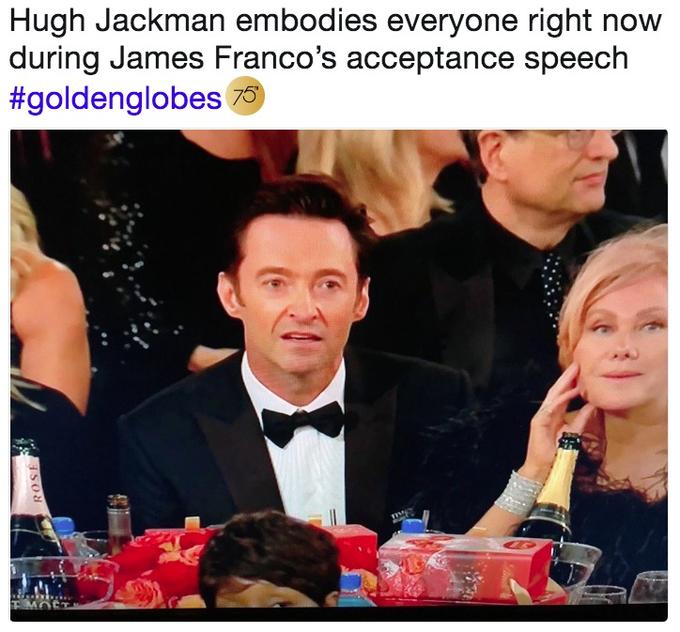 Following his win, however, actress Ally Sheedy tweeted a series of posts, alluding to negative experiences with Franco. Over a three tweets, she wrote, "James Franco just won. Please never ever ask me why I left the film/tv business. Ok wait. Bye. Christian Slater and James Franco at a table on @goldenglobes #MeToo. Why is a man hosting? Why is James Franco allowed in? Said too much. Nite love ya." The tweets were deleted shortly after.
The Daily Beast[7] suggests that the issue Sheedy is referencing stems from a 2014 off-Broadway production of The Long Shrift, which Sheedy and Franco worked on together.

Oprah's Acceptance Speech
Accepting the Cecil B. DeMille award, Oprah gave a speech that touched upon many of the cultural issues of 2017, particularly the Me Too movement (shown below, right). Within 12 hours of the speech being uploaded to YouTube, it had reached #2 on the site's trending charts and received more than 749,000 views.
Following the speech, many online took to speculating about Oprah's running. However, the reaction to the speculation was mixed. Twitter[2] user tweeted, "If you need me for the next two years I'll be drafting tweets in support of Oprah's 2020 presidential campaign." The post (shown below, left) received more than 2,400 retweets and 21,000 likes in 12 hours.
Twitter[4] user @drewmagary joked, "TOP FRONTRUNNERS FOR PREZ 2020 1. Oprah 2. The Rock 3. Beyonce 4. Hey what about Angelina she seems to know her stuff 5. A Fast & Furious sequel 6. The gif of that one dude blinking." This tweet (shown below, enter) received more than 600 retweets and 2,300 likes in three hours.
Additionally, Twitter[5] user @sjdemas tweeted, "People who gave Trump wall-to-wall coverage in 2016 are now going nuts about Oprah running in 2020, so basically, we're screwed."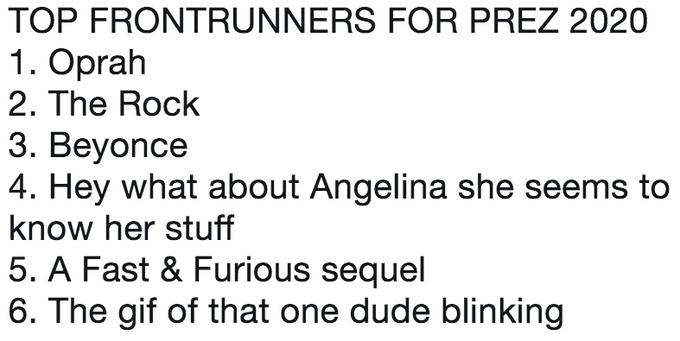 MSNBC anchor Joy Reid tweeted[6] a picture of The Rock, who has also, reportedly, been contemplating running, at the ceremony with the caption "When Oprah is speaking at the Golden Globes and your goals shift to VP…" The post (shown below) received more than 8,500 rewteets and 43,000 likes in less than 24 hours.

Search Interest
External References