This submission is currently being researched & evaluated!
You can help confirm this entry by contributing facts, media, and other evidence of notability and mutation.
Overview
Nintendo Direct is a regular online presentation by Nintendo wherein they reveal details about upcoming games on their various consoles and devices. The presentations are hosted by various presidents of Nintendo depending on which region they air in.
Background
The first presentation aired on October 21st, 2011, and dealt with upcoming titles and news about the Nintendo Wii and Nintendo 3DS.[1]
Developments
Since the first Nintendo Direct, Nintendo released Directs every several weeks. Occasionally the directs will focus on specific games, such as Pokémon and Animal Crossing (examples shown below).
Since June of 2013, Nintendo has forgone traditional E3 announcements and began doing major announcements during E3 through Nintendo Direct (examples shown below).
The Nintendo Directs are covered widely by gaming publications such as Polygon[2] and Nintendo Life.[3] Furthermore, an archive of the Directs are saved on the Nintendo website.[4]
September 13th, 2018 Nintendo Direct
On September 13th, 2018, Nintendo held a Direct presentation which had previously been delayed due to respect for earthquake victims in Hokkaido, Japan.[5] The presentation included several major announcements, including the addition of Animal Crossing character Isabelle to Super Smash Brothers Ultimate, releases of Luigi's Mansion 3, Katamari Damacy Reroll, several Final Fantasy ports for the Switch, and a tease for a new Animal Crossing game.
Spring 2019 Nindies Direct
On March 20th, 2019, Nintendo held a "Nindies" direct wherein they showcased upcoming indie games coming to the Nintendo Switch. Of the games announced, the most notable was Cuphead, which will be released on April 18th, 2019 (shown below, left).[6] Additionally, the developers of Crypt of the Necrodancer revealed Cadence of Hyrule, a rhythm game blending Crypt of the Necrodancer with The Legend of Zelda (shown below, right). Other major announcements include Rad, the latest project from Double Fine, Stranger Things 3: The Game, Pine, Nuclear Throne, Katana Zero. and others.
Related Memes
Several Nintendo-themed memes have been spawned from Nintendo Direct presentations.
Non Specific Action Figure
Non-Specific Action Figure is a digital companion character for Nintendo's Wii U. The character was introduced in a promotional video for Nintendo's Mii Universe, a new user-interface that would've become available on the Wii U system, screened as part of the Nintendo Direct live broadcast event on June 3rd, 2012. Discussion about the Non-Specific Action Figure began appearing immediately on gaming forums including The Wii U Forums and GameFAQs. Later that day, "Non-Specific Action Figure" became a trending topic on Twitter. Also on June 3rd, a Twitter novelty account, Facebook page and single topic Tumblr were created to celebrate the oddly named character. GoNintendo published an article on why Non-Specific Action Figure should be a character in the next Super Smash Brothers game.
On June 4th, Nintendo Gamer published a tongue-in-cheek article with a faux history of the character and photoshopped images placing the figurine in a variety of historical events to argue that he had been around since the 1940s.


Creepy Villager
Creepy Villager is a nickname given to the male protagonist character of Nintendo's social simulation video game franchise Animal Crossing. During the Nintendo Direct broadcast at 2013's E3 presentation, a promotional trailer for the Super Smash Brothers Wii U and 3DS games was revealed. The trailer, which begins with the Animal Crossing Villager opening his mailbox and discovering a letter sealed with the Super Smash Brothers logo, shows the character attacking Mario with an insect net, alongside the two additional characters Capcom's Mega Man and Nintendo's Wii Fit Trainer.
Within two hours of Nintendo's online broadcast, GIFs of the Villager's in-game moves as shown in the trailer began appearing on Tumblr.



Buff Dedede
Buff Dedede is a nickname given to a muscular version of the enemy character King Dedede shown in a preview of the game Kirby Star Allies in a Nintendo Direct video released in mid-September 2017. On September 13th, 2017, Nintendo released a "Nintendo Direct" promotional video, which featured previews of various upcoming games. During the Kirby Star Allies segment of the video, the character King Dedede is briefly shown on the screen flexing his large muscles (shown below).
That day, "Buff Dedede" became a trending topic on Twitter, where many users joked about the muscular depiction of the character (shown below).


Inkling Girl's Eye
Inkling Girl's Eye refers to an exploitable image of one of the Inklings from Splatoon seeing the reflection of something in her eye. The image comes from the March 8th, 2018 Nintendo Direct presentation. In the original, the Inkling girl sees the Super Smash Brothers logo in her an eye. What she sees is changed in the exploitables.
On March 8th, 2018, Nintendo gave a Nintendo Direct presentation. Towards the end of the presentation, the Splatoon Inklings are engaging in a cinematic battle when the lights go dark and the girl Inkling turns to see something. As the camera zooms in on her eye, the Super Smash Brothers logo can be seen in her eye, as Nintendo was announcing a new Super Smash Brothers game for the Nintendo Switch due in 2018.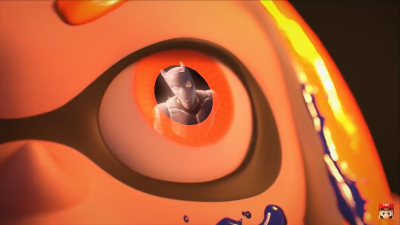 Search Interest
External References