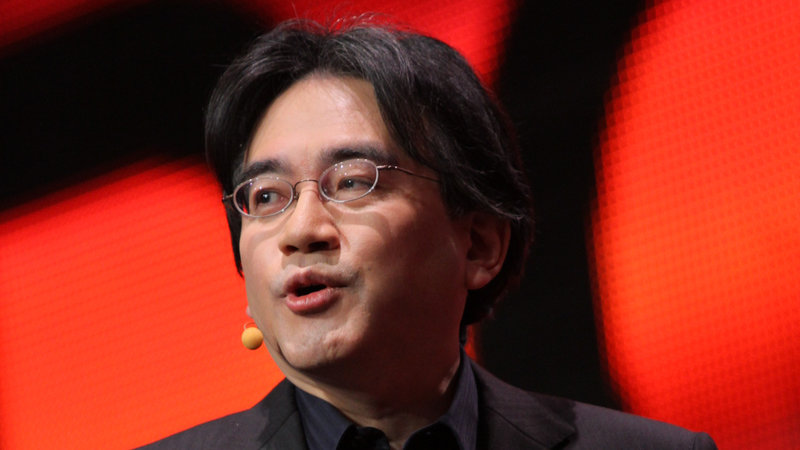 About
Satoru Iwata was a Japanese video game developer and businessman who served as the fourth CEO and president of Nintendo. Ever since rising to leadership in 2002, Iwata has been widely credited with reinvigorating the company's stature within the video gaming industry by introducing next-generation hardware consoles, namely the Nintendo DS handheld system and Wii, as well as improving its public relations by personally interacting with the fans through social media. On July 12th, 2015, Iwata passed away at the age of 55 due to complications with bile duct tumor.
Biography
Early Career
Satoru Iwata's pursuit of video game production began early on in his high school years, during which he came up with several simple number-oriented games using an electronic calculator that he had shared with his schoolmates. After graduating from high school, Iwata was admitted to the computer science program at the Tokyo Institute of Technology, where he continued his study and began working as a freelance programmer for HAL Laboratory, Inc.[1], a video game developer closely affiliated with Nintendo.
Work at HAL Laboratory Inc.
Following his graduation from the institute, Iwata joined HAL Laboratory as a full-time developer to work on several SNES projects, such as EarthBound and the early Kirby titles, before being promoted as the president of the company in 1993. As the head of HAL Laboratory, Iwata turned the company around from the verge of bankruptcy and stabilized its finances, while remaining close to his programming roots by contributing to the development of Pokémon Gold and Silver for the Game Boy Color and the Pokémon Stadium for the Nintendo 64.
Work at Nintendo
In 2000, Iwata left HAL Laboratory to work as the head of the corporate planning division at Nintendo, though he would remain as an advisor to HAL Laboratory for the remainder of his life. On May 31st, 2002, Iwata succeeded Hiroshi Yamauchi as the CEO of Nintendo, which was facing many challenges and obstacles at the time with the poor performance of the Gamecube console in comparison to its competitors. As the company's first president without any familial relations to the Yamauchi family, Iwata oversaw the development of many crucial hardware and software projects, including Nintendo's seventh-generation console Wii and Nintendo DS, the long-awaited successor to the popular Game Boy handheld console system, as well as several influential franchises like The Legend of Zelda, Super Mario, and Animal Crossing. In April 2013, Iwata took on a new role within the company as CEO of Nintendo of America, where he garnered a large fan following from all over the world for his personal interactions with the fans through social media and close involvement in Nintendo Direct online press conferences.
Death
In 2014, Nintendo announced Iwata would not be able to attend E3 2015 on advice from his physician, after surgery to remove a tumor from his bile duct. On July 11th, 2015, Nintendo released a statement[13] announcing the death of Iwata at the age of 55 due to a bile duct growth.

Various online outlets responded to Iwata's death. On 4chan, the /v/ (video games) board embedded a video of the song "Smiles and Tears" from EarthBound. Various notables from the video game industry tweeted regarding Iwata's passing, including Masahiro Sakurai,[6] Hideki Kamiya,[10] and Geoff Keighley.[11] Even rival companies paid their respects, with both Sony's official Twitter account for PlayStation[12] and Phil Spencer,[14] head of Microsoft's Xbox division, tweeting out condolences. In addition, several gaming news outlets such as Kotaku,[3] Gematsu,[4] and Polygon[5] ran articles covering Iwata's death, as did general news outlets like BBC[8] and the Wall Street Journal.[9]

Online Presence
Iwata Asks
Iwata Asks[7] is a series of developer interviews conducted by Satoru Iwata, and posted to the Nintendo website. Within them, Iwata asks a number of questions to developers of upcoming Nintendo games and products, with the aim to help provide more information as to what the games entail. The series has garnered much praise online, due to the informative and helpful nature of the interviews.
Nintendo Direct
Nintendo Direct is a series of online digital presentations, typically hosted by Iwata, detailing information and gameplay videos about upcoming Nintendo products, first starting on October 21st, 2011 in Japan, before heading overseas with a number of other directs dedicated to specific regions around the world. Within the directs, Iwata became known for his act of gesturing his hands towards the camera whenever the term "direct" is mentioned, spawning a number of parodies within the community, an even from Nintendo themselves.

Related Memes
"Please Understand"
Please Understand is a phrase often associated with Satoru Iwata and has many times in the past said "please understand" when apologizing for something. It has even been said to be one of Iwata's "favorite excuses."[2] Many image macros of Iwata saying "please understand" have been made. Although it did have some usage beforehand, the phrase grew greatly in popularity coinciding with the Pokébank delay.




Satoru Iwata Holding Bananas
Satoru Iwata Holding Bananas refers to a gag clip shown during Nintendo's pre-recorded direct, shown off at E3 2012. Within the clip, Satoru Iwata is featured holding a bunch of bananas, staring intently at them for a short time before putting them down and carrying on with the presentation. Due to the odd nature of the scene, many parodies were created online.


Reggie vs. Iwata
Reggie Vs. Iwata is a promotional video featuring Nintendo executives Reggie Fils-Aime and Satoru Iwata competing in a battle which was released during the 2014 Electronic Entertainment Expo (E3).


Search Interest
External References