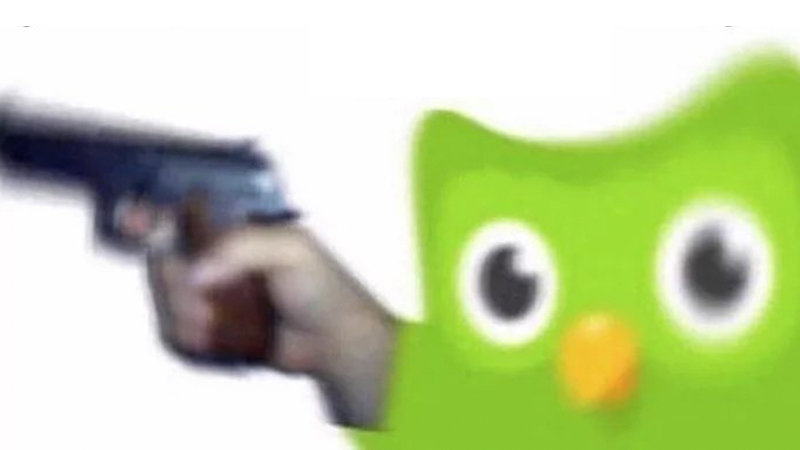 About
Evil Duolingo Owl is a series of parodies of the mascot for the language learning application Duolingo. In these memes, Duo, the Duolingo owl, is a dangerous teacher, who threatens users when they do not use the application.
Origin
On June 19th, 2012, the application Duolingo was released to the public.
About five years later, on October 24th, 2017, Tumblr [1] user knightcore posted a photoshopped version of Duo with a gun. The post featured the caption "me: *neglects my duo lingo app*." The post received more than 150,000 notes in about two years (shown below).

Spread
On December 2nd, 2018, Tumblr[2] account screenshotsofdespair posted a notification from the Duolingo that reads, "Oops, that's not correct. Run for your life." The post received more than 117,000 notes in four months (shown below, left).
On March 26th, 2019, the Twitter [3] account for Duolingo posted an image of Duo the owl entering a dark room with the text "Coming Soon." The post received more than 1,300 retweets and 15,000 likes in two days (shown below, center).
Following the post, people responded with more jokes and memes about the evil Duo. For example, that day, Twitter[4] user @TayChang posted a Floating Boy Chasing Running Boy with the caption "When I forget to learn Spanish for two days." The post received more than 1,200 retweets and 10,000 likes in two days (shown below, right). That day, the post was shared on the /r/memes subreddit, [5] where it received more than 16,000 points (97% upvoted) and 115 comments in two days.
On March 27th, 2019, Mashable [6] posted an article about the memes.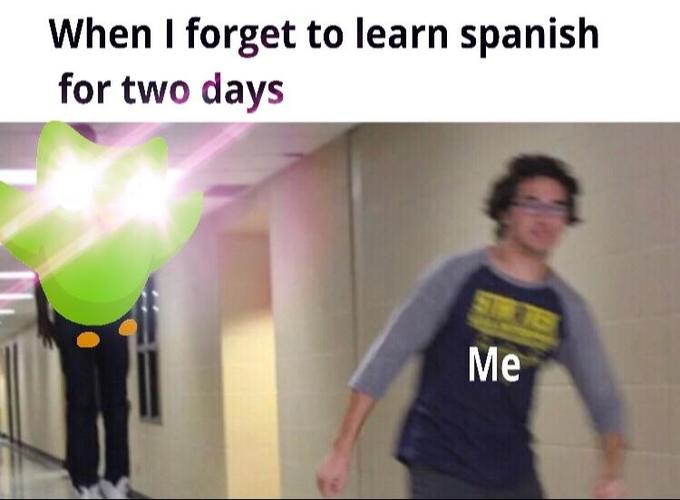 Various Examples






Search Interest
External References