This submission is currently being researched & evaluated!
You can help confirm this entry by contributing facts, media, and other evidence of notability and mutation.
About
Fallout Songs are songs played on the in-universe radios in the Fallout video game franchise, starting with Fallout 3. While there are some songs that were recorded specifically for the game, many of these were songs recorded in the 1930's-1960's as a means of giving the game a retro-futuristic feel. Due to the relatively small number of songs available on the game's radio, many jokes have been made at the expense of the songs repeating frequently.
Origin
The 2008 game Fallout 3 introduced in-universe radio stations that played songs both on the player-character's on-person Pip-Boy and the in game radio sets. This was again used in the 2010 game Fallout: New Vegas and the 2015 game Fallout 4. Songs in the original Fallout 3 included "Civilization (Bongo, Bongo, Bongo)" recorded in 1947 by the Andrews Sisters with Danny Kaye and released under Better Half Music Co (shown below, left) and "Butcher Pete," recorded in 1949 by Roy Brown and released under Brown Angel Music Publishing (shown below, right).
Spread
Fans of the game frequently joke about the songs' over-saturation as well as the fact that using the in-game radio does not affect how stealthy the player is in game.


Songs that appeared in other games include "(I Got Spurs That) Jingle, Jangle, Jingle," which was used in the 2010 E3 Trailer for Fallout: New Vegas (shown below, left) and "Johnny Guitar," the latter of which supposedly played twice as often in the game due to a glitch (shown below, right).
Take Me Home, Country Roads
This song was used in the trailer of the 2018 game Fallout 76. Unlike the previous songs listed, the one used in the trailer is a cover of the original made specifically for the game.
The song started seeing increased use in memes in the spring of 2018, due to the song's use in the Fallout 76 trailer. KnowYourMeme user William, Lord of Dimentions created an Ok, Bye Mom variation referencing the song and the trailer on May 30th, 2018 (shown below, left). Additionally, memes about the song on Reddit will often feature comments referencing the game. A post on /r/memes_of_the_dank using breath in Boi has a comments section talking almost exclusively about the upcoming Fallout game.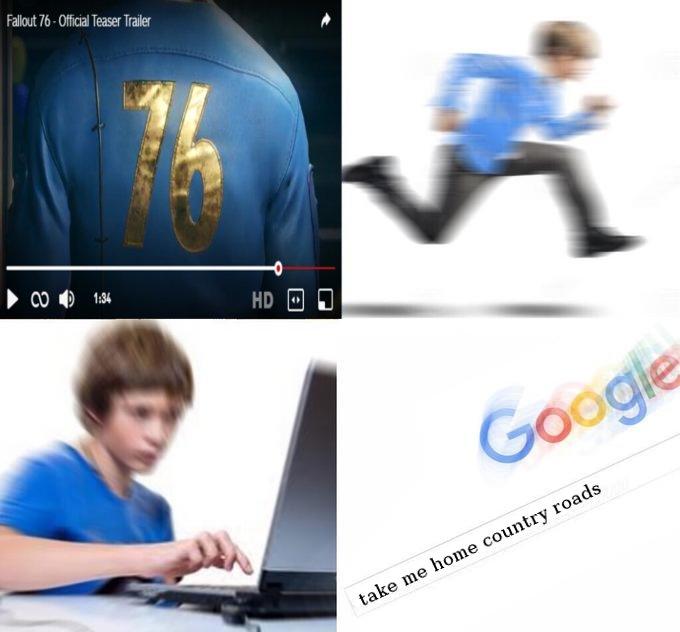 Various Examples






Search Interest
External References