For Those Who Didn't Catch the Reference
About
For Those Who Didn't Catch the Reference refers to parodies made by an enthusiastic Joker fan who attempted to point out a cinematic parallel between the 2019 film and The Dark Knight (2008) by placing an image of Joaquin Phoenix's Joker in a police car next to Heath Ledger's Joker in a police car, claiming the former was referencing the latter. Twitter users didn't feel as if the two pictures constituted a strong case for arguing Joker was referencing The Dark Knight and mocked the tweet with various parodies.
Origin
On October 6th, Twitter user @_greys[1] posted a picture of Joaquin Phoenix as the Joker in a police car next to an image of Heath Ledger as the Joker also in the back of a police car, writing "For those who didn't catch the reference." The tweet gained over 5,900 retweets and 30,000 likes (shown below).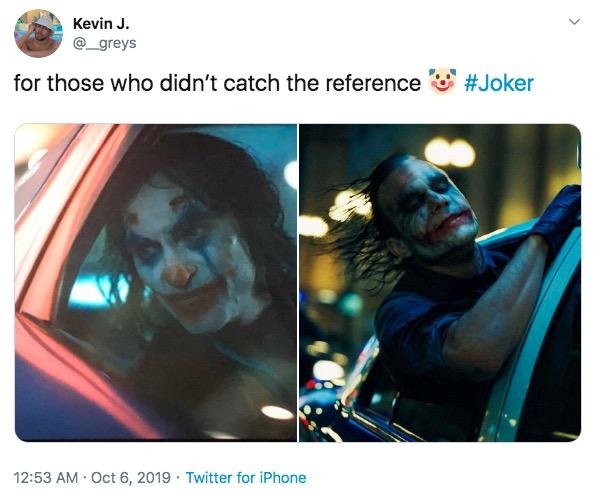 Spread
Twitter users mocked the post in two ways. The first was in text tweets making fun of the post itself. For example, Twitter user @spacejamfan[2] joked, "Damn both shots have the joker in them" (shown below, left). User @imageofDanny[3] wrote, "In joker (2019) wee see Arthur Fleck kill people, this is a subtle reference to the dark knight (2008) where The Joker kills people," gaining over 1,800 retweets and 18,000 likes (shown below, right).



Other people mocked the tweet by posting parodies of it. For example, user @GrossmanMax[4] tweeted the picture of Phoenix's Joker next to an image of Bradley Cooper from A Star Is Born, gaining over 1,300 retweets and 8,500 likes (shown below, left). User @steph_soh[5] joked by comparing the Joker pic to Danny Devito in the Nice Egg Always Sunny scene, gaining over 1,700 retweets and 9,500 likes (shown below, right). Jokes were covered in a Twitter Event.[6]


Various Examples






Search Interest
Unavailable
External References
Recent Videos
There are no videos currently available.