About
Jared Leto's Joker is a photoshop meme based on an official promotional image of American actor Jared Leto costumed as the iconic Batman villain the Joker in the DC Comics superhero film Suicide Squad.
Origin
On April 13th, 2015, principal photography for the upcoming 2016 superhero film Suicide Squad, which is based on DC Comics' anti-hero team with the same name, began in Toronto, Canada. On April 24th, the director David Ayer tweeted an official promotional photograph of actor Jared Leto dressed as the Joker in the film (shown below, left). Within 72 hours, the tweet gathered upwards of 40,000 retweets and 33,000 favorites. The photograph was posted to commemorate the 75th anniversary of the Joker's first appearance in the 1940 comic book Batman #1, with Leto's manic facial expression alluding to a panel in the 1988 Batman graphic novel The Killing Joke (shown below, right).


Spread
The same day, a thread about the image was created on 4chan's /tv/ (television and film) board.[8] Also on April 24th, 2015, Twitter user @Fewxie[14] posted a photoshopped cover for the 1990 comedy film Home Alone with the Joker photograph superimposed on the front (shown below, left). The same day, comedy writer Brian Altano[15] tweeted a photoshopped version of the Joker photo, with his tattoos replaced with various console video game logos (shown below, right).


On April 25th, the Leto photograph reached the front page of the /r/movies[9] and /r/batman[10] subreddits, with each gathering upwards of 3,000 votes in 48 hours. That same day, Redditor A13xer submitted a photoshopped cover for the 2009 first-person shooter game Borderlands featuring the Jared Leto Joker photo to /r/batman[12] (shown below). In the coming days, several news sites published articles about the Internet's reaction to the image, including Screen Rant[5], Rolling Stone,[6] CNN and The Washington Post[7].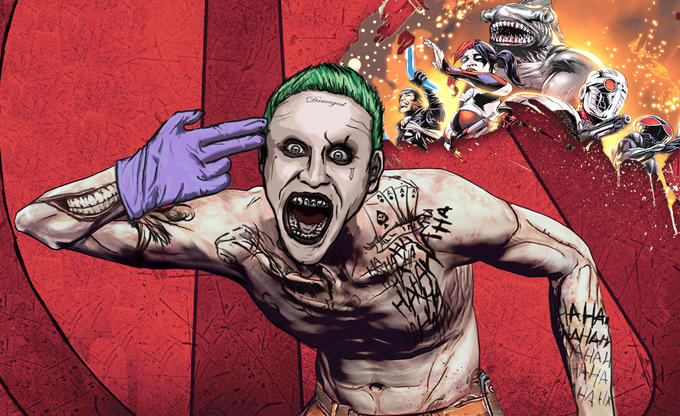 Other Leaked Suicide Squad Images
Although the image posted by Ayer was the first official image released for Suicide Squad, other photographs have leaked featuring Leto as the Joker (shown below). Some had speculated that the tattoos and grill were only used for the tweeted photo and would not appear in the film.


However, this was debunked as later set photos confirmed that Leto's Joker would, in fact, have said tattoos/grill (shown below).[16]



Jared Leto's Copypastas
Due to constant rumors about his method acting, on-set pranks and general awkard behaviour around his fellow actors, 4chan's /tv/ board began mocking what was perceived as a try-hard attempt from Jared Leto to surpass the previous portrayals of the joker on the big screen, several copypastas were created despicting his supposed mischievous behaviour (First known instance shown, below).[17] On January 22th a Reddit thread named "Jared Leto is an absolute madman" was created, compiling several posts of this nature.[18]



Various Examples






Search Interest
References