About
Funny Wi-Fi Names refer to screenshots of humorous or witty service set identifiers (SSIDs), commonly referred to as "Wi-Fi network names," that are publicly displayed on any wireless network-enabled device.
Origin
The earliest use of the term Wi-Fi to describe the technology that allows devices to connect to the internet wirelessly was in 1999. The name was chosen at least partly because it sounded like the already common term "hi-fi," which stands for high fidelity.[9] The first definition of "Wi-Fi" on Urban Dictionary[8] was added on October 12th, 2003, by user Dave who described it as, "Wireless ethernet. The most common standard is 802.11b." On December 20th, 2008, list site Oddee[7] published a post titled "Funny WiFi Network Names." As of January 2014, the post has over 230,000 views.
Spread
On March 23rd, 2010, The Huffington Post[1] published a post titled "Funny WiFi Names: The Most INAPPROPRIATEWireless Network Names Ever," which was subsequently updated on May 25th, 2011 with even more examples. On July 20th, 2010, the Tumblr blog Funny WiFi[2] was launched. A similar Tumblr that also collects funny WiFi screenshots, Pretty Fly for a WiFi[3], posted its first screen shot on July 22nd, 2011.



Humor site Smosh[4] posted a list of "18 Crazy Wifi Names" on March 20th, 2012, and tech site Gizmodo[5] began a thread asking their readers for the funniest Wi-Fi network names on February 17th, 2013. A similar thread was started on Reddit's /r/AskReddit/ [6] on May 7th. As of January 2014 the thread has over 800 comments.
Notable Examples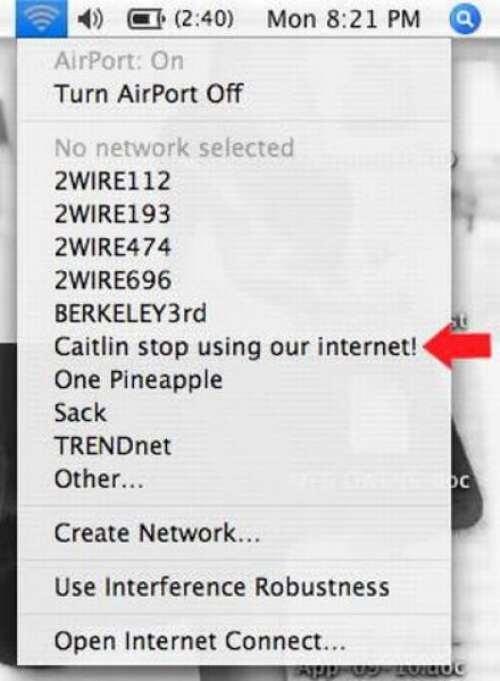 Search Interest
External References