George Soros Nazi Collaborator Conspiracy Theory
This submission is currently being researched & evaluated!
You can help confirm this entry by contributing facts, media, and other evidence of notability and mutation.
About
George Soros Nazi Collaborator Conspiracy Theory is the false claim that Jewish philanthropist billionaire and Democratic supporter George Soros, a holocaust survivor, was also a Nazi collaborator. Most of these claims refer to an incorrect retelling of Soros's past, which claims that he confiscated Jewish property during World War II, but in other instances a photograph of the Nazi Oskar Groening is incorrectly attributed to Soros.
Origin
Most of the conspiracies regarding George Soros use an incorrect retelling of his life during World War II. During the war, Soros was taken in by a Hungarian bureaucrat named Baumbach, who helped hide young Soros, then in his early teens, from the Nazis. At this time, one of Baumbach's jobs was to take inventory of seized Jewish possessions.
Snopes[2] reports that in his 1965 autobiography, Soros's father Tivadar Soros that in efforts to make him happy, Baumbach took young Soros on trips to confiscated Jewish estates. They write:
"He even helped with the inventory," Tivadar Soros wrote. It's a detail one doesn't find in Kaufman's book. Some may rush to cite this as proof that Soros was a "collaborator" after all, but given that it occurred on only one occasion, and that Soros was under an imperative to convincingly play the part of Baumbach's godson while in the company of the actual Nazi collaborators, it doesn't fly.
In 1998, Soros gave an interview with the news magazine series 60 Minutes (interview below). During the interview, he explained his role in Baumbach's work as "only a spectator, the property was being taken away. So the -- I had no role in taking away that property." However, despite his denials in the interview, the clip has been used to incorrectly provide evidence of the conspiracy theory.
Spread
Throughout the 2000s, the Soros conspiracy theory has been used as a talking point for inflammatory right-wing pundits. For examples on February 8th, 2007, KSFO radio hosts Lee Rodgers and Officer Vic said Soros "very cheerfully and willingly, went to work for the Nazis." They said:[1]
LEE RODGERS: Now, here is the inconsistency problem that Mr. Soros, like so many Democrats, displays. Given his personal history, a cynical person might think George Soros would be delighted to see the Nazis in charge, because in 1944, when the Germans invaded his native country, Hungary, and took over, Mr. Soros hid the fact that he's a Jew -- you can't really blame him for that --

OFFICER VIC: No.

RODGERS: -- it's about survival; a lot of people did it. But then, he, apparently very cheerfully and willingly, went to work for the Nazis, as other Jews were being killed or shipped off to the death camps, he ran around Hungary with Nazi officials, serving eviction notices to people who were going to be shipped out on the death trains --

OFFICER VIC: Oh, my God.

RODGERS: – so his Nazi buddies could come in and confiscate their property. Now, if you doubt this – any of you whiny liberals – "Well, I heard that on a conservative program. They had to have made it up" – just do a little Internet search of your own, go to Yahoo or Google or whatever you want, and write in "George Soros," plus the word "Nazis," plus "1944." Take a look. See what comes up. See for yourself.
Among the most well-known early references to the conspiracy theory is a retraction from a story in the Toronto Sun by Ezra Levant on September 5th, 2010. The article states, "Theodore hatched a better plan for his son. He bribed a non-Jewish official at the agriculture ministry to let George live with him. George helped the official confiscate property from Jews. By collaborating with the Nazis, George survived the Holocaust. He turned on other Jews to spare himself."[1]
The article prompted threats of a lawsuit from Soros and a retraction by the star.[3][4] Soros spokesman Michael Vacon said of the article:
It made false, defamatory and offensive statements and as a result Mr. Soros has notified the relevant parties of his intent to sue. What is of concern in the article are the false assertions that Mr. Levant makes regarding George Soros's conduct as a 13-year-old child in Nazi-occupied Hungary.
Months later, conservative pundit Glenn Beck espoused the conspiracy theory on his Fox News television program on November 11th, 2010.[5] It was not the first time. Years earlier, on March 2nd, 2009, right-wing commentator Ann Coulter appeared on Beck's show and called Soros "a Nazi collaborator, literally."[1]
Oskar Groening Photo
One of the most popular memes that depict Soros as a Nazi collaborators uses a photograph of Oskar Groening, a Nazi officer who served at the Auschwitz concentration camp during World War II, in a Waffen-SS uniform. One of the earliest known uses of the image was posted by Twitter [6] user @toombstone (shown below, left). On November 25th, 2016, they tweeted the photograph with the caption "George Soros. A SS in the National Socialist German workers party. Nazi party. He served under Hitler. The Democratic Party soul."
The fact that the image is not of Soros but of Groening did not slow the meme's spread. On October 18th, 2018, Facebook [7] user Pamela Perkins posted the photograph with the caption "This is George Soros. Remember this the next time the Soros-funded liberals call you a racist, fascist, or Nazi." The post received more than 830 reaction, 530 comments and 69,000 shares in less than three weeks.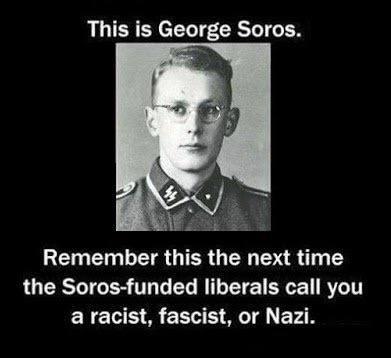 On October 31st, FactCheck.org[8] wrote of the conspiracy theory:
Q: Is there a bogus viral meme circulating online that purports to show Holocaust survivor George Soros as a Nazi soldier?

A: It is bogus. The photo in the meme is of a Nazi guard who died earlier this year. It is not Soros.
Search Interest
External References