Green Anon / Old Anonymous
This submission is currently being researched & evaluated!
You can help confirm this entry by contributing facts, media, and other evidence of notability and mutation.
Needs work
~Kip
About
True/Old Anonymous (or Anonymous or Anon) refers to a personification of anonymous users on 4chan as a faceless green man in a suit.
Prior to V for Vendetta's movie that was released 17 March 2006, Anonymous' mascot was somewhat faceless. Exactly the thing Anonymous wanted to be portrayed as.
It was a green faced male, no eyes or mouth and sometimes a nose, Wearing a black suit with a red tie he would have "No Picture Available" printed on his face.
Origin
As a personification, Anonymous was created on 4chan sometime before 2006. An early appearance of Anonymous is in the flash movie Sageman [1], where Anonymous is shown fighting Sage man. Another flash movie also includes Anonymous, and was uploaded to Newgrounds on January 21 2006 [2].

The appearance of Anonymous is believed to have been inspired by The Son of Man, a painting by René Magritte.
The green color of Anonymous' skin may have been based off the green apple covering most of the man's face. [citation needed]



René Magritte, The Son of Man, 1964, Restored by Shimon D. Yanowitz, 2009
/b/ Uses
Mainly used in arguments of how /b/ or Anonymous was better before Project: Chanology, here is afew examples of it in action.



There is many other uses where "Old Anonymous" is used as a filler for exploitable content or templates including Fsjal,



and Card Crusher.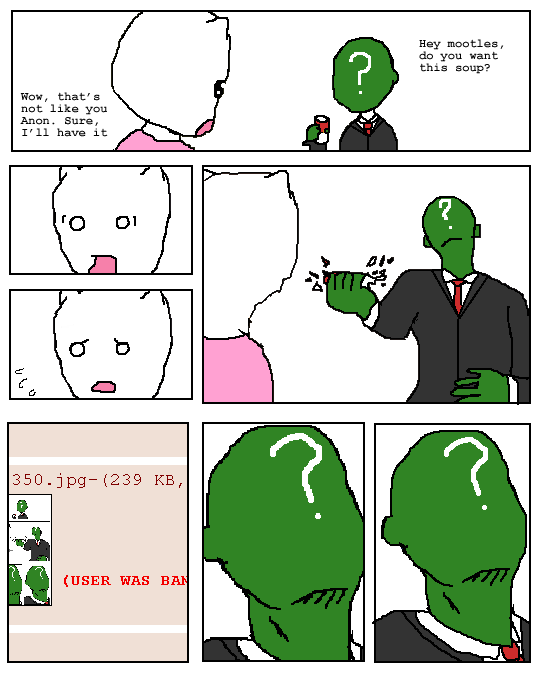 /f/ Uses
The majority of use in /f/ would have to be "Party Hard" Flashes, where they take a flash that looks like this



And alter the music, the background, or even give him a hat.
Their is so much that their is a website coined to the Party Hard flashes, where the site lets you download over 300+ Party Hard flashes.
http://www.anonpartyhard.com/
It was stated in the Comment section below that the dance might of originated, and most likely copied or flash "traced" from the guy dancing as 0:05 in this video
Another great flash example would be this "moot roll" where he plays the bartender.

External references