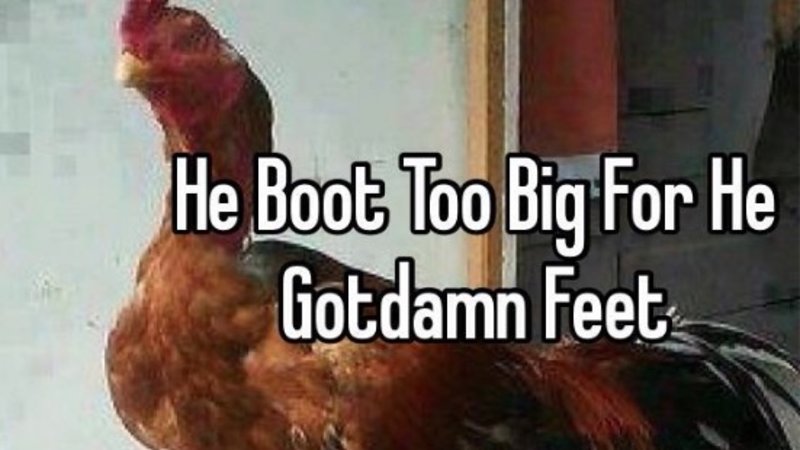 He Boot Too Big For He Gotdamn Feet
About
He Boot Too Big For He Gotdamn Feet is a copypasta often paired with images of animals wearing human shoes that are clearly much larger than what they could wear.
Origin
The earliest known use of the copypasta was posted to /r/me_irl[1] on March 26th, 2015 by an unknown user, where it gained over 250 points (shown below).

Spread
The image was used as an exploitable in the following months, with different characters used in the image, including John Lennon the Absolute Madman (shown below, left) and Sora from Kingdom Hearts (shown below, right).


In the following years, the meme would grow popular in Roses Are Red parodies in poems readings "Roses are red, sugar is sweet, he boot too big for he gotdamn feet" An example of this with a dog (shown below, left) inspired the creation of /r/boottoobig,[2] which launched August 3rd, 2016 and gained over 418,000 subscribers, though the subreddit is mainly based around Roses are Red jokes. The copypasta continued to be used with various images of animals wearing shoes. For example, a Twitter post by @emergencypugs posted February 12th, 2017 gained over 450 retweets (shown below, right).


Various Examples






Search Interest
External Refrences
Recent Videos
There are no videos currently available.