Hideo Kojima Killed Shinzo Abe Hoax
This submission is currently being researched & evaluated!
You can help confirm this entry by contributing facts, media, and other evidence of notability and mutation.
About
Hideo Kojima Killed Shinzo Abe Hoax is a July 2022 4chan hoax that claimed Japanese video game designer Hideo Kojima was the person who assassinated former Prime Minister of Japan Shinzo Abe on July 8th that year. The hoax was spread by a French politician and by Iranian and Greek media, which inspired memes about Hideo Kojima secretly being an assassin.
Origin
On July 8th, 2022, former Japanese Prime Minister Shinzo Abe was assassinated by a man wearing a medical mask who was later identified as Tetsuya Yamagami, a 41-year-old Nara, Japan resident. Three and a half hours after the shooting, an anonymous 4chan[1] user created a /pol/ thread in which they wrote that the shooter's identity was confirmed, falsely claiming that the shooter was a 58-year-old Tokyo prefecture resident, describing the man as a "known leftwing extremist" and attaching a photograph of Hideo Kojima, a famous Japanese video game designer. In another post in the same thread,[2] the user shared three photographs of Kojima in which he wears an ushanka, stands next to a portrait of Che Guevara and carries a bag with Guevara's portrait. The user wrote that the man's name was "Samyeuru Hydeo," which is a reference to the long-running Sam Hyde Is the Shooter meme.


Spread
In the following hours, at least three media outlets and journalists and one politician fell for the hoax. On July 8th, 2022, multiple users on Twitter reported that Iranian journalist Akbar Gangji,[3] Iranian news website Mashregh News,[4] Greek TV channel Antenna News[5][6] and French far-right politician Damien Rieu[7][8] all fell for the hoax, sharing screenshots of their social media posts, broadcasts and articles (shown below). Twitter[8][9] user @NoxDawn shared two screenshots of @DamienRieu's Twitter feed, with one being a collage of three photographs of Kojima from the /pol/ thread, described by Rieu, "the extreme left kills," and the other being a retweet of a post that identified the man as "Samyuero Hydeo" (both tweets since been deleted, with Damien Rieu[10] issuing an apology). @NoxDawn's tweet gained over 14,500 retweets and 74,900 likes in three days (shown below, right).




That day, more posts about Kojima being falsely identified as the assassin went viral on Twitter. For example, on July 8th, Twitter[11] user @JasTheLass tweeted that Kojima was likely doing something innocent like watching Flubber while false accusations against him were being spread online. The tweet garnered over 8,400 retweets and 71,900 likes in three days (shown below, left). Twitter[12] user @Medahlian tweeted that day about the spread of misinformation online being one of the themes of Hideo Kojima's 2001 video game Metal Gear Solid 2: Sons of Liberty, with the tweet gaining over 4,500 retweets and 32,900 likes in three days (shown below, right).


On July 9th, 2022, Hideo Kojima's company Kojima Productions condemned the spread of fake news and announced it will consider taking legal action in some cases.[13]
As the spread of the hoax became a viral topic on social media, it was referenced in memes that imagined Hideo Kojima as Shinzo Abe's killer and a deadly assassin. For example, on July 8th, 2022, Twitter[14] user @SpecterM91 made a post that gained over 1,600 retweets and 10,300 likes in three days (shown below, left). Also that day, the Facebook[15] page Certified Kino Bot – Cinephile Rebuild posted a meme that gained over 840 reactions and 150 shares in the same period (shown below, right).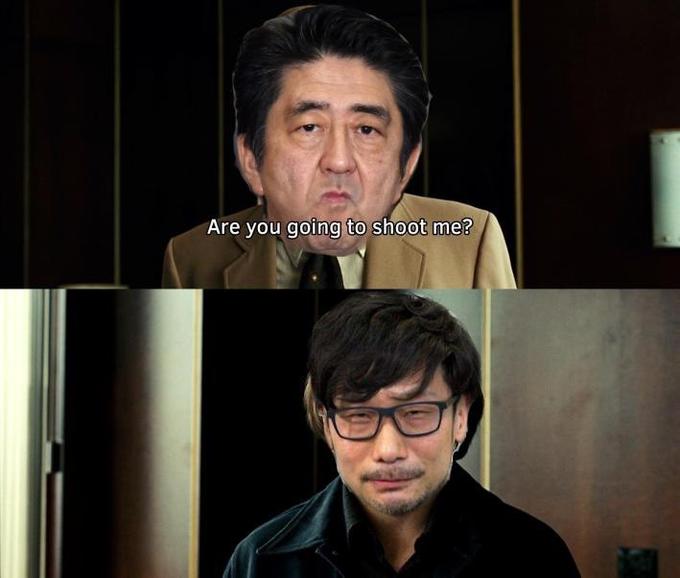 Various Examples





Search Interest
External References