About
Hold My Beer is a catchphrase said before attempting a dangerous and/or ill-advised stunt. Online, it is frequently used to categorize Fail videos, as well as to joke about concurrent and similar negative news stories.
Origin
Pre-Internet
"Hold my beer" comes from the saying "hold my beer and watch this," an expression frequently found in jokes about the American south. This is a common example of the joke[1]:
Q: What is a redneck's last words?
A: Hold my beer and watch this!
A variation of the joke, "Redneck's Last Words" appeared in comedian Jeff Foxworthy's 1996 book No Shirt. No Shoes…No Problem!.[13][14]
The joke has also appeared on t-shirts, novelty signs, and other apparel (shown below).[4][12]


Internet
Online, the expression became associated with Fail videos. On September 25th, 2011, YouTuber nitroartvideo.com uploaded a video of a driver revving their car's engine to "Bad to the Bone," crashing their car as soon as they start to drive. The video has received more than 379,000 views.
On September 13th, 2013, Urban Dictionary[4] definite "Hold my beer" as "he act of giving up one's alcoholic beverage temporarily to attempt a stunt he or she has never ventured."
Spread
On April 18th, 2006,[2] country singer Aaron Pritchett released the song "Hold My Beer," which features the lyrics: "Hold my beer/While I kiss your girlfriend/Cause she needs a real man, not a boy like you./Hold my beer/Ya, I'm a man on a mission." The video, uploaded on August 8th, 2008 (shown below), has received more than 780,000 views
While not a Fail video, on April 30th, 2008, YouTuber reagane uploaded the video "Hold my beer and watch this in Waco (drag boat)." The video has received more than 21,000 views.
On November 20th, 2012, the /r/holdmybeer[6] subreddit launched, allowing users to share fail videos. The subreddit has more than 333,500 subscribers.
On April 27th, 2013, the Twitter account @HoldMyBeerGif[5] launched, tweeting gifs from fail videos. They currently have 343,000 followers.
The meme grew in popularity on Twitter. On June 18th, actress Anna Kendrick tweeted, "'I can do that. Hold my beer' – My last words, probably." The tweet received more than 13,600 retweets and 13,100 likes.

After the 2016 United States' Presidential Election, "hold my beer" became a popular saying on Twitter, expressing the opinion of one negative news story topping another. On November 8th, Twitter user @bpedaci tweeted "BRITAIN: Brexit is the stupidest, most self-destructive act a country could undertake. USA: Hold my beer." The tweet received more than 163,000 retweets and 219,800 likes.

Between April 6th and April 12th, 2017, several major negative public relations stories, including Kendall Jenner's Pepsi commercial, Nivea's White is Purity ad, the United Airlines passenger removal, and Sean Spicer's Hitler gaffe, prompted a surge in "hold my beer" memes on Twitter. On April 11th, New York magazine published article about the popularity of the meme, entitled "'Hold My Beer': A Meme for a Truly Stupid Week"[9]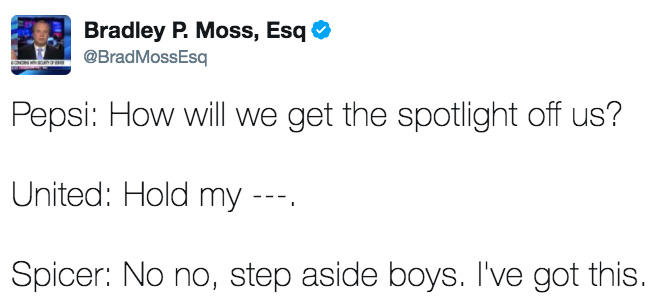 One of the most popular examples included a reference to Leroy Jenkins. @Lance_Bradley's April 11th tweet[11] received more than 26,000 retweets and 45,000 likes.

That day, Twitter collected several of these tweets in a Moment.[10]
Notable Examples






Hold My Unicorn
Hold My Unicorn is an online slang expression said in jest as an alternative reading of the acronym "hmu" in lieu of its far more commonly accepted meaning, "hit me up."
Hold My Flower
Hold My Flower refers to a series of comics based on a Tumblr post featuring Kaomoji emoticons preparing for a fight.
Search Interest
External References