About
Hold My Flower refers to a series of comics based on a Tumblr post featuring Kaomoji emoticons preparing for a fight.
Origin
On March 25th, 2013, Tumblr user louwhis[1] posted a series of three Kaomoji emoticons, with the first depicting a serene character wearing a flower. The second shows the emoticon with wide eyes paired with the phrase "what you say 'bout me" while the third shows the emoticon passing the flower off to someone, paired with "hold my flower." As of April 24th, 2013, this post has more than 90,000 notes.

Precursor: Hold My Gold
As early as 2005, the phrase "hold my gold" was associated with hip hop culture when it was used as the title of a humor book[2] poking fun at urban stereotypes. Two years later, in October 2007, the phrase was defined on Urban Dictionary where it was described as a phrase used before a fight in which a female hands off her earrings to a friend, so her opponent will not rip them out of her ears. The variant "Hold my earrings" was popularized after being uttered by Nicole "Snooki" Polizzi before entering into a physical match with housemate Angelina Pivarnick in a 2010 episode of Jersey Shore (shown below).
Spread
On March 26th, 2013, Tumblr user kaibakun[5] was the first poster to translate the emoticon into art, recreating the post with images of Yu-Gi-Oh! character Seto Kaiba. On April 2nd, Tumblr user Continue Please[4] reblogged the post from louwhis, adding a partner emoticon (✿\(。-_-。) ) offering to hold the other emoticon's flower.

Three days later, kyyhky submitted a drawn piece of fan art depicting Portgas D. Rouge from the anime One Piece handing off her flower to Gol D. Roger. Within 20 days, the post gained more than 21,000 notes. The following day, the emoticon conversation was used outside of Tumblr for the first time in a post on the All K Pop message board.[11] As kyyhky's post spread, other people on the site began to create their own versions of the interchange with other photos[7] or drawings of characters from different fandoms. These posts are collected with the Tumblr tags #Hold My Flower[10], #I Got Yo Flower[9] and #(ʘ‿ʘ)ノ✿.[8] Additionally, there are more than 100 comics featuring this interchange on deviantART.[12]
Notable Examples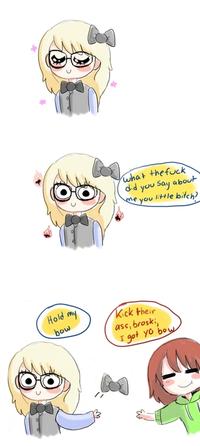 Search Interest
[Not Currently Available]
External References
Recent Videos
There are no videos currently available.