About
I Killed Man is an exploitable webcomic in which a large prisoner reveals he "killed a man" before scooting the other side of a bench after his cellmate reveals a variety of customized reasons for his imprisonment.
Origin
On July 30th, 2009, the gaming news site Dueling Analogs[2] published a comic titled "Xbox Killer," in which a large, bald inmate reveals he was convicted of "kidnapping a guy, tying him to a tree and forcing him to watch me dig up and violate his dead mother's corpse," to which his cellmate reveals he "bought an Xbox 360 just to watch it die," leading the bigger prisoner to distance himself to the other side of the cell (shown below).

Spread
On July 27th, 2010, Team Liquid Forums[1] member Manit0u posted an edited version of the comic in which the smaller prisoner identifies himself as the director of "2 Girls 1 Cup" (shown below).

On August 18th, 2012, BodyBuilding Forums[5] user ace_gauntlit started a thread with a blank template of the comic. On January 30th, 2013, a blank template of the comic was submitted to 4chan, where other users were invited to customize the speech bubbles (shown below). That day, a collection of examples from the thread was submitted to /r/4chan[3] subreddit.

On June 30th, 2017, Redditor Marvellous_Napkins submitted the comic with the caption "I laughed at a 9gag meme" to /r/MemeEconomy, where it gathered upwards of 16,100 points (82% upvoted) and 150 comments within three months (shown below, left). On October 8th, Redditor RastaLasagna submitted an edit of the comic referencing swearing on a Christian server (shown below, right). Over the next 24 hours, the post received more than 830 points (84% upvoted) on /r/dankmemes.[6]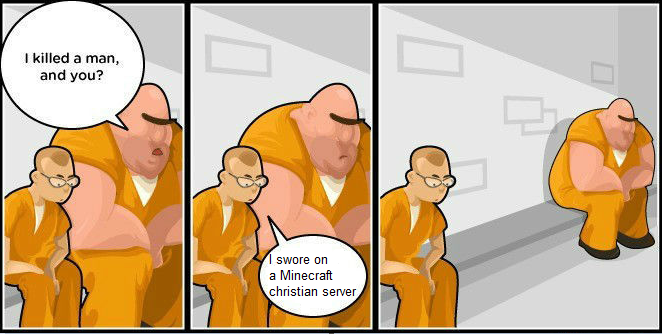 Various Examples




Search Interest
External References
Recent Videos
There are no videos currently available.