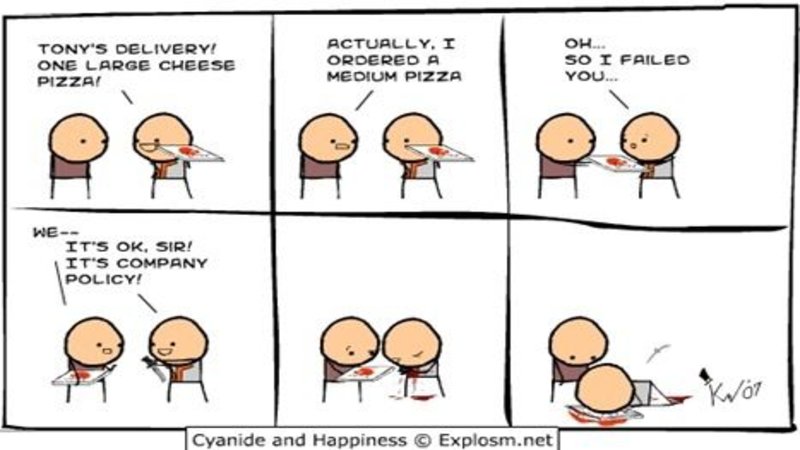 About
Cyanide and Happiness is a webcomic and animated series hosted on Explosm.net, written and illustrated by Kris Wilson, Rob DenBleyker, Matt Melvin and Dave McElfatrick.
History
According to Wikipedia,[3] Kris Wilson began drawing comics by hand at the age of 16 when he was staying home while suffering from an illness. After he began making comics on the computer, he initially uploaded them to his personal website Comicazi.[1] On December 9th, 2004, the site Explosm[2] was created by Matt Melvin, Rob DenBleyker and Dave McElfatrick, who asked Wilson to share his comics on their site. The name of the series was inspired by a comic in which a character proclaims that his cotton candy is made out of "Cyanide & Happyness [sic]."[7]

Matt Melvin later announced his departure from the group on August 12, 2014, due to differing views about the future direction of the comic.[12]
Features
Explosm admins have occasionally allowed readers to submit content to be featured on the site, which included flash movies by the Ultimate Showdown Ultimate Destiny animator Shawn Vulliez. The site also contains flash animation movies, humor articles, a web forum and a merchandise store. The Explosm team have created their own flash animation videos as well, which have been uploaded to the video sharing website YouTube,[8] the animation website Newgrounds[9], and have been hosted on their own website (explosm.net) as well.
Kickstarter
On February 13, 2013, the Cyanide & Happiness team posted a Kickstarter to help fund their concept for a Cyanide & Happiness show.[11] The campaign set an original goal of $250,000 to help fund 8 episodes of the Cyanide & Happiness show. After the 30 day period, the campaign ultimately reached a funding of $770,309 from 14,242 backers which help meet stretch goals of "Animations every week for a year, including ten longer episodes and one depressing episode!"

Web Shorts
Beginning August 20, 2013, the Cyanide & Happiness team begun a weekly uploading of new animated shorts to their site. These would often run anywhere from 15 seconds to 4 minutes in length and featured parodies on scenarios and stories such as Pinocchio, cliff climbing, and seashells. The videos would often contain Easter egg endings after the credits.
As of November 2014, many of the videos have received upwards of around 7 million views on YouTube, with an average of 2 million within the first week of posting.
The C&H Show
On October 17, 2014, Kris Willson uploaded a video (below left) to the Cyanide & Happiness YouTube channel announcing the new Cyanide & Happiness Show would premiere November 13. As promised, Season 1 Episode 1 (titled "A Day At The Beach") was launched on their YouTube channel November 13th (below right) and was featured a day earlier on their website for season pass holders.
Highlights
On January 19th, 2010, a collection of Cyanide and Happiness comics was published in a self-titled book. On October 5th, 2010, a second collection of comics was published in a book titled Ice Cream & Sadness. On October 28th, 2011, an official Cyanide and Happiness iPhone app was released on the iTunes App Store[10], which received a rating of four stars.


Notable Examples




Traffic
According to Wikipedia[3], the site received over a million daily vistors in November of 2006. As of May 3rd, 2012, Explosm holds an Alexa[4] rank of 2,974, a Compete[5] rank of 13,583 and a Quantcast[6] rank of 15,448.

Social Media Presence
As of November 2014, the Cyanide and Happiness Facebook page currently has 9.4 million followers. The Twitter account for C&H (@Explosm) was created in April 2009 and currently has 127,000 followers. The ExplosmEntertainment YouTube channel (which features the animated shorts) currently has 484.8 million views and 3.6 million subscribers. Sub-reddit /r/CyanideandHappiness/ was created November 11, 2009, and has 21,000 subscribers.
Search Interest
External References