I Showed You My Dick Please Respond
About
I Showed You My Dick Please Respond refers to several snapchat-style images of unattractive boys with a variation of the text "I showed you my dick, please respond" over them, implying that they've recently sent a picture of their penis to a woman and are being ignored. After the pictures spread, the text became a snowclone in which "dick" is replaced.
Origin
On January 29th, 2014, Tumblr user sassafrassle[1] posted an image she had received of a boy's face with a variation of the text laid over it (shown below). The post gained 283 notes.

Spread
Though the post itself was not very popular, the image began circulating online in the coming years. On June 2nd, 2014, Buzzfeed[2] included it in a listicle titled "33 Reasons Why Men Should Be Banned." The following day, it appeared on /r/cringepics[3] where it gained over 2,400 points. It appeared again over a year later on /r/cringeanarchy[4] where it gained over 4,800 points. Meanwhile, two other similar pictures began circulating online, though it is unclear if these are intentional or parodies of the original post. On October 27th, 2016, Instagram user moshinmauro[5] posted an image where the text read "I showed you my dick please respond" in a post that gained over 75 likes (shown below, left). On April 24th, 2017, Instagram user qwerticorn[6] posted another popular variation, gaining over 15,000 likes (shown below, right).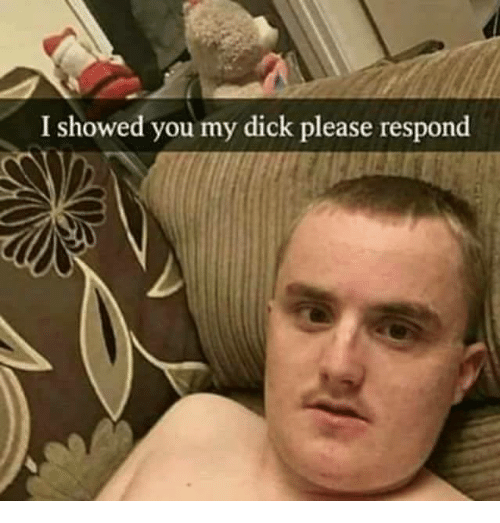 Various parodies of the original post also began circulating during 2016. The text also grew into a snowclone on Twitter in which people replace "dick" with something else to show emotional vulnerability (examples shown below).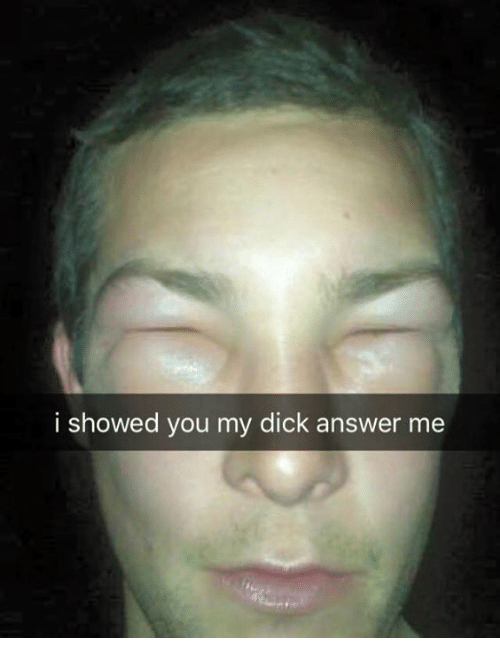 Various Examples






Search Interest
External References
Recent Videos
There are no videos currently available.