It Doesn't Effect My Baby
This submission is currently being researched & evaluated!
You can help confirm this entry by contributing facts, media, and other evidence of notability and mutation.
About
It Doesn't Effect My Baby refers to an exploitable two-panel image of a pregnant woman holding a cigarette and wine. That image is captioned "No, it doesn't effect my baby." The next panel shows a child in front of a computer doing something the poster doesn't approve of labeled "12 years later," implying that the child mother's smoking and drinking during pregnancy led to a brain-damaged child.
Origin
On May 13th, 2018, Redditor CentenarioSNP posted the first edit to /r/PewDiePie submissions, showing the child playing Fortnite, gaining over 5,300 points[1] (shown below).

Spread
The image was reposted to Facebook page Sweet Dreams 甘い Sweeter Memes 甘いです[2] the following day, gaining over 2,500 likes and reactions.[2] That day, an edit to /r/trebuchetmemes showing a catapult in the exploitable panel gained over 25,000 points (shown below, left). However, most of the ensuing edits focused on video games. For example, another post using the template posted to /r/worldoftanks gained 780 points (shown below, right).


The growing popularity of the meme led it to be inquired about on /r/OutOfTheLoop,[3] where the thread gained over 1,100 points. In the post, user Fluffy_M included several examples of the meme, with 2/3 being video game related (shown below).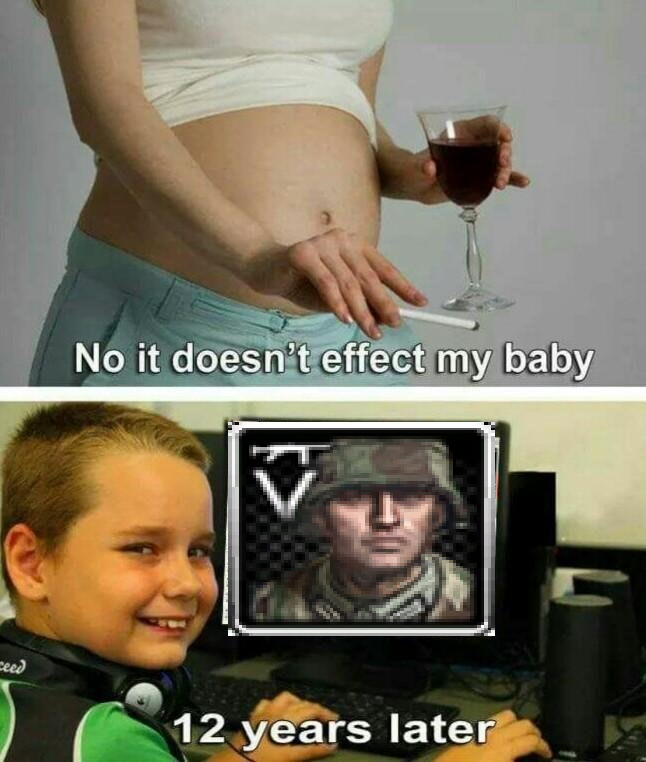 Various Examples






Search Interest
Unavailable
External References
Recent Videos
There are no videos currently available.