Warning: This page contains material that may be considered not safe for work.
About
It's So Fucking Big is a series of image macros using a still image from a pornographic film of porn star Tori Black with a surprised expression looking upwards to the camera, with a subtitle reading "It's so fucking big." The macros follow a formula in which a caption at the top mentions a non-pornographic action, usually showing something innocuous to the woman, prompting her reaction.
Origin
The meme originated when Twitter user @twodudesinapool[3] posted the image with the quote "When you show your date your meme collection" on February 7th, 2017.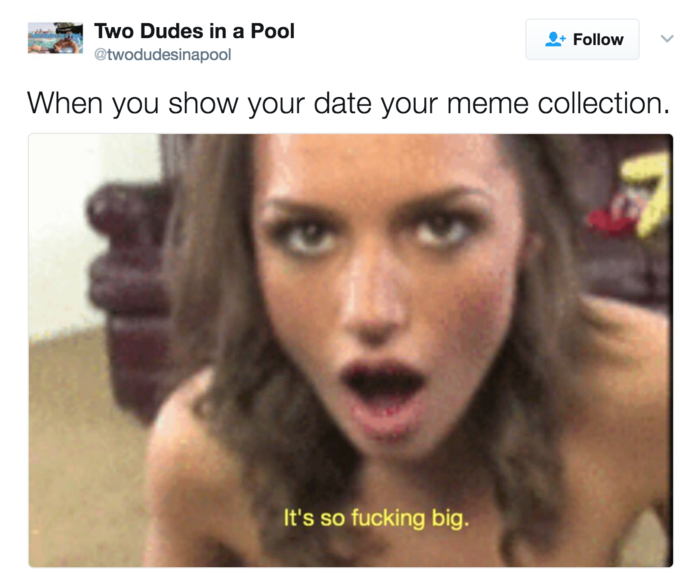 Spread
On February 13th, a screenshot of the original post was tweeted by @9000x.[4] This was uploaded to both Onsizzle[1] and me.me[2] the same day. On the 14th, it appeared in an Imgur gallery[6] of memes for people lonely on Valentine's Day that gained over 174,000 views. Shortly after, it began being reposted by popular Instagram meme accounts. For example, the page ghetto[5] posted it on the 21st and gained over 17,000 likes. It began to become a popular exploitable following a March 11th post to /r/dankmemes[7] that paired the image with the Serbian Empire in 1350 meme that was trending at the time which gained over 19,000 upvotes.

This prompted several other variations pairing the image with captions describing the size of historical empires. Other captions were created as well, though none gained as much popularity as the original "meme collection" variation.
Various Examples






Search Interest
External References
Recent Videos
There are no videos currently available.