About
Joey's Delayed Reaction, also known as Scared Joey and Surprised Joey, refers to a memorable scene from the Friends television series in which character Joey Tribbiani widens his eyes as slowly realizes a key plot detail about his friends Ross Geller and Rachel Green. Starting in the early 2010s, the scene has been used as a GIF reaction, also gaining notable popularity as a part of four-panel reaction memes in late 2019.
Origin
On October 4th, 2001, episode two "The One With the Red Sweater" of season 8 of the Friends television series premiered.[1] In the episode, characters Monica Geller, Phoebe Buffay and Joey Tribbiani (portrayed by Matt LeBlanc) learn a major plot detail about their friends Ross Geller and Rachel Green. After taking a moment, Joey realizes the revelation and reacts by widening his eyes (scene shown below). On November 27th, 2007, YouTube[2] user Christiano Ronaltno uploaded the scene to YouTube, where it gained over 268,000 views in thirteen years.
- Hey, my sweater! I've been looking for this for like a month!
- Oh my god!
- Oh my god!
At an unknown date after April 2nd, 2002, fan website Friendsgeneration[3] posted the earliest known still image of Joey with widened eyes, later reposted on Skyrock[4] and other websites.
On May 15th, 2011, the earliest known reaction GIF based on the scene was posted to Reaction GIFs[5] (shown below).

Spread
Starting in the early 2010s, the GIF gained significant popularity as a reaction on Tumblr, Twitter and other websites, also appearing in listicles on BuzzFeed[10][11][12] and other websites. For example, on June 21st, 2012, Blogspot[5] account thebestgifsforme included the image in a collection of Friends GIFs. On September 16th, 2013, Redditor[6] PaynoH posted a shorter version of the GIF to /r/reactiongifs subreddit, where it gained over 3,100 upvotes in six months. On the same day, the GIF was reposted on GIPHY[7] and 9GAG.[8]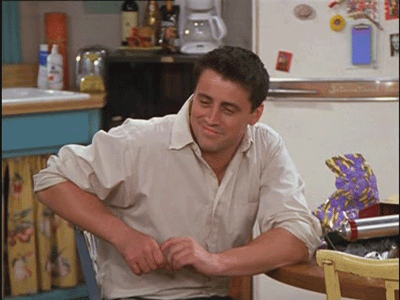 On November 20th, 2014, Know Your Meme[9] user João Pedro Brigatti archived a watermarked version of the GIF on the website.
On August 10th, 2019, Redditor[13] George2110 posted the earliest known four-panel reaction meme utilizing still images from the scene (shown below). The post received over 27,200 upvotes in /r/dankmemes in six months. A September 4th, 2019, repost by Facebook[14] group Men's Humor received over 20,000 reactions and 7,300 shares in five months.

The four-panel format saw moderate use on Reddit in the following months. For example, an October 25th, 2019, post by Redditor[15] NoellePrit in /r/dndmemes received over 25,400 upvotes in three months (shown below, left). A December 6th, 2019, post in 9GAG Facebook[16] group received over 80,000 reactions and 9,400 shares (shown below, right).


Starting in late December 2019 the format saw a significant surge in popularity in the major meme subreddits.
Various Examples






Template

Search Interest
External References
Recent Videos
There are no videos currently available.