This submission is currently being researched & evaluated!
You can help confirm this entry by contributing facts, media, and other evidence of notability and mutation.
Editor's note: This entry contains spoilers for season seven of the HBO series Game of Thrones.
---
About
Jonaerys refers to fan speculation, shipping theories and fan-fiction centered on the romantic relationship between the Game of Thrones characters Jon Snow and Daenerys Targaryen.
Origin
While speculation about the two characters could date back as far as the book A Song of Fire and Ice's publication, when they were introduced, the earliest mention of their relationship online occured on May 7th, 2011. Game of Thones fan site Westeros.org[1] user CornCornSnow posted in the message board "Would Daenerys find John Snow attractive?" The post (shown below) received more than 390 comments.

"Hi all,

Longtime GRRM fan, rekindled by the HBO series and the impending release of ADWD. Love the site.

I see a lot of posts where people predict Daenerys ending up with Jon Snow. My question: assuming R + L = J, why would Daenerys want to be with Jon Snow? I think she's beyond duty already (i.e. the duty to marry another Targ), and I think she will stay unconventional as the story progresses.

Her first love was the barbaric horselord Drogo, and now she is attracted to the gaudy blue-and-gold Daario Naharis.

What makes anyone think she would go for a boring, adolescent Jon Snow? Or any Westerosi for that matter? Her taste in men seems decidedly Eastern."
Spread
On June 22, 2011, YouTuber [2] ladysnow1988 posted a fan-made music video of clips from the series entitled "Jon & Dany – On Course." The post (shown below) received more than 122,000 views in six years.
On February 5th, 2016, Instagram [10] @peggysirota posted an image of the actors Kit Harington and Emilia Clarke, who portray Jon Snow and Daenerys, respectively, kissing. She captioned the photo "This moment was unforgettable. It was a small crew on that day, just a few of us out in the field. The chemistry between these four was huge, as you can see… I asked them to kiss, I suppose love was in the air, & I was just lucky enough to be there. 💋💨" The post (shown below) received more than 7,800 likes in a year and a half.

On July 28th, MTV[3] published an article entitled "WILL DAENERYS MARRY JON SNOW? AND 12 MORE GAME OF THRONES QUESTIONS." The article asserts the theory that Daenerys and Jon Snow will come together as a means of preserving the Targaryen bloodline. The write:
"Targaryens were known for inbreeding. They wanted to keep their bloodlines pure. However, this had some unforeseen consequences, including madness. Since Daenerys seems to have marriage on her mind after ditching Daario in Meereen, it could make sense for her to align herself with the King in the North to defeat the Lannisters once and for all. (Although, it's not like the Lannisters have any allies left at this point. Walder Frey's death will surely be blamed on Jaime.)"
Interest in their relationship piqued in summer 2017, when the television series featured their meeting. On July 30th, the culture magazine Vulture[5] published the article "Is It Gross to Ship Daenerys and Jon Snow?" The article brings up a common criticism of their shipping, the fact that Daenerys and Jon Snow are related.
On Twitter, [4] users began posting images of them together, along with theories and comments about how they will become romantically involved. On July 31st, 2017, Twitter user @SohaniTT posted a series of pictures of them together from the season seven episode "The Queen's Justice." She tweet (shown below), "What Daenerys said: 'You better get to work Jon Snow' What I heard: 'KISS ME ALREADY!!💋'"

Following the season seven episode, "Beyond the Wall" in which Daenerys and Jon Snow share an emotional moment, even more speculation spurred. People on Twitter began tweeting their excitement about their relationship (examples below).
Several media outlets covered the popularity of the fan theory, including MTV,[6] Heavy,[7] Bustle,[8] TIME magazine[9] and more.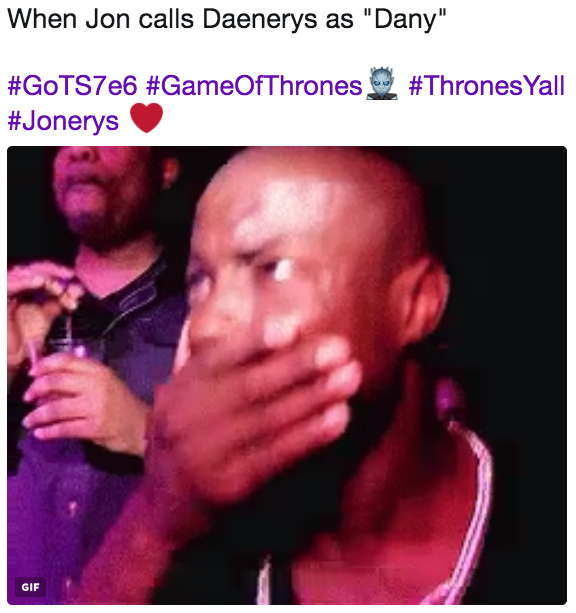 Search Interest
External References