About
Hodor is a minor character in George R. R. Martin's series of novels A Song of Ice and Fire and the adapted HBO fantasy television series Game of Thrones. He is known for assisting the character Bran Stark following a crippling injury and his singular catchphrase "Hodor." Online, the character has developed a notable fan following among viewers of the HBO series.
Origin
In the HBO series Game of Thrones, which premiered on April 17th, 2011, Hodor is often shown in the company of the crippled boy Bran Stark and is only capable of speaking his own name.
Spread
In August 2011, a page was created on Quickmeme[6] featuring Hodor image macros (shown below).



On March 12th, 2012, Urban Dictionary[5] user Maester Luwin submitted an entry for the word "Hodor," which repeated the word 10 times in the definition field. On July 8th, 2012, Redditor Von_Skyhawk submitted an image macro containing a rhyming scheme of three doors followed by Hodor to the /r/gameofthrones[2] subreddit, where it gained over 1,600 up votes and 50 comments prior to being archived (shown below, left). On August 14th, Redditor BrittaUnfiltered submitted a keep calm and carry on image macro featuring Hodor and Bran Stark to the /r/gameofthrones[3] subreddit. Before it was archived, the post gathered more than 2,800 up votes and 70 comments.


On April 9th, 2013, Redditor IIGeOII posted an illustration of Hodor and Bran Stark in the style of the Calvin and Hobbes comic series to /r/gameofthrones,[4] which garnered upwards of 1,200 up votes and 30 comments prior to being archived (shown below, left). On April 17th, BuzzFeed[1] highlighted several captioned images and animated GIFs of Hodor.

On May 27th, YouTuber johannhat uploaded a remix of the Game of Thrones opening sequence in which Hodor's name is sung repeatedly (shown below). Within one years, the video accumulated over 940,000 views and 2,200 comments.
Notable Examples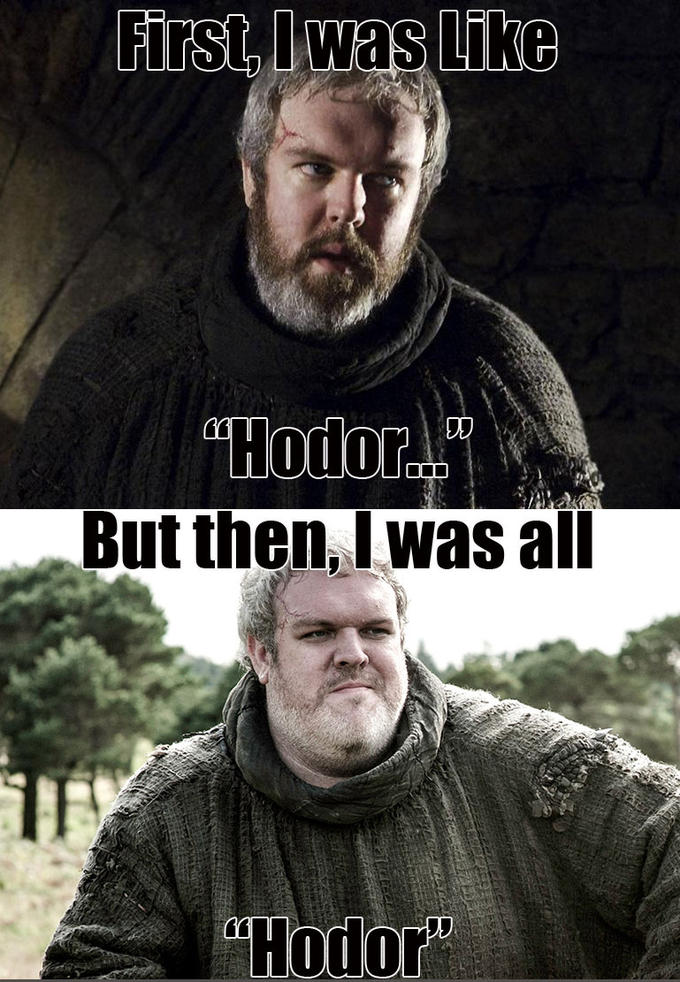 Fan Art
As of April 2014, there are over 380 submissions under the tag "hodor" on the art-sharing website DeviantArt.[7]






Search Interest
External References