About
Judgmental Volturi is an image macro series based on a frame from the 2009 horror romance film The Twilight Saga: New Moon. In the image, the vampire characters Aro, Caius and Marcus, wearing gothic-style aristocratic garb, stand atop a marble balcony. At the center, Aro looks down toward the camera. Online, the image represents one's undeserved pride. Captions used on the image reflect a feeling of judgment from people who are in a marginally better situation.
Origin
On November 20th, 2009, Summit Entertainment released the film The Twilight Saga: New Moon in the United States.[1] In the film, the characters Edward and Bella (portrayed by Robert Pattinson and Kristen Stewart) discuss the Volturi, a law enforcement coven within the vampire world. As they converse, the pair look at a painting of the Volturi members Aro, Caisus and Marcus (portrayed by Michael Sheen, Jamie Campbell Bower and Christopher Heyerdahl, respectively), standing on a balcony, which begins to animate.
Roughly four years later, on June 7th, 2013, YouTuber Hanny Fanny published a clip of the scene. The post received more than 679,000 views in less than nine years (shown below).
Spread
Three years later, June 4th, 2016, Redditor JoeyCrakk shared a meme of the scene, which is credited to @InShowWeTrust, on the /r/blackpeopletwitter [2] subreddit. The caption reads, "How light skin chicks act in the VIP club when they're in VIP." The post received more than 6,300 points (91% upvoted) and 90 comments in less than five years (shown below, left).
Following the post, the meme continued to spread on social media, using the characters to represent pretentiousness. On April 22nd, 2019, Twitter [3] user tweeted the image with the caption, "How people with iPhones look at peasants, sorry, I meant people with Androids" (shown below, center).
The next year, on October 6th, 2020, the meme went viral on Reddit, following a post on /r/dankmemes.[4] Posted by Redditor GravyxNips, the meme's caption reads, "Me after getting destroyed in an argument but correcting their one grammatical error." The post received more than 31,000 points (97% upvoted) in less than one year (shown below, right).



Various Examples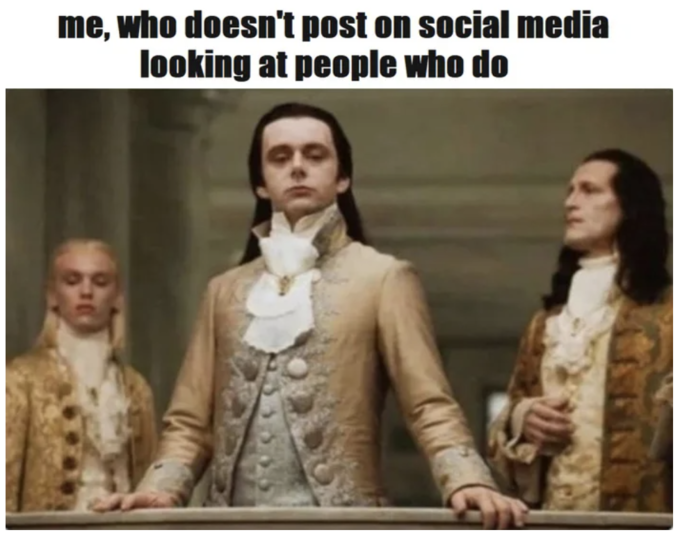 Template

Search Interest
Not available.
External References