Kirby Air Ride Music: Item Bounce Comment Section
This submission is currently being researched & evaluated!
You can help confirm this entry by contributing facts, media, and other evidence of notability and mutation.
About
Kirby Air Ride Music: Item Bounce Comment Section refers to a YouTube upload of the song "Item Bounce" from the video game Kirby Air Ride that has numerous comments in its comment section making antisemitic jokes about the Kirby universe and the holocaust due to the song resembling Jewish Klezmer-style music. The video was uploaded by YouTuber jumpropeman in August 2009 and memes about the comment section started appearing online in 2021. Some of the comments may be ironic.
Origin
On August 8th, 2009, YouTuber[1] jumpropeman uploaded a video consisting of the song "Item Bounce" from the 2003 GameCube game Kirby Air Ride, garnering over 285,000 views in 14 years (shown below, left). The song resembles Jewish klezmer music (example shown below, right).
The first known meme to compare the song to klezmer music was posted to /r/NameThatSong[2] on January 30th, 2021 by a now-deleted user, who posted a mashup of various songs, including "Item Music," under the title, "Source: friend from my synagogue sent me this," garnering over 490 upvotes in two years. The remix was uploaded to YouTube by hdepartment on Feburary 20th, 2021, garnering over 41,000 views in two years (shown below).
Spread
Antisemitic memes and comments, some likely ironic in nature, started to collect under the video as early as January 2022, as evidenced by a Mr. Incredible Becoming Uncanny meme posted to Kirby.fandom[3] on January 8th, 2021 (shown below).

The majority of the top comments under the video make jokes referring to the holocaust and Jewish people (examples shown below).


On January 31st, 2023, Twitter[4] user @somari8591 posted a Squidward when I'm in a competition meme referencing the video's comment section, garnering over 7,400 likes in three days (shown below). The meme was reposted by Twitter[5] user @ShitpostGate on February 2nd, garnering over 52,000 likes in a day.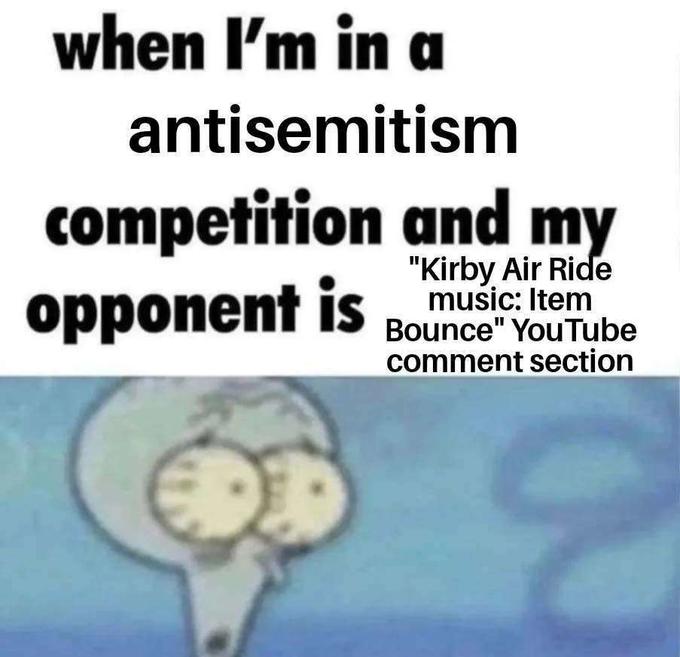 Various Examples




Search Interest
External References